Florida Teen Shares her Love for Stuffed Animals With Children in Emergencies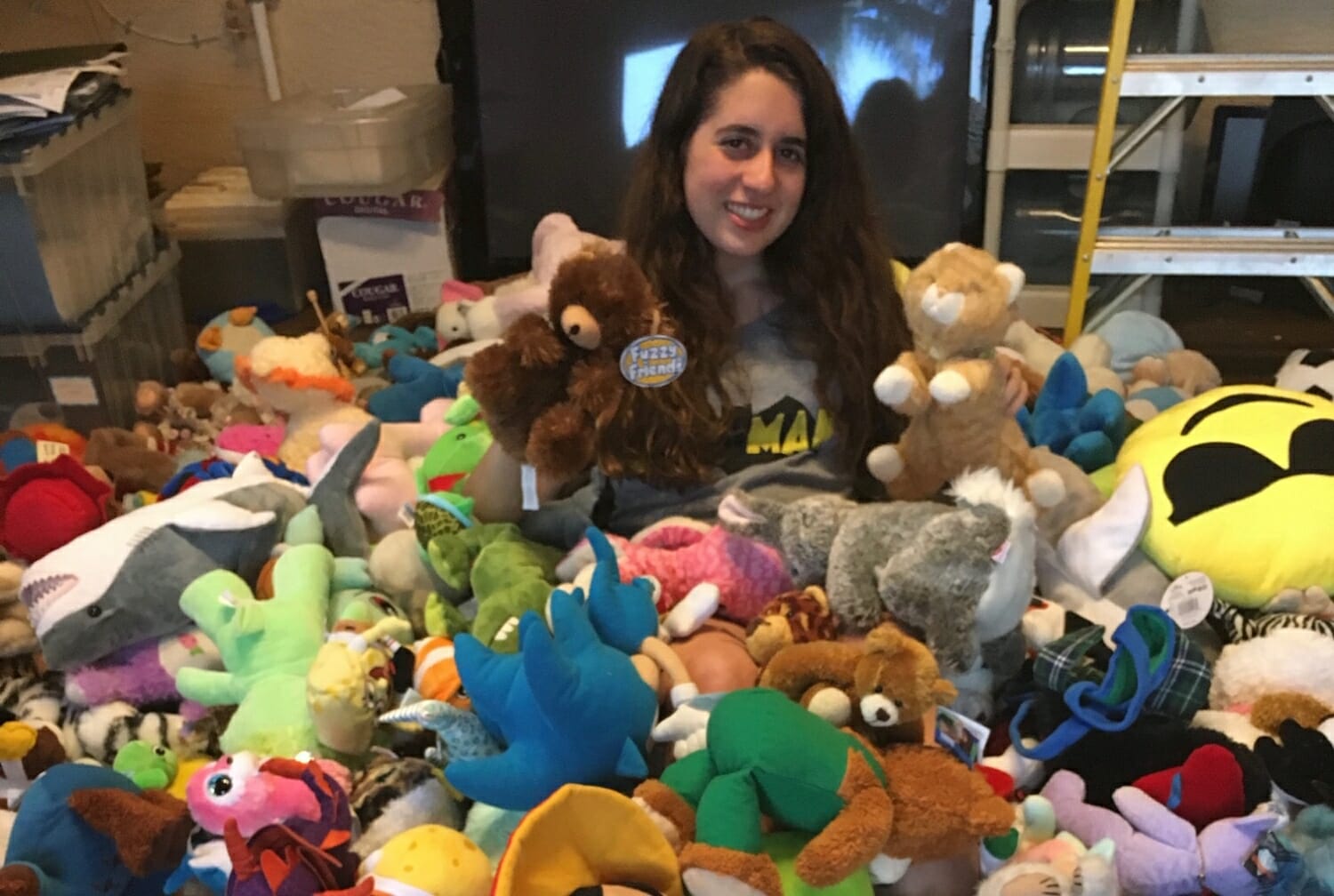 Her first love, according to 15-year-old Jamie Cohen, was a big elephant named Ellie, a stuffed animal she received as a child. The Davie, Florida teen has always loved stuffed animals and the joy and comfort they provide as toys, but as a 5th grader, she decided she wanted to do good with them.
She's been able to do just that, serving as the president of the South Florida chapter of Stuffed Animals for Emergencies, an organization that provides comfort to children in traumatic or emergency situations through donations of stuffed animals, blankets, books, children's clothes and baby items. From her home, Jamie manages the collection, counting, cleaning and distribution of gently used stuffed animals that are sent to children in the midst of stressful situations in South Florida and elsewhere.
Collecting over 4,000 stuffed animals in the last five years and volunteering up to 15 hours each month to make a difference in people's lives, Jamie is today's Daily Point of Light award honoree. Points of Light spoke to Jamie to learn more about her work with SAFE.
Describe your volunteer role with SAFE:
I am the president of the South Florida chapter of SAFE. The nonprofit has about 5 chapters across the country, so I end up doing volunteer work for South Florida, but receive emails from people up and down the East Coast. I've managed donations from New Jersey, North Carolina, Georgia. I will invite my friends to volunteer with me and sort the stuffed animal donations, as our school requires that we have completed at least 120 hours of volunteering by the time we graduate.
What inspires you to volunteer?
When I was younger, I used to do a bunch of little volunteer jobs. An example, we'd save up all the backpacks we'd used in our family and received as donations from my friends, and hold a backpack drive. We'd give the backpacks to underprivileged children in the area. All those little volunteer drives were fun for me, because I know I'm making a difference in someone else's life. I'm involved in six extracurricular clubs in high school, and I volunteer at least once every other weekend for SAFE or another organization. I have a great feeling after I'm volunteering because I've made an impact in someone else's live.
Walk me through the process. How do you get from the initial donation to distribution of the stuffed animals?
We receive the stuffed animal donations at my dad's office. We'll usually wait until we get to about 200 stuffed animals or so, and then we count all of them. It might take 2 hours or more to count that amount, so sometimes I'll ask friends over to my house to help me. We clean the stuffed animals in our washing machine. Some donated stuffed animals aren't in good condition, so those get thrown away. For distribution, we'll either drive the stuffed animals to local organizations we work with, or the stuffed animals are picked up at our home.
Tell me about some of the organizations who are able to use your stuffed animals.
One organization we've donated to is Big Mama, the stuffed animals are sent to places like homeless shelters, where there are children in need. Hospitals require that the stuffed animals we send them are completely new, so when we receive a donation of new stuffed animals, we're able to send them to a local children's hospital, or an organization that helps children like Ronald McDonald's.
You've collected thousands of stuffed animals. Share some funny donation stories with me.
We've received some really, really big stuffed animals – like human-sized. One time I opened a box, and someone sent 3 stuffed animals in this huge box, and they were all individually wrapped. People do this all the time, but it's really not necessary to wrap stuffed animals. One time I received a box of really, really tiny stuffed animals. They were way smaller than Beanie Babies. Sometimes people send stuffed animal clothing without animals (laughs).
What's your favorite stuffed animal?
I have a few stuffed animals around my house that I love. In particular, I love this little pig I've had for five years named Mr Bacon, I've had him since I started working with SAFE. As I've gotten older, I've donated a lot of animals. There are certain ones you keep because you have a connection to them, and that's why I volunteer, because I want to provide that connection that I have to these stuffed animals to other children in need that we are donating to.
You volunteer with other organizations beyond SAFE. Tell me about that.
I've started an non-profit organization called Peace, Love, Smile that is designed to help others in our community through kindness, cooking and more. My goal is to put a smile on someone's face by sharing love and spreading peace throughout the community. One of our projects is called Peace Love Eat, I work with Children's Harbor of South Florida to teach young girls battling illness how to cook. We've also held stuffed animal drives through another project, Peace Love Comfort, and have donated stuffed animals to churches throughout Romania.
You're already a very busy teen. What do you want to be when you grow up?
I want to be a psychologist when I grow up. I really like helping people. I've always seen myself as someone who gives good advice. Through my volunteering, I enjoy helping people and solving problems.
What's one thing you want readers to take away from your service?
it's very easy to make a difference in someone's life. Being able to be the South Florida chapter president for SAFE, I've been able to see the differences we are making. It's very impactful and I've learned so much from the role. Anyone can start a non-profit, and I'd encourage them to choose a pursuit that is based off of something they love. The people that I know that have been the most successful have started a non-profit based off of their passion.
What future events do you have coming up that you're excited about?
We always welcome stuffed animal donations. Please check our website for more information about how you can help: https://stuffedanimalsforemergencies.org/.
Do you want to make a difference in your community like Jamie Cohen? Visit All For Good for local volunteer opportunities.
Post written by Marlena Militana.
Share this post