7th Grade Volunteer Steps Up to Feed Hungry Community During COVID-19 Pandemic
Meet Daily Point of Light Award honoree Ruby Weiner. Read her story and nominate an outstanding volunteer or family as a Daily Point of Light.
11-year-old Ruby Weiner has volunteered since she was a small child, but it's her current service that is nourishing bodies and minds in her community, stepping up to meet true need during the COVID-19 pandemic.
As food insecurity amongst families with children tripled nationwide at the start of the pandemic, Ruby established Ruby's Little Food Pantries. Volunteering to feed her own greater community, the Ridgefield, Connecticut student is filling the gap to helping hungry families and is inspiring community service in the process.
Points of Light spoke with Ruby and her mother, Patty, about her volunteerism.
What inspires you to volunteer?
Ruby: People sometimes need help. I'm inspired because there's a need and it's good to help.
Describe your volunteerism with Ruby's Little Food Pantry.
Ruby: The one free standing food pantry we had in our community was being relocated, so we raised enough money from a grant and community donations to build five little food pantries to fill that need. With help from a local construction company, I designed, built and installed the food pantries. I organize food drives to keep the food pantries replenished for anyone, from any town, who is in need. People can also donate directly to the pantry. The most common items donated are pasta, canned foods and rice.
You volunteer with your mom. How does that make you feel?
Ruby: She supports me and we're supporting each other when we volunteer. It makes me happy because if I didn't have somebody to volunteer with, I don't think it would be as fun.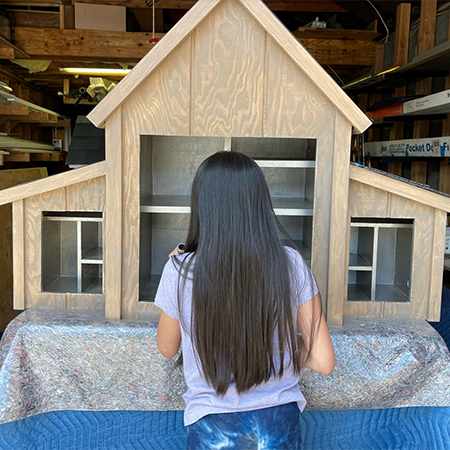 How is your service positively impacting your community?
Patty: We'd always seen food fly off the shelf at the previous food pantry, and it bothered Ruby to think it was being relocated. Each little food pantry is designed to hold canned and non-perishable food, baby food jars, diapers, wipes and "Birthday Cake Boxes." Ruby had asked me, "If people can't buy their own food, how are they going to have food for their own children and birthdays?" So we offer pantry items to make a birthday cake including a tin, frosting, cake mix, candles and napkins.
Share one personal story with me from your volunteerism.
Ruby: I'm working on a project now to establish another food pantry in a different community, and we surveyed people to ask what they wanted in a pantry. A lot of people said it was such a great idea, and thanked us. That made me feel really good, because now I really know people want this service, and my volunteerism will be cherished.
Your volunteerism isn't limited to your little food pantries. Explain.
Ruby: I first joined my mom to volunteer in 1st grade, and have been volunteering ever since, at organizations including: Ridgefield Girl Scouts, GSofCT, National Charity League (NCL) Nutmeg Chapter's ROAR/Ridgefield Operation for Animal Rescue, National Charity League, Family and Children's Aid, Meals on Wheels of Ridgefield CT, Scott Hamilton Cares Foundation – Sk8 to Elimin8 Cancer, Dress for Success Mid-Fairfield County and Ben's Bells.
Explain how Ruby's service inspires others.
Patty: It's really important to empower children. If more kids understood their community though their parents, I think that there could be more of a call to action to help. We have a call to action that empowers children and helps to feed community members. Ruby's Girl Scout and school friends have contributed to this project.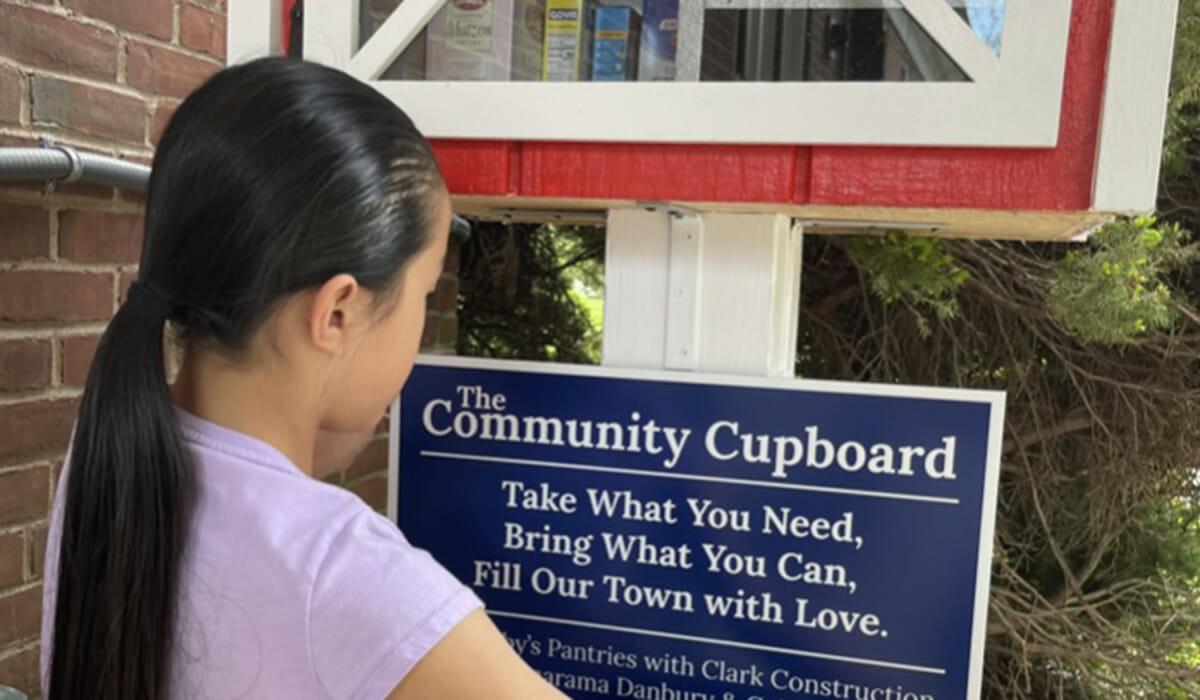 What's been the most rewarding part of your service?
Ruby: It's rewarding to hear about, or see people donate to help others.
When you're not busy with school or volunteering, what do you do for fun?
Ruby: I figure skate six days a week.
How can readers help?
Please visit our Facebook page for more information about how you can help.
Do you want to make a difference in your community like Ruby Weiner? Find local volunteer opportunities.
Share this post