7th-Grader Volunteers to Strengthen Bond Between Youth Caregivers and Adults with Alzheimer's
Meet Daily Point of Light Award honoree Hailey Richman. Read her story and nominate an outstanding volunteer or family as a Daily Point of Light.
Hailey Richman loves to solve puzzles with her beloved 96-year-old grandmother. The two don't play favorites, according to Hailey, but if she had to pick one, it'd be her grandmother's Paris cityscape puzzle, featuring the famed Eiffel Tower, once the world's tallest manmade structure. It only makes sense then, that in helping to support her grandmother's health, the adolescent's efforts have soared to new heights to change the way child caretakers are able to connect with adults suffering from dementia.
When her grandmother was first diagnosed with Alzheimer's disease, the Long Island City, New York child was just four-years-old. Committed to maintaining their close bond, Hailey, now aged 12, set out to learn more about memory loss, and how to support other child caretakers who may feel isolated.
Founding Kid Caregivers in 2016, the 7th grader is helping 1.8 million kids in the U.S. who act as caregivers, and is empowering them to enrich the lives of adults living with Alzheimer's disease. Hailey uses her personal experience with her grandmother to help others, she says. "If you're ever struggling with someone with Alzheimer's disease, the best thing to do is go into their world and connect with them using something they enjoy."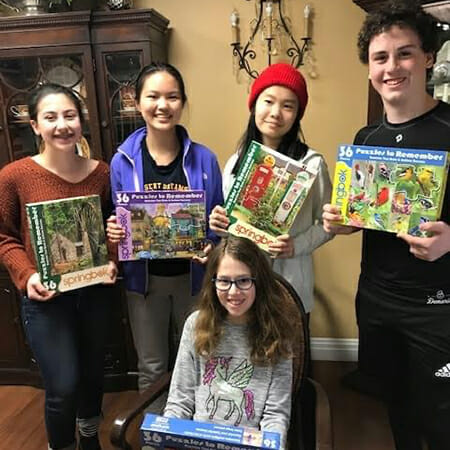 Providing kids as far away as Russia, Germany, Japan and Africa with the tools and resources to interact and enhance eldercare globally, Kid Caregivers provides activity suggestions and online support to kids to better their caregiving experiences. Matching youth volunteers with seniors in memory care facilities, Hailey offers specialized Alzheimer's jigsaw puzzles through the intergenerational Puzzle Time program to help to calm people suffering from Alzheimer's disease and benefit cognitive stimulation. Additionally, Hailey says these activities lessen the unease that kids sometimes experience visiting nursing homes, making the visit more fun for both child and senior.
"Seeing smiles on the faces of kids that were afraid to go into nursing homes at first is rewarding," Hailey says. "Now they don't want to end their visit with the seniors, because they are so happy."
Helping both the old and young to feel purposeful and by focusing on youth caretakers, Hailey has filled a critical gap that persists in senior care, where depression and loneliness can negatively affect the life of an individual living in a nursing home. According to Max Wallack, founder and executive director of Puzzles to Remember, an organization that has distributed over 100,000 puzzles to thousands of Alzheimer's caregiving facilitates globally through Kid Caregivers, Hailey's service is improving the lives of thousands of seniors and caretakers.
"Hailey is constantly thinking about possible ways to improve the lives of others," says Max. "She has lifted the spirits and reduced the agitation of those with dementia…Hailey has also interacted with other young caregivers, across the globe, letting them know they are not alone and providing them with some very useful caregiving strategies."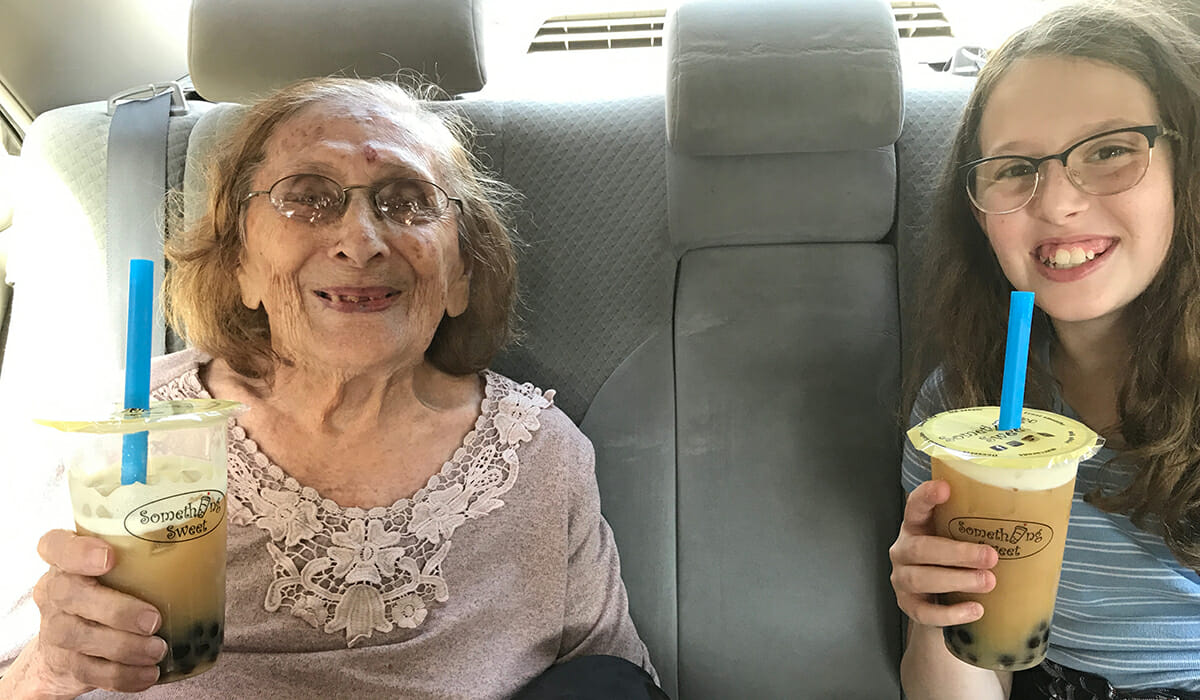 Recently expanding her services, Hailey now offers a program called KidChat so that child volunteers can virtually visit with seniors in an effort to curb social isolation. As a result of the coronavirus pandemic, care facilities have closed to visitors, underscoring the value of this new virtual initiative, says Hailey.
"COVID-19 has been a life-altering pandemic and my visits to grandma have abruptly ended. The amount of social isolation for our nation's most fragile population is very heartbreaking. I have been communicating with my grandma through FaceTime, and although not perfect, it has been a life-saver for both of us. I realized that there are other seniors who are lonely and do not have anyone in which to video chat, so I decided I would start KidChat!"
Currently the associate director of Puzzles to Remember, Hailey will take over as executive director of the organization in summer 2020. Her programs to unite old and young generations have the power to heal, says Max, and the potential to change the world for the better.
"It is widely accepted that social groups where members share a common problem can be very therapeutic. Hailey provides these groups and opportunities to seniors in nursing facilities, to young caregivers internationally, to students first learning about dementia, and to a vulnerable population of young homeless people who gain an increased sense of self-worth. She clearly makes her community, and indeed the world, better for the wide range of people touched by her efforts."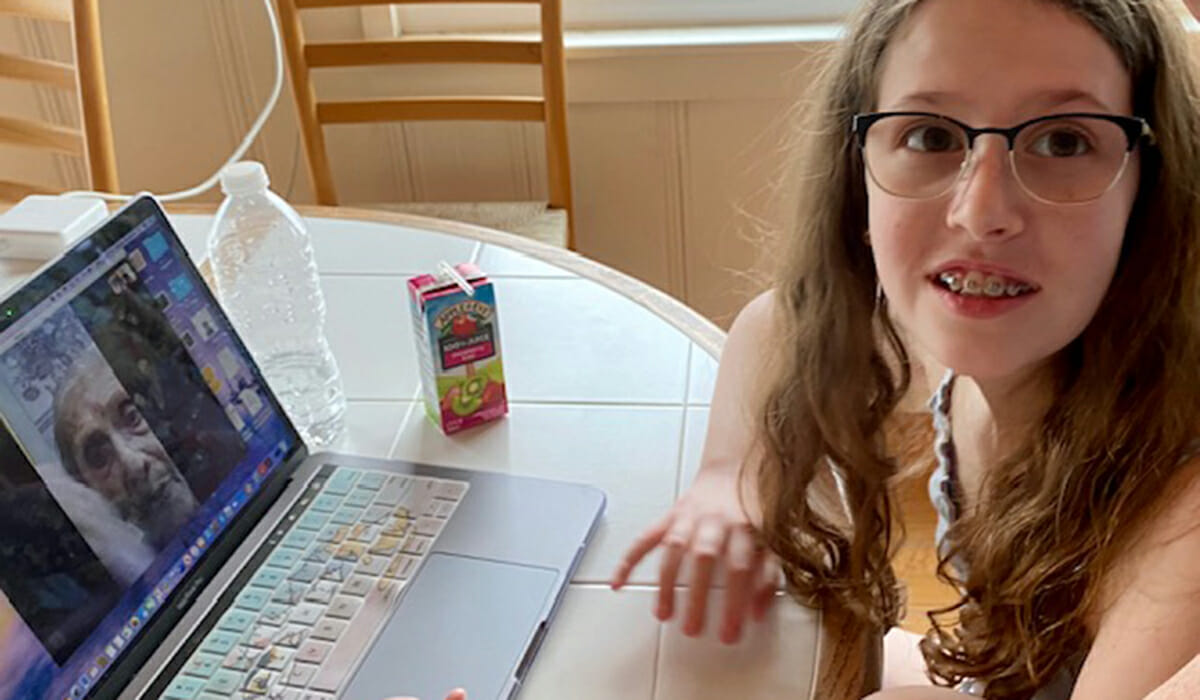 Educating children like herself about the dementia community and how to better connect with these loved ones in their lives, Hailey says her volunteerism is inspired by her own grandmother's service.
"My grandma inspires me to volunteer. When she was younger she volunteered at nursing homes, so I'm leading in her path. Just because you're a kid doesn't mean you can't make a difference. You are strong and everyone can make a difference."
Do you want to make a difference in your community like Hailey Richman? Find local volunteer opportunities.
Share this post