1st Generation American Teens Distribute Healthy Foods to Houston Food Deserts
Meet Daily Point of Light Award honorees Shirley and Annie Zhu. Read their story and nominate an outstanding volunteer or family as a Daily Point of Light.
As twins, Shirley and Annie Zhu have shared many moments and achievements in their lifetime, and now, the 16-year-old sisters are doubling their efforts to curb food insecurity, supplying food deserts in their community with healthy and fresh food.
Launching Fresh Hub in 2018, the Houston, Texas high school juniors are helping to change the lives of food insecure individuals in their community by rescuing food waste and supplying fresh food at distribution centers across the city. Rescuing more than 9,000 pounds of food to benefit nearly 1,200 people across the Houston area thus far, Annie and Shirley are advocating a healthy lifestyle and doing their part to eliminate food deserts in their community.
What inspires you to volunteer?
Annie: After Hurricane Harvey, we volunteered at a local grocery store, and we saw boxes of food that were going to be sent to waste landfills because the food had stayed in the store for too long. On the news, we were seeing that people had lost their homes in the hurricane, and these people were now low on resources. That experience of watching food being thrown away while people were in need catalyzed our action on Project Fresh Hub.
Describe your role with Fresh Hub.
As co-founders, we spread awareness of food deserts, advocate a healthy lifestyle and distribute fresh foods through our partners, including Trader Joes. We organize monthly "Fresh Hub Markets" to distribute the food donations to people in need across the city. Our organization is student-run and student-done. We are in contact with the Houston health department and other organizations to make sure we are serving our clients with produce they need. We have about 100 student volunteers from three different Houston-area schools that help us pack and distribute this food.
You've created a Fresh Hub app to expand your reach. Explain.
Shirley: We created the app along with two of our fellow classmates as a way to connect to our clients and share our resources. Our app lists a calendar of events, a recipe hub, and more. We want to promote a sustainable and healthy lifestyle for the people we are serving by giving them free food and helping them find easy recipes to use.
Share one personal story with me from your volunteerism.
Annie: Our parents both immigrated to the United States. When we were younger, our family relied on free food that was provided for us from grocery stores. (My sister and I) were too young to remember this, but from the stories our parents have told us, we realized that food insecurity is very real for a lot of people. Now that we're older, seeing others in need has changed the way I think about how I want to utilize my resources, and I'm very grateful for what we do have now.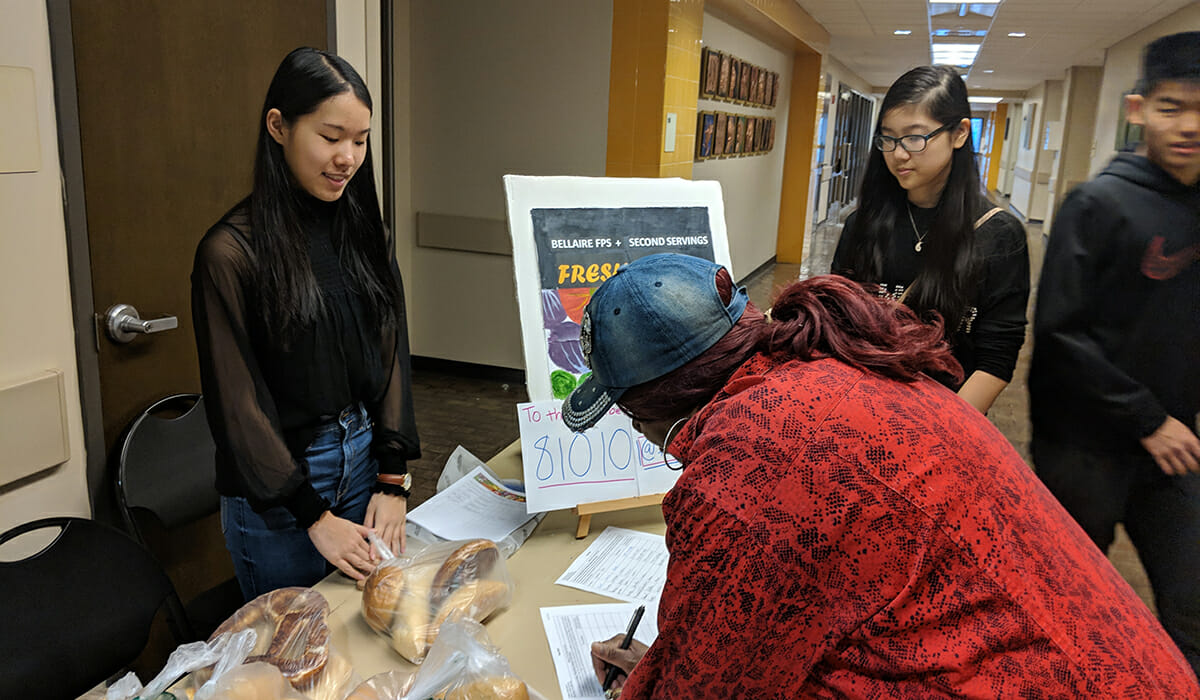 What's one way you hope to inspire others in your service?
Shirley: There's no prerequisite to be a volunteer, we were just high school students that had a passion and wanted to do something good. Anyone who feels that way can also make an impact in their own community.
What's been the most rewarding part of your service?
Annie: It's been rewarding interacting with our clients at our Fresh Hub events, volunteers and community members. We are broadening our horizons when we hear their stories.
In one word, what does volunteering mean to you?
Annie: Compassion.
Shirley: Community.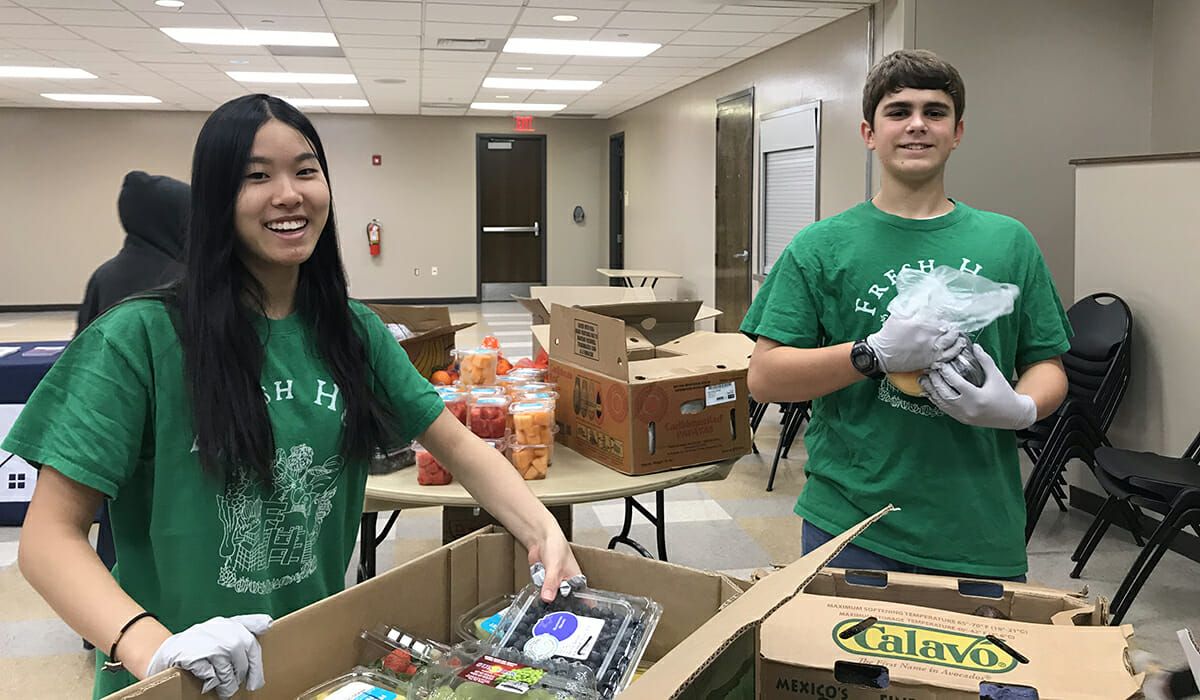 What have you learned through your experiences as a volunteer?
Annie: In the community, everything is interconnected. Every single person's actions have consequences that can affect everything else. One person's trash could have been another person's meal. By understanding how these issues and root causes are interconnected, we are helping individuals comprehensively to curb food waste, food inequity and poverty.
When you're not busy volunteering or at school, what do you do for fun?
Shirley: I like to do a lot of reading and also art. Recently I was working on painting my own laptop case.
Annie: I really enjoy dancing in my free time. Listening to good music and just moving to the beat.
How can readers help?
We have adapted to the COVID-19 pandemic by offering deliveries to food insecure residents at their apartment buildings, and in particular, we are focusing on seniors, because we realize this is a particularly difficult time for them. We are continuing to help our clients because this pandemic has only exacerbated the issue these low-income families face. Please visit our website for more information about how you can help.
Do you want to make a difference in your community like Shirley and Annie Zhu? Find local volunteer opportunities.
Share this post