A Born Volunteer, Teen Makes Dreams Come True for People in Need
Meet Daily Point of Light Award honoree Sydnee Floyd. Read her story and nominate an outstanding volunteer or family as a Daily Point of Light.
Growing up next to one of the poorest counties in the U.S., Sydnee Floyd says when she started noticing that her classmates were wearing the same clothes to school each day, or how they'd stash away any extra food served at school because it was the only meal they could plan on that day, she knew she had to do something to help her community.
Now 15, the Franklin, Tennessee rising high school junior is connecting with impoverished families and homeless individuals across greater Nashville through Jumbled Dreams Changing Lives, an organization she founded in 2018 which provides essential items, non-perishable food and much needed support to those in need. Powered by more than 100 volunteers over the last year, Sydnee is inspiring others through her service, connecting with close to one-thousand volunteers and impoverished people in her greater community. Striving to change the world through good, Sydnee is empowering others to harness their efforts to make the dreams of others come true.
What inspires you to volunteer?
I once met a little girl at a service event with my mom, we were handing out donated shoes and we'd run out of the little girl's shoe size. We sat her down and put on these sparkly, pink shoes that were two sizes too big. The little girl looked at me and said, 'I want to be like you one day.' I was just ten at the time, but in that moment, I knew what I was doing was right. That little girl is always there in the back of my head, pushing me to continue serving others, even in the face of hardship.
You say you were born to help others. Explain.
I knew I had to help when I started noticing differences between me and my friends. For example, they were wearing the same clothes every day, and in comparison I have a closet full of clothes, or they'd take a lot of food during lunch because it's free, and they'd try to save some for later. I'd always try to sneak them clothes or shoes that didn't fit me anymore. I'd pack extra lunches to bring to school and share with my friends.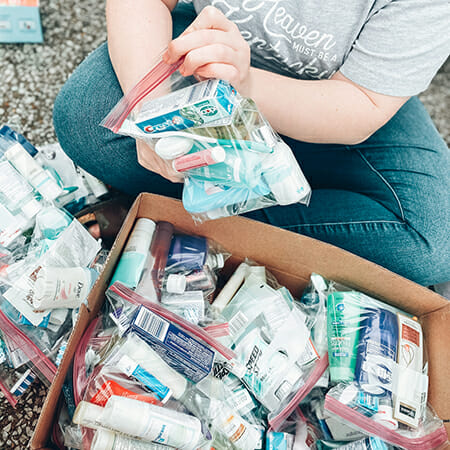 Describe your role with Jumbled Dreams Changing Lives.
As founder and executive director, I coordinate our fundraising, manage social media communications, recruit volunteers and organize events. We also accept donations including clothing, non-perishable food, toiletries and any basic necessities. We'll distribute these donated items within our community and have also partnered with national organizations to get our donated items in the hands of those most in need across the country.
Share one personal story with me from your volunteerism.
All of the people we are helping are just like you and I. They just lost their way. We often help this one woman, she's a friend of ours. She's older and doesn't have the ability to do a job that requires standing all day long. She doesn't have heat or electricity and she can barely pay rent. Anytime we give her anything she always cries on us and gives us a huge hug.
Why do you think it's important for others to give back?
In this world, it's super hard to fit in or feel loved, because people can easily hide behind so many things. Winston Churchill famously said, "We make a living by what we get, but we make a life by what we give." There's an emotional amount of heart and soul that goes into giving back, but it's so regarding. What if you were struggling, on the streets, wouldn't you want the help? You never know the battle someone is going through. My service is focused on that little dream of helping, even if it's just holding the door open for someone, your small act of kindness could literally save someone's life.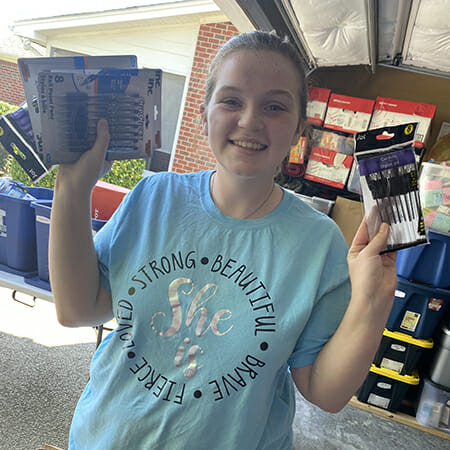 How has the Covid-19 pandemic impacted your service?
Shoot, it's messed everything up (laughs). We've continued donating to partner organizations and are still collecting, cleaning and sorting donated items until it's safe to distribute.
In one word, what does volunteering mean to you?
The world. Service is my passion. It makes my heart so full and it makes me so much happier than anyone or thing could make it. Volunteering is something anyone can be born with, you just have to find that passion.
When you're not in school or volunteering, what do you do for fun?
I hang out with my mom! (laughs). I know that sounds so cliché, but my mom just has been there through everything with me. I love hanging out with my mom and my friends and just enjoying life. We'll watch a movie, we'll go riding down roads. I also work at Chick-fil-A.
How can readers help?
Our Christmas Dreams event is an annual event we hold to help the homeless. Please visit the Jumbled Dreams Changing Lives website for more information about upcoming events and how you can help.
Do you want to make a difference in your community like Sydnee Floyd? Find local volunteer opportunities.
Share this post