Texas Cosmetology Volunteer Helps Cancer Patients "Look Good Feel Better"
Meet Daily Point of Light Award honoree Daniela Hernandez-Salas. Read her story and nominate an outstanding volunteer or family as a Daily Point of Light.
As a licensed cosmetologist, Daniela Hernandez-Salas is following in her beloved parents' professional footsteps, who often counseled the now 51-year-old Lubbock, Texas resident that everyone deserves to look beautiful, no matter their situation or circumstance.
Serving as a volunteer for nearly three decades with Look Good Feel Better (LGFB), Daniela is giving sick patients on their cancer journey the tools to take control and feel good about themselves again. The organization is free of charge and reaches thousands of women and men in cancer treatment each year, including patients in rural areas that may not have access to as many resources. Daniela, who offers wig and makeup workshops for patients experiencing hair loss around the world and also trains stylists who in turn volunteer to help others, is changing her community and beyond, one wig at a time.
What inspires you to volunteer?
I'm inspired to volunteer because of my mother, Bella, and my father, Ishmael. Both cosmetologists, my father is also a wig maker, and the two counseled me from a very young age that everyone deserves to feel beautiful no matter what economic background they come from, or no matter what's happening in their life.
How does your volunteerism help cancer patients, on the inside and outside?
When someone is not feeling well or is undergoing treatment of any kind, including dealing with hair loss, they lose self-confidence. In addition to wigs, we do makeup as well. I teach patients how to do their eyebrows, how to take care of their skin, and how to put a wig on. My volunteerism helps to transform a person in just a few seconds. The wig is the first step back in helping a patient to regain their confidence and the encouragement they need to take more steps to feel better.
Describe your role with Look Good Feel Better.
I teach virtual classes to women around the world on how to select and care for their wig. I've taught women close to home in Texas, and as far away as Cuba, England, Brazil and Africa. We also travel throughout the state of Texas training cosmetologists for patient classes as the program offers group workshops hosted by trained and licensed hair stylists and cosmetologists in hospital settings who teach the women how to use different products to improve their physical appearance.
Share one personal story with me from your volunteerism.
When I'm working with a younger cancer patient, you can just tell they don't want to get up in the morning. I'll spend one hour with them, and they look in the mirror, and you see the emotion. Their smile comes back, and you just know you're in the right place. The beautiful thing about (LGFG) is that you see the immediate hope for these patients. You see hope happening, right in front of your eyes, and you're a part of that change.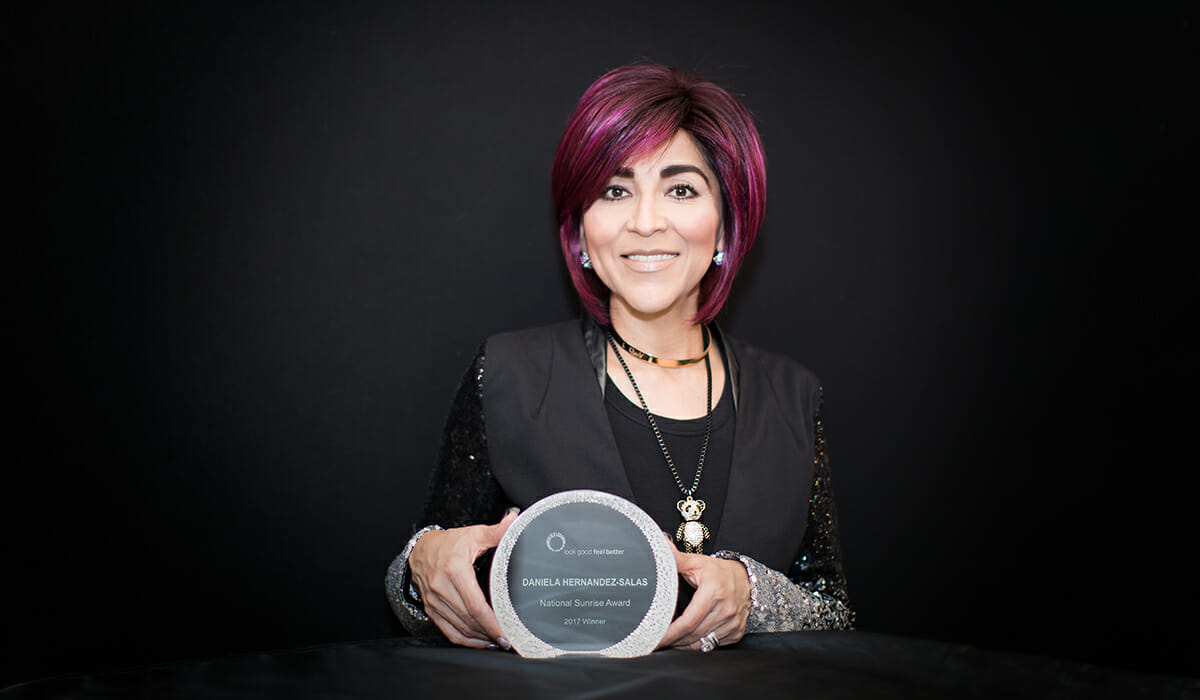 Why do you think it's important for others to give back?
Because somewhere in our life journey, we're going to need help ourselves. If you've been given a talent to do hair and makeup, this is such a beautiful opportunity to give back to others.
What's been the most rewarding part of your service?
I learn so much from my patients on an everyday basis. My service is just as rewarding to me as it is to them.
How has your service changed amid the Covid-19 pandemic?
Prior to the pandemic, we'd switched to virtual training to reach even more people, whether they live outside of Texas, in a rural area or are homebound. Before Covid-19, we did in-person makeovers with patients in hospital settings, this is the first year we've not done workshops in the hospital. We're currently offering virtual workshops for patients and training for professionals, and in my opinion, the switch to virtual has been positive because people feel comfortable participating in our workshop in the comfort of their own home.
In one word, what does volunteering mean to you?
Hope.
How can readers help?
Please visit Look Good Feel Better's website for more information about how you can help.
Do you want to make a difference in your community like Daniela Hernandez-Salas? Find local volunteer opportunities.
Share this post