A Changemaker Devoted to Service Leadership
Jennifer Levine Hartz has devoted herself to service since she first tried volunteering back in the 8th grade. Fast forward to 2020, and this working mother of four sports a civic leadership resume a mile long. Jennifer, whose wheelhouse includes industrial psychology, public policy and for profit counseling, runs her own consulting business, Corporate Hartz. Besides juggling career and family, Jennifer has a long history of volunteer leadership with organizations like Boys & Girls Club of America, Habitat for Humanity and for the past 30 years, Hands On Atlanta. From fundraising to hands-on service and projects, she's always ready to help and lead.
What inspires you to volunteer?
Service feels good, makes a difference and is pragmatic, a word that describes me to a tee! Everyone has something to give – physical goods, professional expertise, emotional support, hands-on skills, pro bono service, money or in-kind, and of course plain old elbow grease.
Describe your volunteer role(s) at Hands on Atlanta
I serve wherever there is a need. I think I've explored every kind of service HOA offers, from building wheelchair ramps and planting trees, to rehabbing nonprofits' physical plants and serving Thanksgiving in public housing. I have always donated to capital and annual campaigns as well as calling on others to do the same. When I joined the HOA board of directors, I know I made a big impact as a fundraiser. I also created HOA's first CEO breakfast, hosted by Michael Leven, with guest speaker Bernie Marcus – which put us into metro ATL's "big league" I was on the Search Committee for our new (current) office space. And I have been co-chairing or chairing HOA's Advisory Council for 15-plus years.
What's been the most rewarding part of your work?
I so appreciate being around people who understand that service is a two-way street. Beyond the notion of just giving to others is the deeper idea that all eight billion of us are in this thing we call life together. It's mutual — as I fill others' cups, they simultaneously fill mine. Also rewarding is serving with our four children over the years. Now that they are young adults, they have the volunteering bug and the right perspective around service.
What have you learned through your experiences as a volunteer?
So many things – I've learned that people like to be asked for their input. What do you need, how can we help, how can you serve, what can you give? When I ask others to volunteer with me, they often say, thank you for asking, before saying yes, or no, or not now. Similar experience with asking for money or in-kind. I've also learned, "measure twice; cut once!"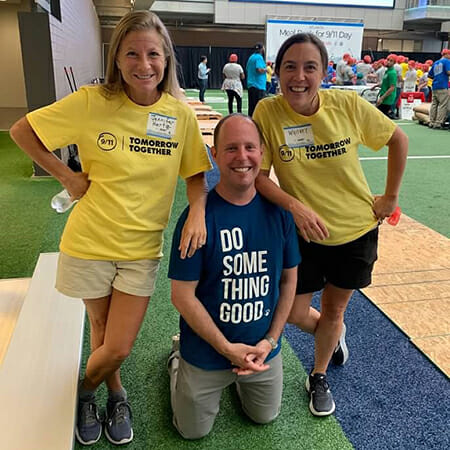 Any future partnerships, programs, events you are excited about?
I'll just be excited when COVID-19 finishes its work with the least amount of suffering, and we can get back to the business of living! I know that everybody is hurting on a number of levels, but people are stepping up in so many ways right now. I'll be excited when we can all get back to working and volunteering. I pray that we will be more inclined to help others generally, even without pandemic.
Why do you think it's important for others to give back?
It is important because we ALL need each other! We need to KNOW each other, forming real connections with people not like us. That is often a huge outcome of volunteering. Community connectivity is key to a healthy society.
What do you want people to learn from your story?
I want everyone to feel comfortable asking for help and giving help. But I also want them to see that there's much forward thinking to do. How do we take preventative measures on: school quality, health challenges, food insecurity, homelessness and substandard housing, environmental sustainability, etc.
Do you want to make a difference in your community like Jennifer? Find local volunteer opportunities.
Share this post