New York Woman Brings Hope to Babies with Down Syndrome
Meet Daily Point of Light Award honoree Brittany Schiavone, who was a 2019 L'Oréal Paris Women of Worth Award winner. Each year L'Oréal Paris and Points of Light recognize and celebrate Women of Worth who make a beautiful difference in their communities. Ten honorees each receive a $10,000 grant to support their most cherished cause, and an online vote deter-mines one honoree who will receive an additional $25,000 grant. Nominations for 2020 will open on April 20! If you know a woman who works to create lasting and significant change in her community, nominate her to be one of the 2020 Women of Worth.
Brittany Schiavone has a catchphrase — people with Down syndrome can do anything.
Brittany, who herself has Down syndrome, has proven just that through founding her own nonprofit, Brittany's Baskets of Hope. The organization supports and celebrates new parents of babies with Down syndrome by sending them handmade baskets filled with baby items, such as a onesie that says 'Down right perfect' and locally hand-knitted blankets, as well as information and guidance about raising their baby. The baskets are tailored for each specific baby, with clothes in their size and personal touches related to their families or any health concerns they may be going through.
Since its inception, Brittany's Baskets of Hope has sent over 900 baskets to families across all 50 states and Puerto Rico. For parents on Brittany's native Long Island, she personally delivers the baskets, and uses the opportunity to hold the baby — which she says is the most rewarding part of helping so many families.
Points of Light spoke with Brittany as well as her mother, Susan Schiavone, who serves as Vice President for Brittany's Baskets of Hope.
Describe what Brittany's Baskets of Hope does.
Brittany: I make and deliver baskets to newborns with Down syndrome. [In the baskets are] little things like pacifiers, blankets. We have handmade, knitted and crocheted blankets, hats and booties as well, and then teething rings, toys, books, clothes.
Susan: Things to celebrate a new baby's birth, because what we found 31 years ago when Brittany was born and now still talking to new parents, is that the first thing parents hear is 'I'm sorry.' They get a very bleak view of what's going to be their life going forward and what their baby is going to have to go through. Like anything else, there are babies who have more issues than others, more health complications, more cognitive issues, but basically we want to support and celebrate those babies and tell those parents that your baby is going to —
Brittany: Be ok.
Susan: Right, and live a good life.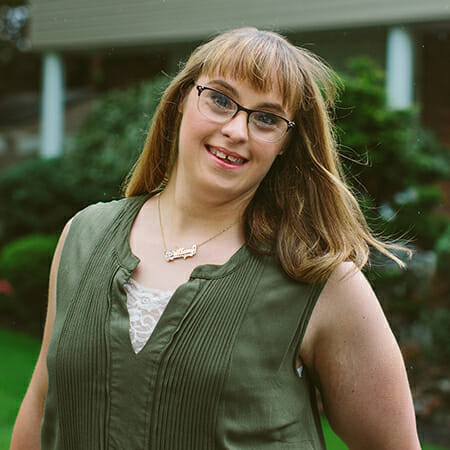 Can you describe the process of making and delivering the baskets?
Brittany: Me and mom or [Secretary and Social Media Director] Ashley Asti go down and see the babies and see the moms, give the baskets to them, [if they are] local. We do that first. Then later we have a bagging party. We always have it in the living room. We put everything from the basement up here to set up and do all the packing stuff like toys, clothes.
Susan: When we have a local baby, a Long Island baby that we can drive to, Brittany, myself and Ashley … climb in the car and do an in-person visit to meet the parents and meet the baby. … Brittany's Baskets of Hope to date has sent out over 900 baskets in all 50 states and Puerto Rico. Most of the time, we get requests online, on Facebook, on our Instagram account. The vast majority of the 900 baskets come all across the country so it's impossible for us to physically visit. Our "baskets" become mailing envelopes or boxes. We pack the boxes with all the things we want to give the baby and the parents through the mail. We have a packing party, and as Brittany said, we take all of these items that go into the basket, and we each take a baby with all their information —
Brittany: The sex of the baby, the stories of the baby, the baby's names, siblings they have, or their parents or a dog.
Susan: All those babies get a packed basket specifically for them. Each of the baskets is hand tailored for the size of the baby, if they're going through any health concerns. Then there are certain things that go in every basket.
What else is in the baskets?
Susan: The important thing for us as parents to give back to the new parents is a book called 'Babies with Down Syndrome' by Susan J. Skallerup. It's a guidebook or handbook for new parents who are raising a baby with Down syndrome, from even before birth and as the baby grows. It gives them some tips and lets them know they're on the right track.
We have a onesie that we have printed for all the babies and it says 'Down right perfect.' That goes in all the baskets. Brittany has a story of her life so far written from her perspective, and then I have my version of what it was like for my husband and I to raise Brittany. We pack the poem 'Welcome to Holland' in the baskets. It's an amazing poem written by a mom with an individual with Down syndrome who's now an adult. It's her version of what happens when you get that diagnosis and the different path it puts you on. The other piece of the basket is we have knitters all over Long Island — small groups, large groups, individuals — who knit for us. They donate to us hand-knitted, beautiful baby blankets.
Brittany: Hats and booties, too.
Susan: There are quilters who submit quilts for us, and that's a staple of all the baskets.
Why did you want to start Brittany's Baskets of Hope?
Brittany: I saw a video. Then I came home, told them I wanted to do this, and that's really it.
Susan: It really is that simple. She was at work, and she saw a video with her boss about people helping new babies with Down syndrome. She came home and said "I want to do this," and we said that's a nice idea. She was very persistent and it came at the same time we were changing the service model of the services that Brittany gets to support her as an adult. Brittany is supported by a program called Self Direction [which promotes personal choice and control for people with development disabilities].
Brittany: I want to give them hope and I want to give them joy and happiness in their lives. I want the moms or dads or siblings [to know] this is their child. I make them happier for their own sake, because I know it's what's right for them. What I always say is Down syndrome kids can do anything — really anything. That makes me happy, to see them in person and hold them as a baby.
What kind of feedback have you received from the families you've helped?
Brittany: [The parents] have happiness. They cry a bit. They know I'm there.
Susan: I think Brittany presents a role model for an individual with Down syndrome who has grown up and flown in the face of what the doctors have warned them or scared them about. She's a good role model for living the life you want, whether that life is forming a nonprofit corporation or whether your goal is to ride a bicycle, or be employed, or have your own apartment, or even be comfortable wherever you are.
What's been the most rewarding part of your work?
Brittany: Holding the babies.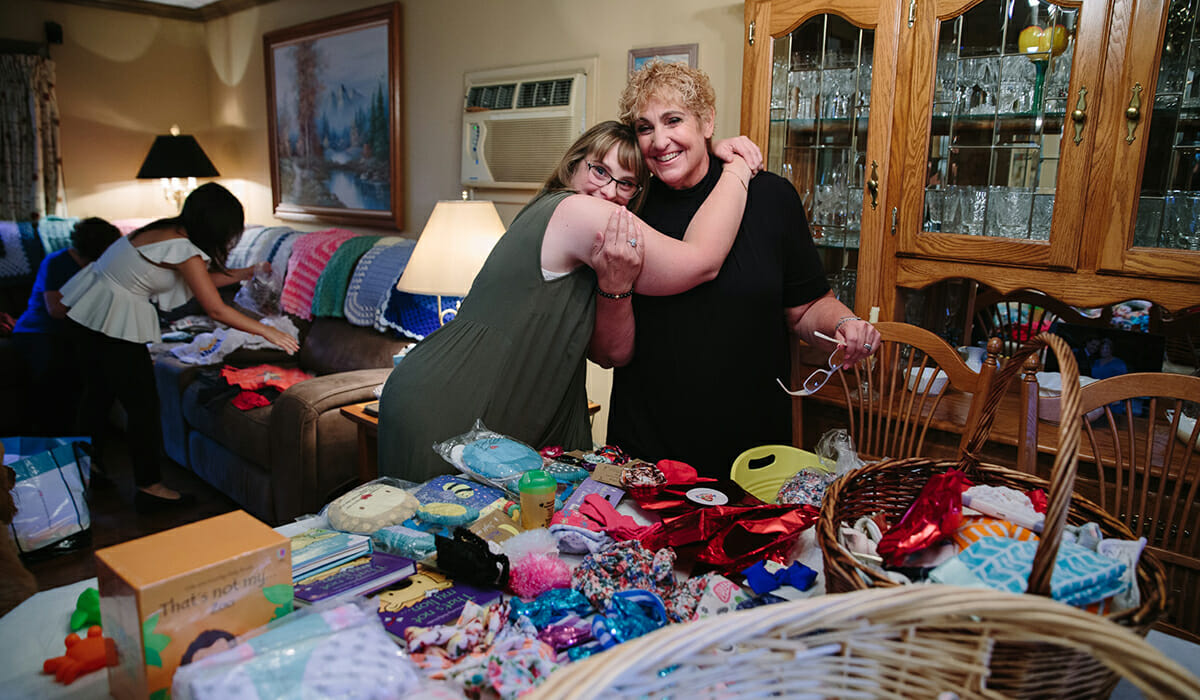 What is it like for you to see the babies and visit the families?
Brittany: I know I have Down syndrome and I think the babies know they have that too. There's a connection.
Susan: The parents and Ashley and I laugh when Brittany holds these tiny newborns with Down syndrome. We call her 'the baby whisperer' sometimes because the look on her face and the connection she has with these babies she holds is really a cool thing.
What have you learned through your experiences as a volunteer?
Brittany: There are babies in the entire world who have Down syndrome.
What do you want people to learn from your story?
Brittany: People with Down syndrome can do anything. Really, really, really anything.
Susan: That's Brittany's catchphrase.
Brittany: Always!
Do you want to make a difference in your community like Brittany? Find local volunteer opportunities.
Share this post
---