A High School Youth Group Is On a Mission to Improve Their Community
Meet Daily Point of Light Award honoree Sophia Marczuk. Read her story and nominate an outstanding volunteer or family as a Daily Point of Light. 
Sophia Marczuk was adopted when she was three, from Yekaterinburg, Russia, and came to live in the United States. Sophia has always been very active in the church. She has been blessed to be a member of the Youth Commission for her village and through that initiative she has made great friendships within the community.  
Sophia offers her time and attention to many programs in and around LaGrange, Illinois. At the same time, she maintains a 3.7 GPA, teaches a unique weight training program, holds down a part-time job, participates in her high school marching band and is an active member of her First Presbyterian Church community. She is also a certified lifeguard and teaches swimming to children with disabilities.  
Sophia created a local chapter of the "Buy Nothing Group," and serves as the admin for the group's Facebook page. The group has grown to over 1,600 members. On the page, people can ask for items that they need and donate gently used or new items. It is, says Sophia, a great way to get to know your neighbors. 
What inspires you to volunteer?
I love the feeling that I am making an impact or doing something good for someone! 
Describe your volunteer role with the TUXIS and the Youth Commission
I am a member of the TUXIS Youth Group First Presbyterian Church of La Grange, Illinois. TUXIS stands for Together Under Christ In Service. This is a high school group that does yard work for senior citizens, visits senior homes, volunteers at pantry food drives and clothing drives and much more.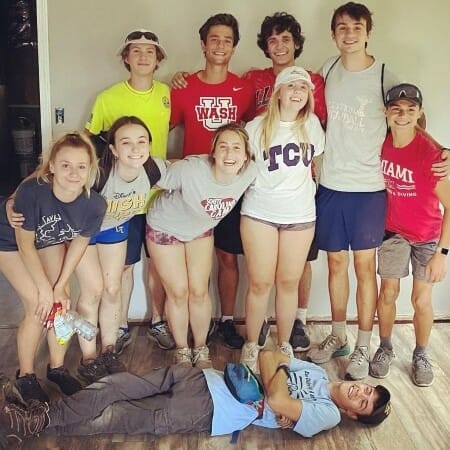 TUXIS works with Feed My Starving Children, where we measure and pack minerals and rice for underserved children. Sometimes we break up into groups and race each other to finish packing as many boxes as possible during our work shift.  
We also clean beds at the Beds Plus Homeless Shelter, and clean stables and feed horses at Casey's Safe Haven Holistic Horse Rescue. The first time I cleaned stables and fed horses at Casey's Safe Haven, I remember how much I loved brushing the horses' manes and feeding them apples and carrots.   
The Community Days are so rewarding. We gather family and friends to help senior citizens with yard work. We rake, water flowers, pull weeds and spread new mulch.  
We visit senior homes to play games with them. We also sing Christmas carols during the holidays and throughout the year we sing songs like, "Lean On Me" and "Don't Worry Be Happy." My favorite memory is playing musical chairs and helping seniors write cards to their grandkids.  
TUXIS is well known for gathering food for and volunteering at pantry food drives and soup kitchens. Every year we also participate in clothing drives.  
My youth leader is a proud owner of a few rescued greyhounds so we decided to work with Greyhounds Only. We brought blankets to Greyhounds Only and cleaned the kennels. In reward, we got to spend time petting and playing with the rescues.  
Since my freshman year, I have spent about an hour each week during the school year with TUXIS. During the summers we spend a week on mission trips helping other communities with light handiwork to help people improve their homes. Once when we were working on a flooring project, we got to talk to the homeowner every day and got to know a lot about his story. He invited us to the town gathering where he sang and played the piano. We also shared a meal and played games with his neighbors. It was such a beautiful experience and I really felt connected with him.   
What's been the most rewarding part of your work?
Meeting the people that we are helping out and getting to listen to their stories. 
What have you learned through your experiences as a volunteer? 
There is always a need for all kinds of help. People are always grateful for you taking time out of your day to give what you can to support them. 
Are there any future partnerships, programs or events that you are excited about? 
This past summer I took a five hour volunteer shift representing the Youth Commission at the National Night Out which supports our local police department and raises money for the Special Olympics. I had such an amazing experience working and talking with kids that I can't wait to do it again this summer! 
Why do you think it's important for others to get involved?
It's a learning experience as well as a positive imprint in the world and people's lives. 
What do you want people to learn from your story? 
The more we get the youth to help out, the world could be a beautiful, safe and clean place. 
Do you want to make a difference in your community like Sophia? Find local volunteer opportunities. 
Share this post