High School Sophomore Spreads Joy to Children in Foster Care
Meet Daily Point of Light Award honoree Max Feinberg. Read his story and nominate an outstanding volunteer or family as a Daily Point of Light.
High school sophomore Max Feinberg was struck with empathy when he heard that the child sharing his hospital room was an orphan. He credits his strong family ties for a large part of his recovery and was alarmed upon the realization that not everyone has that kind of support.
It was after this experience, empathy in tow, that Max founded Fostering Fun in 2021. Without knowing anyone in foster care besides the boy in the hospital, Max has personally solicited and facilitated the donation of over 3,000 gifts worth around $100,000 to children in foster care. He delivers birthday bags, school break "essentials" and holiday gifts about every two months.
As a competitive golfer and aspiring businessman and entrepreneur, Max is always thinking one step ahead. Today he is brightening the days of children who don't have the same advantages he's had, but with the ability to see a need and fill it, Max's own future is also looking bright.
What inspires you to volunteer? 
When I was 10 or 11, I was in the hospital for a while with an ongoing illness. I had a strong, supportive family that helped me get through tough days and eventually get out of the hospital.  
During the time in the hospital, there was a three- or four-year-old kid who was in next bed. I learned that this kid did not have any parents–he was an orphan–and he was basically growing up in the hospital without any support.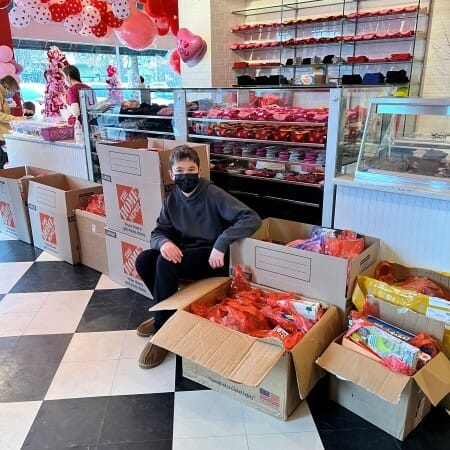 That had a profound impact on me. That's basically how it all started. When I got out of hospital at about 11 or 12 years old, I really started building up Fostering Fun. 
Describe your volunteer role with Fostering Fun.
In general, Fostering Fun is like a middleman between those who donate and those who receive donations. I go to Toys for Tots and I receive toys from them. For books, I go to Open Books in Chicago. I basically take items from these places and other various donations, and I'll organize bags. Then, I'll allocate those. The main place I send them to is Fill a Heart 4 Kids, and they will make sure that they go directly to children in foster care.  
Kids in foster care don't get to celebrate a lot of holidays like most people do. Most holidays are spaced out every two or three months, so I try to make sure I bring stuff in on those days. It really raises their spirits. 
Were there any challenges when starting out? 
I think the hardest part, initially, was building that credibility factor. It was hard to solicit donations without people really knowing what I did. After I built it up, it definitely became easier.  
What's something people should know about kids in foster care?
Kids in foster care don't grow up the same way most people do. A lot of the stuff that they get is funded by the government, and I don't really think it's sufficient. That's basically why I do this. I feel like there should be some additional resources they should be able to access in order to live a more normal life, because I'm fortunate enough to have that.  
What's been the most rewarding part of your work? 
I don't get to see the kids' reactions or how they feel about receiving the gifts, but I have heard from Fill a Heart 4 Kids that they know who I am and the things I do. That definitely motivates me to continue, because I know at the end of the day, each individual minute that I put in is going towards a good cause.  
What have you learned through your experiences as a volunteer? 
I've learned that the hard work I put in is going to pay off and that I have to stick through things in order to achieve good. There are a lot of people who don't put in this time, and I feel that just putting in simple volunteer work, overall, will do good. 
Why do you think it's important for others to get involved?  
I think it's important to be involved, because most people don't realize all the stuff that goes on in their own community. There are a lot of kids who are suffering and aren't getting the adequate resources to build a stable childhood. Just putting in simple volunteer work, even if it's just a few hours, can really do a great deal. 
What do you want people to learn from your story?
I want people to know that if they have something they're passionate about and they want to make a change or do some good, they just have to put their minds to it and go for it. Ultimately, you will succeed. 
Do you want to make a difference in your community like Max? Find local volunteer opportunities.  
Share this post