High School Student Shares Coding and Computer Science Through Volunteering
Meet Daily Point of Light Award honoree Ashley An. Read her story and nominate an outstanding volunteer or family as a Daily Point of Light.  
Ashley An is a high school student in Porter Ranch, California, making a big impact on the world of youth in computer science and coding. Working with the organization Voice of Calling, she has been involved in several projects, from the first project where the team provided coding and robotics education for children in a foster family center on Thanksgiving of 2019, to distributing 3,000
COVID relief supplies to local hospitals and foster families during the COVID-19 pandemic, as well as an online coding camp that taught 1,300 students – not only in the United States but also in South Korea and Africa.  
Voice of Calling has donated 12 educational tablets and computers, 20 tons of food to Kenya, four educational tablets and computers to a kindergarten in Tanzania, and funds to make a lab room with 20 computers in Ilboru High School. And all of this has happened in the last three years!  
Ashley, now student body president of the Voice of Calling NPO and president of Education, has been an integral part of this process. Read on to find out what inspires her to share coding and computer science with other youth. 
Describe what Voice of Calling does.
Voice of Calling is an organization centered around coding and computer science. Our main goal is to democratize education, specifically coding and computer science education, throughout our community and, more recently, globally.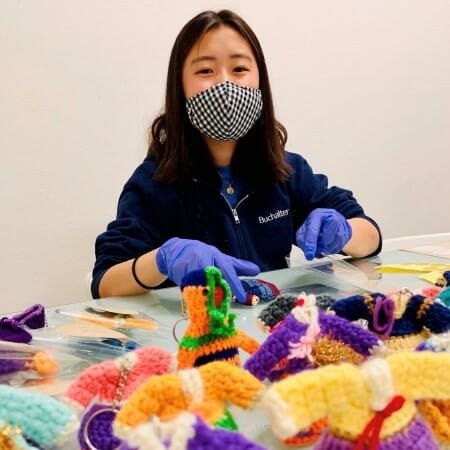 What inspires you to volunteer?
When I first started, I just did it because my friends were doing it, but after seeing what computer science is capable of doing and what STEM can offer for a lot of people, I've become more passionate. We worked with people in Tanzania to set up a computer lab and they were just so motivated to learn, which is something I feel like I haven't necessarily seen among my peers. Their motivation was really striking to me, and I feel more motivated by their motivation.
Why are you passionate about technology and coding?
Ironically, I actually started not knowing any computer science at all. I joined Voice of Calling because I just wanted to volunteer, and this was something in my community I could do. I was really hesitant because I didn't know how I could help, I didn't know any coding, because I had not been provided with those resources. But it's so versatile. I teach Scratch block coding to little kids who can then make their own cartoon characters and make them move. They're five years old! So many people can do it, and it's fun! It's like school, but even better. 
What's been the most rewarding part of your work? 
I love when I get to teach students and hear their feedback, and they say I'm their favorite teacher. It's so rewarding. Obviously, I lacked a lot of self-esteem at first because I felt like I didn't know enough coding to be teaching people, but after I taught myself and learned from other people, I was then able to teach others. It's so rewarding now that they learn from me. 
Why is it important for youth to get involved with the causes they care about?
I feel like this is super cliché, but honestly, we are the future. We are the ones that are going to make the world a better place for the future and for ourselves. So I feel like getting started young and learning to be passionate about things that are going on in the community and in other places – having an open eye – is super important. When you don't volunteer, you don't get to see the struggles of others and how you can help. It feels like an outside lens. Volunteering brings you into the inside of that world. 
What's your advice for people who want to start volunteering?
Just do it. There's always something you can do. At first, because I didn't know coding, I was responsible for ironing our logos onto the shirts. There's something you can do, and there are always ways to learn more. Everything you do can be helpful. 
Do you want to make a difference in your community like Ashley? Find local volunteer opportunities.  
Share this post