A Leader in Menstrual Equity, Teen Serves through "The Student Period Movement"
Meet Daily Point of Light Award honoree Joanna Lin. Read her story and nominate an outstanding volunteer or family as a Daily Point of Light.
Roughly half the human population has or will experience menstruation at some point in their lives, but 1 in 4 women struggle to afford period products, and amongst low-income women in the U.S., nearly two-thirds said they couldn't afford menstrual hygiene products. After watching a documentary on the topic, 16-year-old Joanna Lin says she discovered the alarming stigma and inequity surrounding menstruation, and dedicated her volunteerism to raise awareness and reform period education.
Launching The Student Period Movement in 2019, the Ambler, Pennsylvania high school junior has been joined by other student volunteers across the country to support menstrual equity and dismantle the stigma about periods. Raising more than $1,000 and donating over 5,000 individual menstrual products thus far, Joanna is helping to support homeless, low-income and student populations by changing the period education system and origins of the menstrual taboo.
What inspires you to volunteer?
I didn't know much about the menstrual stigma. It's important to understand the issue and to recognize the impact of what the stigma can cause, especially for low-income or otherwise underserved populations. There are young people in the world who miss school because of the shame of having periods. Even in the U.S., the so-called "Pink Tax" menstrual product tax exists in 31 states. Awareness and action is a really big step towards fostering positive change that can spread rapidly.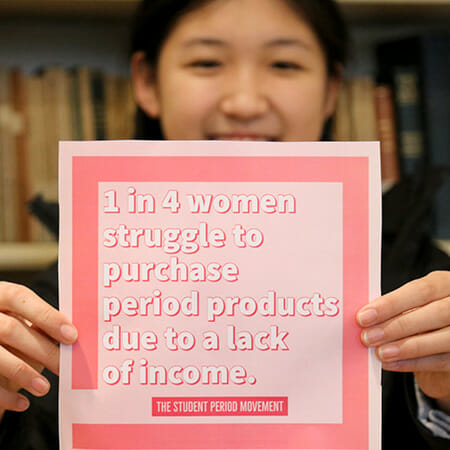 Describe your volunteerism with The Student Period Movement.
As founder and president, I work with about 20 or so student volunteers across the country on varied monthly projects including fundraising for homeless menstruators and hosting online webinars and docuseries. I also meet with my fellow volunteers and manage community collaborations with organizations dedicated to helping populations across the U.S. and internationally.
Share one personal story with me from your volunteerism.
I am a student at Germantown Friends School, and we ran a menstrual product drive there. After the drive, we noticed a large change, particularly in the middle school students. Teachers said their students were being more vocal about asking for menstrual products, and some students even put menstrual products for others to use in the school bathrooms. It was exciting to discover that we increased awareness amongst these students, and inspired them to take further action to help their peers.
Why do you think it's important for others to give back?
Giving back is essential for awareness and action. Volunteering is the first step towards creating awareness and action. Through service, we can reform the process and effect systemic change.
What's been the most rewarding part of your service?
It's been rewarding working with the volunteer team. Connecting with people who have similar interest in our cause has been extremely heartwarming.
How have you continued to volunteer throughout the COVID-19 pandemic?
The pandemic has depleted menstrual products for a lot of homeless shelters, so we've continued to fundraise online to help support homeless menstruators. Our plans to hold in-person seminars and possibly meet with lawmakers have been put on hold. We've switched to hosting more webinars, but since many of our volunteers live in different places, we are continuing to communicate virtually as we did before.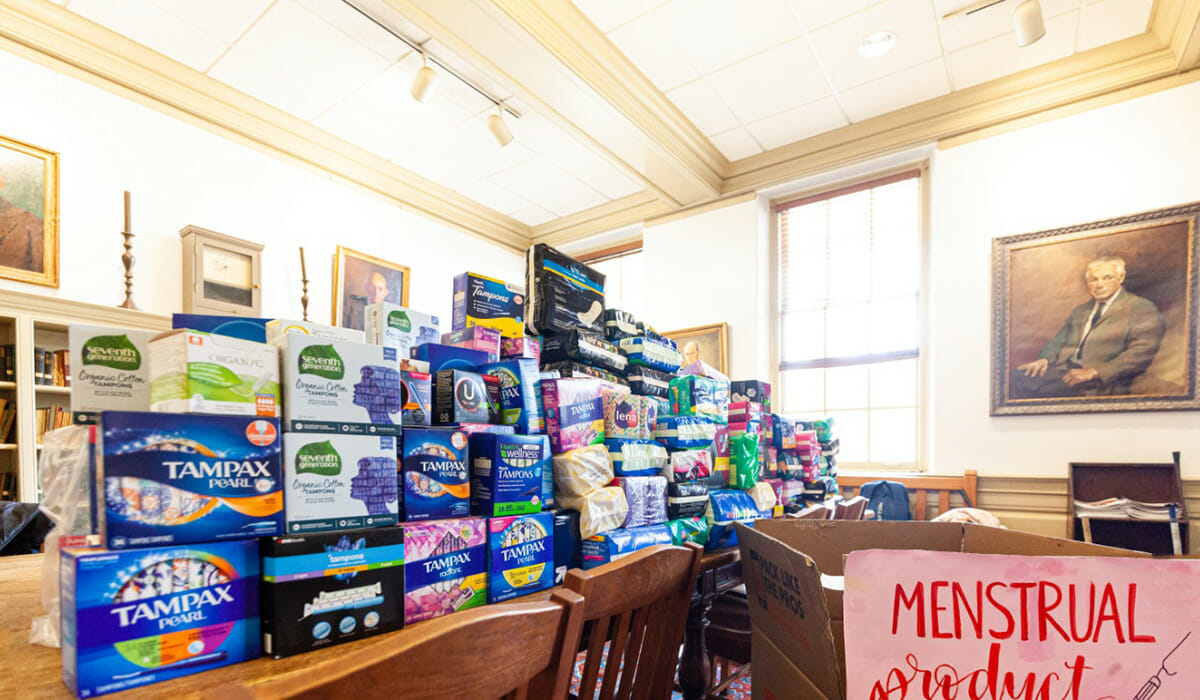 In one word, what does volunteering mean to you?
Change. Specifically with The Student Period Movement, we are volunteering to initiate change and spread awareness for an issue that has not been brought to many people's attention for a long time.
When you're not busy volunteering or in school, what do you do for fun?
I play tennis and I also play for my high school tennis team. I also enjoy oil painting.
How can readers help?
Please visit The Student Period Movement's website for more information about how you can help.
Do you want to make a difference in your community like Joanna Lin? Find local volunteer opportunities.
Share this post