A Passion for Volunteering: Retired Business Manager Finds Community and Purpose Setting Others Up for Success
Meet Daily Point of Light Award honoree Cindi Watts. Read her story and nominate an outstanding volunteer or family as a Daily Point of Light. 
After 48 years in the medical industry—from nuclear cardiology to nuclear radiopharmaceuticals—and moving from Ohio to Florida, Cindi Watts decided to retire. As a mother of two and grandmother to five, children have always been a big part of Cindi's life. Growing up, her own mother was a cornerstone of the neighborhood, feeding anyone who was hungry and playing in the area. The house was, no doubt, a popular place to be, especially around mealtimes.
When she found herself with new amounts of free time, she joined several service groups in an effort to stay busy and, in the process, her passion for helping others only increased. She spends the most time working with The Kind Mouse, an organization that aids children and their families with food insecurities in Pinellas County. It was founded during the last recession after the increase in unemployment and housing loss.
Every Tuesday morning, Cindi and her close-knit group of volunteers, self-titled "The Golden Girls," label and pack food—aka Mouse Nibbles—and assist where they're needed. They give 30-50 hours each month, and Cindi is now on the Advisory Board. During her volunteer work, Cindi reflects on her career mindset. When she helps set others up for success, she herself is successful. And without food, it's hard to fuel the day.
What inspires you to volunteer? 
When I retired, I was afraid of being bored, because I was so busy before; I was traveling the country all the time. So, I kept joining all these different wonderful societies. 
My mom was my role model, and I got my love of helping people from her. She used to say, "If you're having a bad day, all you have to do is do something for somebody, and your day gets better right away." All of them are wonderful, but The Kind Mouse is truly where my heart is. I don't see any greater need than feeding children or families who are in crisis.  
There's so much love for this community and making sure that everyone has food, it just pulls you in. It's almost addictive. Today, we've filled almost 800,000 tummies. If you hear some of the stories that these children tell about what it was like to sleep in their car or to not have a change of clothes or food, it's devastating. And it pulled me in immediately.  
Describe your volunteer role with The Kind Mouse and beyond.
I joined a little bit before I retired, but I became full-blown and part of the advisory board after that. There are usually three major food drives a year that require calling places and asking for food and taking bins in so they can collect donations. After we get the food we sort it, make sure it's dated properly and send it out to families in need.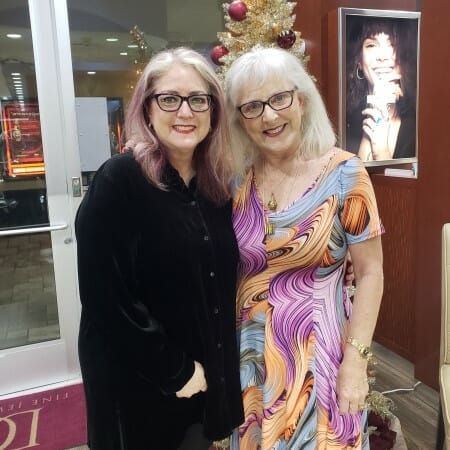 There's also a big fundraiser every year. I was in charge of the fashion show side of the event in January. We had a tea and worked with all The Kind Mouse volunteers and raised a lot of money to keep the doors open and buy food for families.  
I've also volunteered here: 
Guardian Ad Litem

– I've served as a children's advocate for five and a half years in Ohio. 

 
What's been the most rewarding part of your work with The Kind Mouse and beyond? 
Knowing that children are fed, knowing that the mentally ill have a way forward, meeting all these wonderful women…  Most of the people I work with are women who saw a need and are fulfilling it, and I want to help them. 
What have you learned through your experiences as a volunteer? 
I've learned how very blessed I am. When I have a bad day and think that something's horrible, it's kind of a quick kick in the head to realize how lucky I am that I'm able to do something to help people. 
Are there any future partnerships, programs or events you are excited about?
There's a place called Mastry's. Every Tuesday is going to be "Kind Mouse Tuesday" where a portion of proceeds from certain items are donated. We also do a lot with St. Pete Fools Social Club, the local motorcycle club. They do so much for this community. They help us raise money for toys and collect toys for the kids at Christmas time. There are so many organizations that tie into this. 
Why do you think it's important for others to be involved in their community?  
I think that's what we're supposed to do. It's what I learned in catechism. It's what I learned through work when I was working as a regional manager. It was not only important from for me to follow the organization's goals and what they need, but as a manager, it was my responsibility to make sure that people had what they needed to be successful. If they were successful, I was successful. 
What do you want people to learn from your story?
Anybody can do anything. No matter where you go, there are things that you can do to be part of the neighborhood. And all these organizations have taught me what you can do when it's necessary and how, if you're all working together, you can accomplish things. 
I had three strokes back when I was 60 years old. They told me that I might have to go to a nursing home, and it scared me. I was determined to come back. I think those strokes made me realize how lucky I am. I'm not supposed to be here.  
Secondly, I am here for a reason, and I'd better do something with it. I think I'm a kinder, more patient person because of that. I still have a ways to go with patience; I still get upset in traffic. Losing my younger son was devastating. Losing certain abilities from those strokes brought me down a level, but there were other things I could do. I feel really blessed that I moved here. I've met so many wonderful people, and I've had a ball. 
Do you want to make a difference in your community like Cindi? Find local volunteer opportunities. 
Share this post