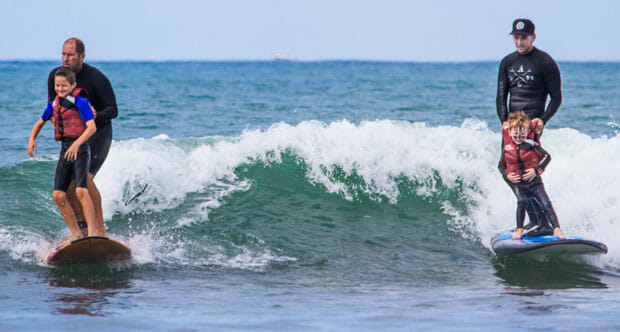 The therapeutic powers of the ocean possess a true healing ability. A Walk on Water (AWOW) is tapping into these healing qualities of the Pacific Ocean through surfing. These dedicated men and women of Southern California are working to bring relief to families of children with special needs through surf therapy. AWOW provides water therapy through guided surf instruction to specials needs children.Surfing is used as a tool to gain self-confidence skills and promote the therapeutic benefits of the sport's positive effects.
"We wanted to create a day were the families feel empowered, loved and cared for," says President Pat Notaro.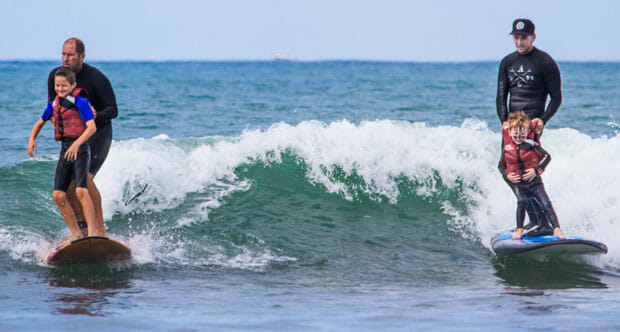 Siblings are encouraged to participate, helping mend sometimes strained relationships and bonds. Whether joining in on the fun on a surf board or cheering from the sand, everyone involved walks away feeling inspired. Parents get to sit back and relax for once while the volunteers at AWOW teach their kids to ride the waves.
"It's all about creating the best experience possible so when they go home they can hold on to that event as long as possible," says Nataro.
But their surf event's impact is twofold. The events are meant to raise awareness not only to humanitarian needs, but environmental as well. Without a clean and safe habitat, athletes and their families will lose the ability to experience surfing and the 'stoke' it provides.
More than 200 special needs children and families experience the thrill of surfing and its therapeutic qualities each year through AWOW. This is all possible because of their dedicated team of volunteers who share a respect for their fellow man, the ocean and environments and most importantly; people in need.
The organization has grown rapidly over the years in order to meet the needs of the kids in their community. "We want to do more events in more areas so these kids can surf," says Nataro. The organization is hoping to hold events in New York and Hawaii this fall. They realize the vast needs this community and are dedicating countless hours to expand their services.
The people behind AWOW realize the responsibility we all have to give back. "When you can get out there and volunteer and positively affect change, you start to understand why you are here," says Vice President of AWOW, Sean Swentek.
To learn more about A Walk on Water and find ways to get involved visit their website!
Know an organization helping kids feel like kids, nominate them today for the Daily Point of Light Award.
Share this post