A Youth-Led Journey to Combat Food Insecurity and Ignite Community Change
Meet Daily Point of Light Award honoree Jett and Luke Justin. Read their story, and nominate an outstanding volunteer or family as a Daily Point of Light.
In the bustling corridors of America's schools, two names have become synonymous with community impact: Jett and Luke Justin. In 2016, these two young brothers, while just in third grade, turned their concern for hungry families into a formidable force for good, founding the nonprofit Cereal4all.
Jett and Luke's journey began in the local food bank, Boca Helping Hands, where they noticed a stark absence of breakfast foods in the pantry bags. "We knew a lot of the bags were distributed to families with children, and since we were kids who loved eating cereal at home, it bothered us that other kids in our own community might not have breakfast food to start their day," recalls Luke. Jett adds, "We did some research and learned that breakfast food is one of the least-donated items at food banks. So, we decided to do something about it."
What started as a local initiative quickly snowballed into a national movement. Cereal4all, now a youth-run nonprofit, teams up with students, schools and food banks across the United States. To date, they've provided over 275,000 bowls of cereal to families who have needed them. The organization's success, the brothers believe, hinges on the special connection young people have with cereal, which helps them empathize with the hunger needs of others.
Jett and Luke's commitment extends far beyond occasional volunteerism. Their monthly time commitment ranges between 35 and 50 hours, involving running the daily operations of Cereal4all. This includes communicating with students nationwide, planning events like the "Oatmeal Airlift" to the Bahamas and organizing cereal drives.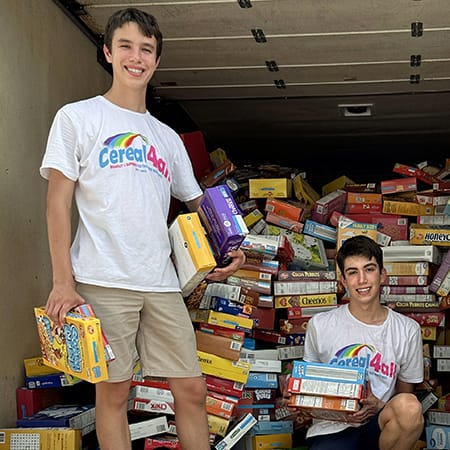 The Oatmeal Airlift involved transporting 100 pounds of Quaker Oats Protein Instant Oatmeal to Bimini, targeting those most vulnerable to food insecurity. This delivery, consisting of 750 protein-rich instant oatmeal packets, was meticulously planned to support children and seniors struggling with food insecurity on the island. Luke and Jett are particularly excited about the prospect of teaming up with Quaker Oats for future Oatmeal Airlifts.
"Each student we partner with becomes part of our team, helping us steer in better directions," shares Luke. The brothers have ambitious plans for Cereal4all. "Our main goal is to always be getting more effective at carrying out our mission," states Jett.
The duo envisions expanding their Student Ambassador Program to foster a new generation of compassionate advocates for the food insecure. "We're excited about expanding our Student Ambassador Program to more states. The program helps students volunteer at food banks for the first time and gives students the opportunity to help shape Cereal4all's mission and strategy, which makes the nonprofit all the stronger."
The most rewarding aspect for them is knowing each cereal box makes a tangible difference. "Young people understand that Cereal4all is about more than just breakfast food. It's about considering someone else's happiness, or their absence of happiness, and saying you care," Luke expresses passionately.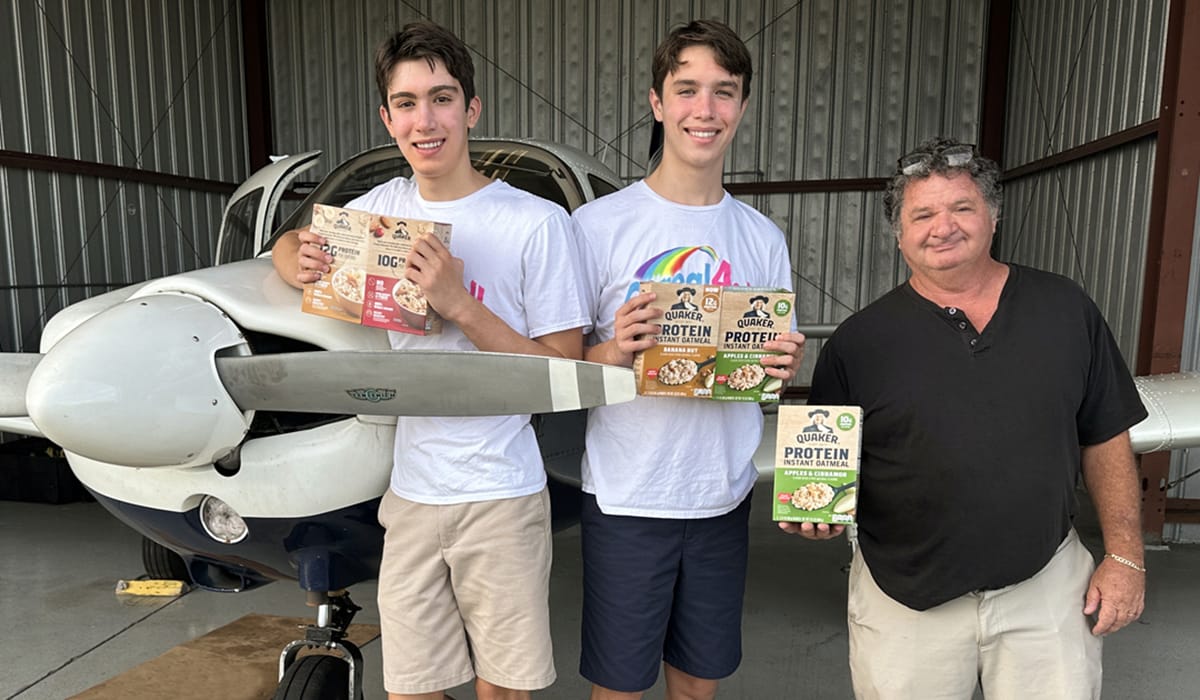 Their journey has been a profound learning experience. "Volunteering truly makes the world a better place," says Jett. For those hesitant to start volunteering, they advise, "Just do it! Most students tell us they wish they had started volunteering sooner."
Jett and Luke's story is a testament to the power of youthful passion and a reminder that even the smallest acts, like a bowl of cereal, can ignite significant change. As Luke puts it, "If you feel passionate about a problem in your community, you can help create a better way."
In a world often clouded by cynicism and apathy, Jett and Luke Justin stand as beacons of hope, proving that with dedication, creativity and a heart for service, young people can indeed make a profound difference.
Do you want to make a difference in your community like Jett and Luke? Find local volunteer opportunities.
Share this post