Young Visionary Advocating for Change in the Foster Care Community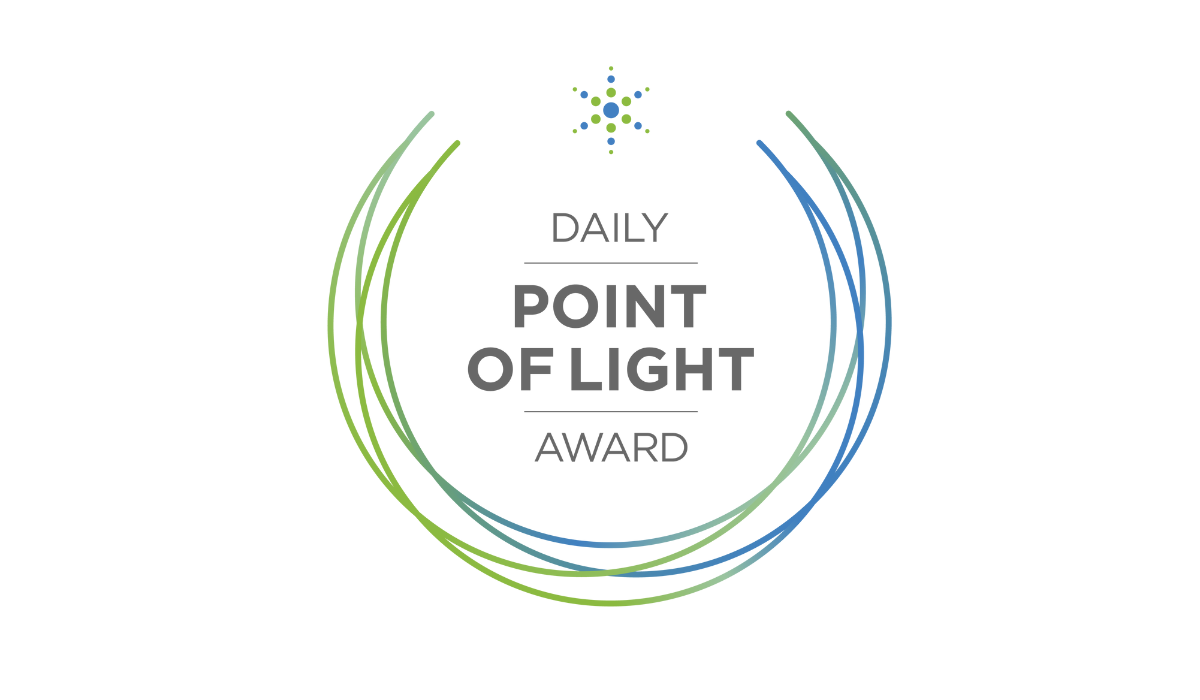 Meet Daily Point of Light Award honoree Charissa Wagner. Read her story, and nominate an outstanding volunteer or family as a Daily Point of Light.
Charissa Wagner's journey in philanthropy began in the first grade when a picture of refugee children standing in mud stirred her heart. Concerned they might be cold, she hosted a lemonade stand and raised enough to buy 500 blankets for UNICEF. This early endeavor marked the beginning of a lifelong commitment to helping those in need.
Since then, Charissa's compassion has touched many lives. She has extended her helping hand to bombing victims through the America 4 Boston Prayer Canvas, participated in disaster relief efforts, crafted hand sanitizers for the homeless during the COVID-19 lockdowns and sent backpacks filled with supplies to Russian orphans.
Charissa's advocacy took a significant turn when she turned her attention to foster children. As the founder and leader of See Us Now, she has become a voice for those often overlooked. Her group's mission is to bring to light the severity of the housing crisis, psychological trauma and risks of human trafficking and abuse that foster children face.
Under Charissa's leadership, See Us Now has made impressive strides in advocating for foster children. She has led her team to Washington, D.C., meeting with senators and congresspeople to promote bills like the Ensuring Medicaid Continuity for Children in Foster Care Act and the CARE for Children Act.
Read on to find out more about Charissa's volunteerism and why these cause areas are so important to her.
Tell us about your volunteer role.
My role is to put together presentations and events for foster kids. We put together these presentations for congresspeople so that we can help pass the bills we're trying to pass, which are the Ensuring Medicaid Continuity for Children in Foster Care Act and the Child Care Act bills. We also put together events to help raise awareness about these bills and their importance.
Why is this issue so important to you?
I have friends and family who can help advocate for me and my wellbeing, but many of these kids don't. So, I think it's important, since I'm able to help them, that I do.
What inspired you to get started with this initiative?
In 8th grade, we had a community service project at school. I was part of a youth group that worked with an organization called the Sheriff's Youth Ranch, which is group-style foster care housing. We set up Easter egg hunts, Halloween parties and different events for them. Also, my brother taught chess lessons there. I asked my mom if I could volunteer over there. That's when we found out that some of the kids were living in tents rather than on the ranch, due to funding cuts and housing shortage. So, we started researching more, and that's how we found out that kids were being moved around, trafficked and lost in the system – and that this wasn't just an issue in Florida but across the country.
What are your long-term plans or goals for the organization?
We're trying to get those two bills passed and we're also trying to spread awareness about the issue. Because once you learn about it, you can't unlearn it. We're hoping that people feel more inspired to get involved and help these kids.
What's been the most rewarding part of your work?
When I was younger and we were doing events with the kids, it was really rewarding to see their reactions when they saw all the events we set up. Then, presenting to congresspeople – learning how the government works, and how much time it takes to get things done. Learning about how to keep pushing and advocating for things.
Why is it important for people to get involved with the causes they care about?
If you don't do it, no one else will.
Any advice for people who want to start volunteering?
You should do it, so you can help people. Later, you can look back in life and reflect on the people you've helped, and how you impacted people in a positive way.
What do you want people to learn from your story?
I want people to learn about the crisis and about foster kids. Understand what's happening and what's going on for these kids. Not many people know about this, so I want more people to learn about the issue.
Do you want to make a difference in your community like Charissa? Find local volunteer opportunities.
Share this post