Volunteer Brings Peace and Comfort as an End of Life Doula
Meet Daily Point of Light Award honoree Madeline Cooke. Read her story, and nominate an outstanding volunteer or family as a Daily Point of Light.
Madeline Cooke lived a dream life as a twenty-something: she married a sailor, and the couple lived on a boat for five years. They spent time in the Caribbean, including the island of Antigua where they experienced an international community of people chartering boats and doing what they loved. The couple then moved to Marion, Mass., which overlooks Buzzards Bay and Cape Cod. In addition to raising two children, Madeline volunteered at her church and her kids' elementary school. When her son and daughter were 12 and 14, Madeline's husband was diagnosed with lung cancer and passed away at the age of 45.
Over the next two decades, more family members passed, including Madeline's mother, who had moved in with Madeline, developed Alzheimer's and died at 98. Soon after, with her mother gone and her children grown, Madeline started hospice volunteering.
During the COVID-19 pandemic, hospice care was virtually unavailable to families. Only essential personnel were allowed to be with patients. However, one patient's family who had recently met Madeline requested her for much needed relief help. During the pandemic, Madeline was the only volunteer who continued visiting patients so their caregivers could do errands or go for a walk.
Volunteering in hospice work for six years through Community Nurse Home Care (CNHC) was rewarding. Naturally, Madeline's passion progressed and today she is a certified End of Life Doula. Similar to a Birth Doula, Madeline supports patients and their families in whatever ways they need: by sitting with the patient to relieve caregivers, helping families make arrangements, guiding them through the grief process and more.
What inspires you to volunteer?
I'm curious, and I love to be around people and hear their stories. We all need to be seen and heard, and feel we belong. Volunteering keeps me connected.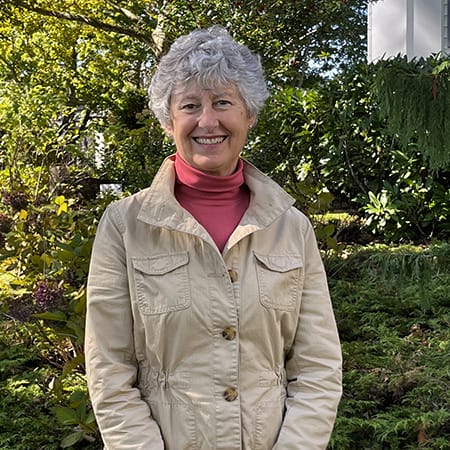 Tell us about your volunteer role with Community Nurse Home Care and as an End of Life Doula.
For the past six years, I have been a hospice volunteer in and around New Bedford, Mass. For most of that time I would visit patients in their homes. I particularly enjoyed one patient, a vibrant and extraordinary lady who still had all her marbles at 106. One of my longest assignments took place during COVID. This assignment lasted seven months with two visits per week. The caregiver was the wife, and I was her only relief.
At Sacred Heart, a nursing facility, I would see two to six people per week. Many residents have few or no visitors. To provide them with a little company is rewarding. I recently decided to become an end-of-life doula, so two months ago I completed my training with the International End of Life Doula Association (INELDA).
Being a doula is an incredibly rich experience. As a doula I provide customized services for each patient. It's a three-part approach. First, there's planning. This can include helping the family follow Do Not Resuscitate (DNR) directives. It can include funeral or memorial service logistics. During patient consultations, I get to know the patient and their wishes. I am there for them however they need me, for companionship, conversation or more. I ask open-ended questions and listen carefully.
The second part of being a doula is the vigil, which is sitting with the person who is actively dying. Sometimes I sit in silence. Other times I listen deeply and empathetically. A lot of it is observation, which involves reading their body language and figuring out what they need during their last days and hours of their lives. This is also a time to follow some of the wishes discussed in the planning phase, such as their choice of quiet music, adjustment with the light or having just one visitor at their bedside at a time.
The third part is working with the loved ones around their grief and offering local resources such as support groups. Always, there is listening involved.
To simplify, I think of the three stages. Before to plan, during to sit and after to grieve.
What inspired you to get started with this initiative?
People carry too much fear and anxiety around anything to do with death. I am inspired to ease their minds with information and compassion.
What are your long-term plans or goals for the organization?
I've come to realize my region hasn't yet been introduced to end-of-life doulas, although word is spreading slowly much like the early days of hospice. And so, I find myself in the role of trailblazer. I am very determined to continue my volunteer service to include coaching people on their dying journeys and helping their loved ones as well.
I'm 75, and some of this doula stuff can involve nighttime driving, which I anticipate could become difficult. I am hopeful that spreading the word will inspire people to become doulas or inspire people to help me out with late-night vigils. This is a big area of need. I will also continue to volunteer in focusing on bereavement issues.
What's been the most rewarding part of your work?
To get a smile from an Alzheimer's patient when she does her sing-song talking to her baby doll. Calling someone "friend" and seeing the way their face lights up, even when they've become nonverbal.
I see incredible connections, like two Alzheimer's patients who had become very close. They would often sit together and flirt like sweethearts. He was with her when she died. She opened her eyes, looked at him, took her last breath and slowly sighed. I called it "sighing her life away." Her son, who was also by the bedside, was very moved by it. There are so many small, sweet moments when people are beautiful.
What have you learned through your experiences as a volunteer?
Volunteering helps me to come out of myself and to understand that I'm not alone. We're all in this together. Serving others feels good and right. It feels comfortable. It's as much for me as for the people I serve.
As an end-of-life doula I'm humbled to be included in a very sacred, intimate part of people's lives. Also, volunteers encourage others and I really like that word because it relates to being "in courage." You need a lot of courage to be vulnerable with others.
This work is a special way of being with people. It's real, it's deep and it's intimate. So many lessons and wisdoms are transferred back and forth, not necessarily verbally. Volunteering is all about kindness.
Why is it important for others to get involved with causes they care about?
To find your purpose in life allows you to feel fully alive and whole, and that is a blessing worth sharing through serving with kindness.
Any advice for people who want to start volunteering?
Start slow. Start with a friend. Do something that resonates. If you love books, go volunteer at a library. If you like children or animals, go find opportunities to help them. Or, if you're curious about something specific, volunteer in that area and learn about it. Listen to your soul and follow it. And have fun. It can be life-affirming. It's a way to say "yes" to the universe. If you don't know what to do, just look around.
What do you want people to learn from your story?
I recently wrote a haiku:
Doula's kind guidance
Leans in to listen and learn
Serving saves her soul
Do you want to make a difference in your community like Madeline? Find local volunteer opportunities.
Share this post