Advocate and Writer Displays Unwavering Dedication to the Alzheimer's Community
Meet Daily Point of Light Award honoree Dana Territo. Read her story and nominate an outstanding volunteer or family as a Daily Point of Light.  
Dana Territo wants to be a light in the darkness for others, especially for the Alzheimer's community. Dana was a caregiver from an early age, and she never let it go. 
The 64-year-old resident of Baton Rouge, Louisiana started volunteering at a nursing home in the 1980s. The last 50 years for Dana have been filled with service hours, selflessness, a weekly column for Alzheimer's caregivers, and even a book, "What My Grandchildren Taught Me about Alzheimer's Disease" 
She's been recognized by several leaders, advocates and organizations. No matter the recognition, Dana wants the world to know that a person with Alzheimer's is still a person, and that they deserve dignity and respect like anyone else. 
Describe what you do for the Alzheimer's population and how your dedication to the community began.
I started volunteering in a nursing home back in the 1980s, simply because I moved to Baton Rouge and I was missing a grandparent. I also wanted to instill in my children the value of the older generation. The nursing home paired me with a lady who had Alzheimer's, her name was Peggy. I visited her once a week and I saw the whole span of Alzheimer's disease. That was like 22 years, and she died when she was 102 years old. My work with her led me to become the activity director of the nursing home, which was the first memory care unit in Baton Rouge. It was kind of a big stepping stone. 
What is the significance to the Alzheimer's Walk Fundraiser, and why did you help start it in Baton Rouge?
We had a very, very small core group in 1995 trying to organize this walk and so many things. We ended up raising $14,000 and we had 75 walkers that first year. Now it's up to thousands of more dollars and thousands of walkers.  
That first year, LSU was playing Florida and LSU contacted me and said they were moving the game up early and we had to reroute our walk path. So we scrambled to make a half mile and a new turn around. I remember it very well, it was a very hectic time, but we were very proud that we raised so much in our first effort. So for 25 years, until the COVID-19 pandemic, I did something either as a team captain, a chair or public relations team member — I went through every committee, really.  
Describe the weekly newsletters and columns you write about Alzheimer's.
I started writing in the latter part of 2008. I approached The Advocate newspaper and asked if I could write a question and answer column for Alzheimer's caregivers. They asked for me to send them a few samples, which I did, and by December of 2008 they were pumped. They started publishing every Monday. So I've been writing a weekly column voluntarily for 14 years.  
I do it through my email. I read everything I can get my hands on about Alzheimer's, and so I try to write about what's trending and what would help caregivers.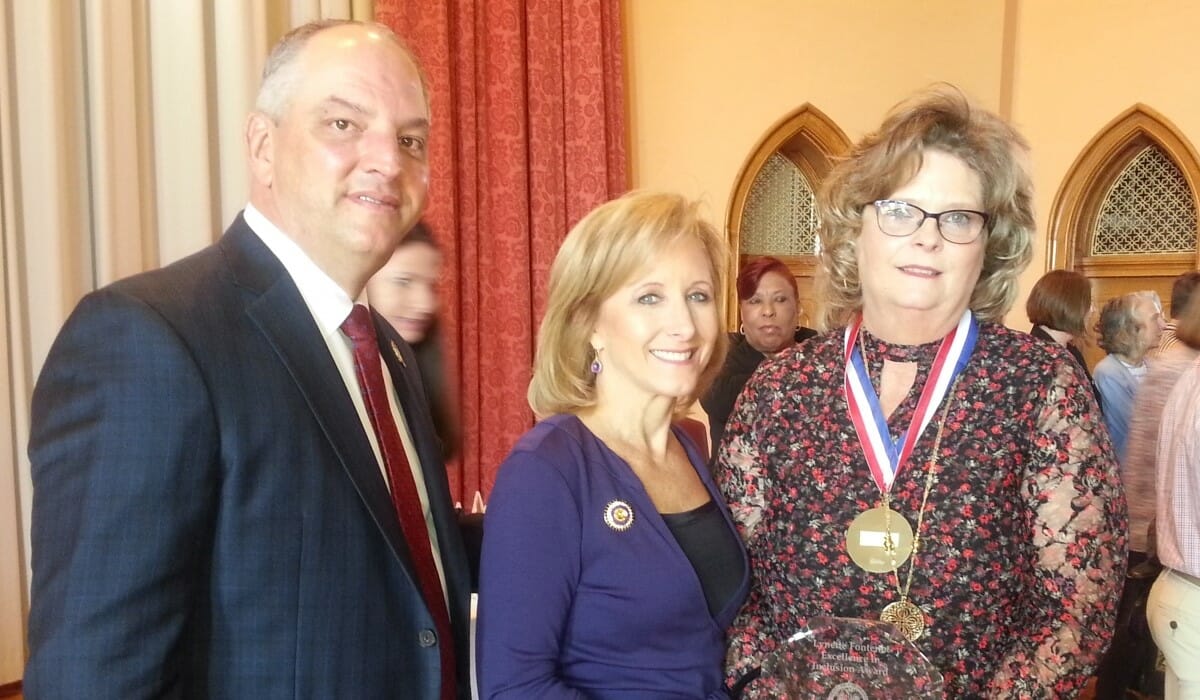 What inspires you to volunteer?
A priest from where I go to church said that there's two things that are going to make you happy and fulfilled in life — which is to love God and to serve others. So I've always had a servant heart, I think it comes from when my grandmother lived with us and when she was diagnosed with cancer. I'm the fourth of nine children, and I moved into her room when I was 11 years old so I could care for her during the night.  
At that age, I didn't realize that I became a caregiver. Those values and everything were instilled in me. We're here to help others and our world can't be that small where we don't touch someone else and work with others. 
What have you learned through your experience as a volunteer?
The person with Alzheimer's is still a person, and they deserve dignity and respect like anyone else. Sometimes there's a stigma against it in this society, because it's a mental disease, but I strive to show that there's a person behind the disease rather than just the disease itself. 
Why is it important for others to give back? 
By the very nature that you walk this earth, you have a stewardship of others. We're all in this together. Everybody says it's a small world, and it is, because one one touch can lead to another. So I think we are all supposed to strive to see the bigger picture and to help others. 
What would you want others to learn from your service story?
First, don't be afraid of the Alzheimer's population. And you receive so many blessings by giving yourself to others — more than you'll ever know. A whole world opens up when you reach out to someone else or some other organization that needs your help. 
Are there any partnerships, programs, or events that you are excited about?
The next Alzheimer's Walk Fundraiser is this fall. I'm also doing monthly Zoom webinars through the Alzheimer's Association. They have different topics — the one in March is going to be about ambiguous loss. Each month I get to connect with caregivers, especially to help them through the journey of Alzheimer's.  
Do you want to make a difference in your community like Dana? Find local volunteer opportunities. 
Share this post
---