Advocate for Alaskan Malamutes Promotes Adoption into Safe Homes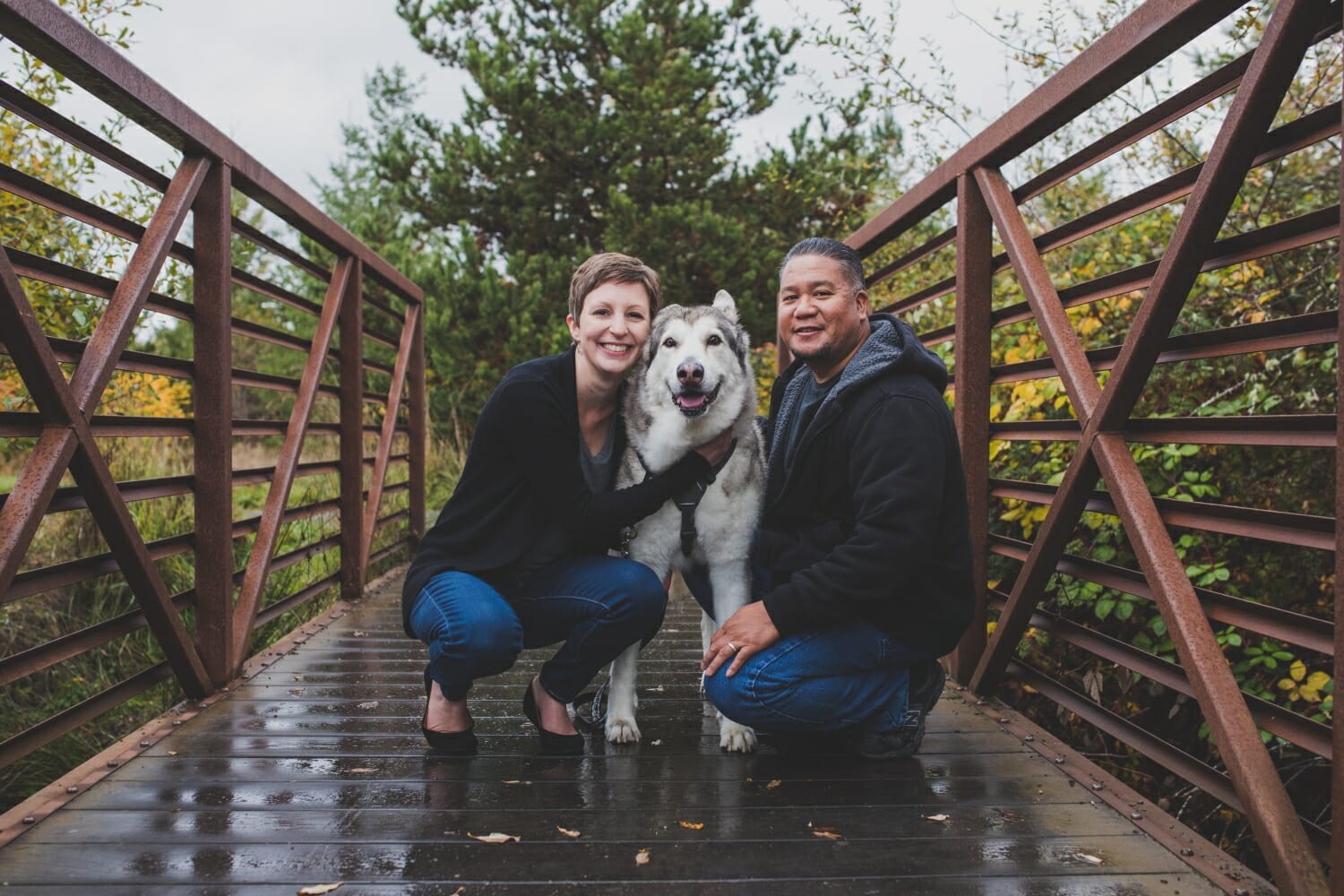 According to Jaime Perez, her volunteerism started with one furry friend – her beloved adopted Alaskan Malamute, Glacier.
Perez, a 36-year-old from Silverdale, Washington, who is a program manager for the U.S. Navy, was looking to adopt a dog in her area when she found the Washington Alaskan Malamute Adoption League, otherwise known as WAMAL. When Glacier joined her family it wasn't just the start of their life together, it was the start of something greater. Her experience inspired her to became a volunteer and advocate for dogs in need.
As a member of the WAMAL board of directors, Perez serves as a leader for the organization, and works daily to make sure Alaskan Malamutes in her area find their forever homes. Since 2010, Perez has helped to coordinate over a hundred adoptions through WAMAL, and is today's Daily Point of Light award honoree. Points of Light spoke to Jaime to learn more about her work with WAMAL.
What inspires you to volunteer?
I was inspired by my initial experience of adopting my dog Glacier through WAMAL. Glacier was the first dog I had as an adult, and he came with a lot of baggage. He was very afraid of almost everything – the first time I opened an umbrella, the poor guy was terrified. Working through all of that with him, and realizing what a need there was in our community for dogs just like Glacier, I decided to get more involved.
Describe your volunteer role with WAMAL.
In in addition to serving on the board, I'm currently helping with shelter coordinator duties. We work with local shelters so that when they receive Alaskan Malamutes, they come to WAMAL. Malamutes are loyal and playful, but they can be a very challenging breed, they're very hierarchal in their pack structure and are very strong. They truly need a tailored rescue effort to make sure they are in the safest environment possible while we look for their forever homes. I also coordinate getting home visits done and working through the approval process for each adoption or foster application we receive for our rescues.
What's been the most rewarding part of your work?
The greatest joy I get is when we can give that comfort to a dog that has been through a lot. The majority of the dogs we see have faced a lot of challenges. One of the first dogs I transported was about 30 lbs underweight. He was a stray, but a total love. You just wanted him to pet him, and you could feel every little rib on his body, he was so thin. We found a home for that dog pretty quickly, and he is now just thriving.
What have you learned through your experiences as a volunteer?
WAMAL helps dogs in Washington and Oregon, so we have a very diverse network of volunteers and situations. I've learned that rescue is incredibly complex and more emotional that I would have thought possible. From seeing a dog who's been through a traumatic situation, or hearing about families that need to rehome their dogs and how upsetting that can be – it can be an incredibly emotionally taxing process.
Are there any future events that you are excited about?
We have a number of events year-round. Visit our website for more information: http://www.wamal.com/.
Dogs can't communicate verbally to you when something is wrong like humans can. How does that change the work you do?
The pictures we get from their new families are worth a thousand words. We recently got a photo of a dog who'd been adopted, the new owner and his wife wrote that the photo showed the pup's "new favorite spot". It was a photo of this 85 lb Malamute, sitting on the husband's lap, as close to husband as possible. They have that grin on their faces when they're content – it's those photos where you can tell they're settled, they're happy.
Why do you think it's important for others to give back?
Giving back is important because you're able to find something that speaks to you personally, and feel that you can make a positive difference. I love my career and find it incredibly fulfilling, but non-profit work is very fulfilling in a different way. Anyone who has the opportunity to make a positive impact – even if it's just for one person, one animal, one area of the country – it's fulfilling.
What do you want people to learn from your story?
We all have busy lives, and it's hard to know who to reach out to to help. Keep your eyes open and evaluate the need – and then jump in and help.
Do you want to make a difference in your community like Jaime Perez? Visit All For Good for local volunteer opportunities.
Post written by Marlena Militana.
Share this post
---