After Sister's Cancer, Firecracker Septuagenarian Spreads Joy at Cancer Center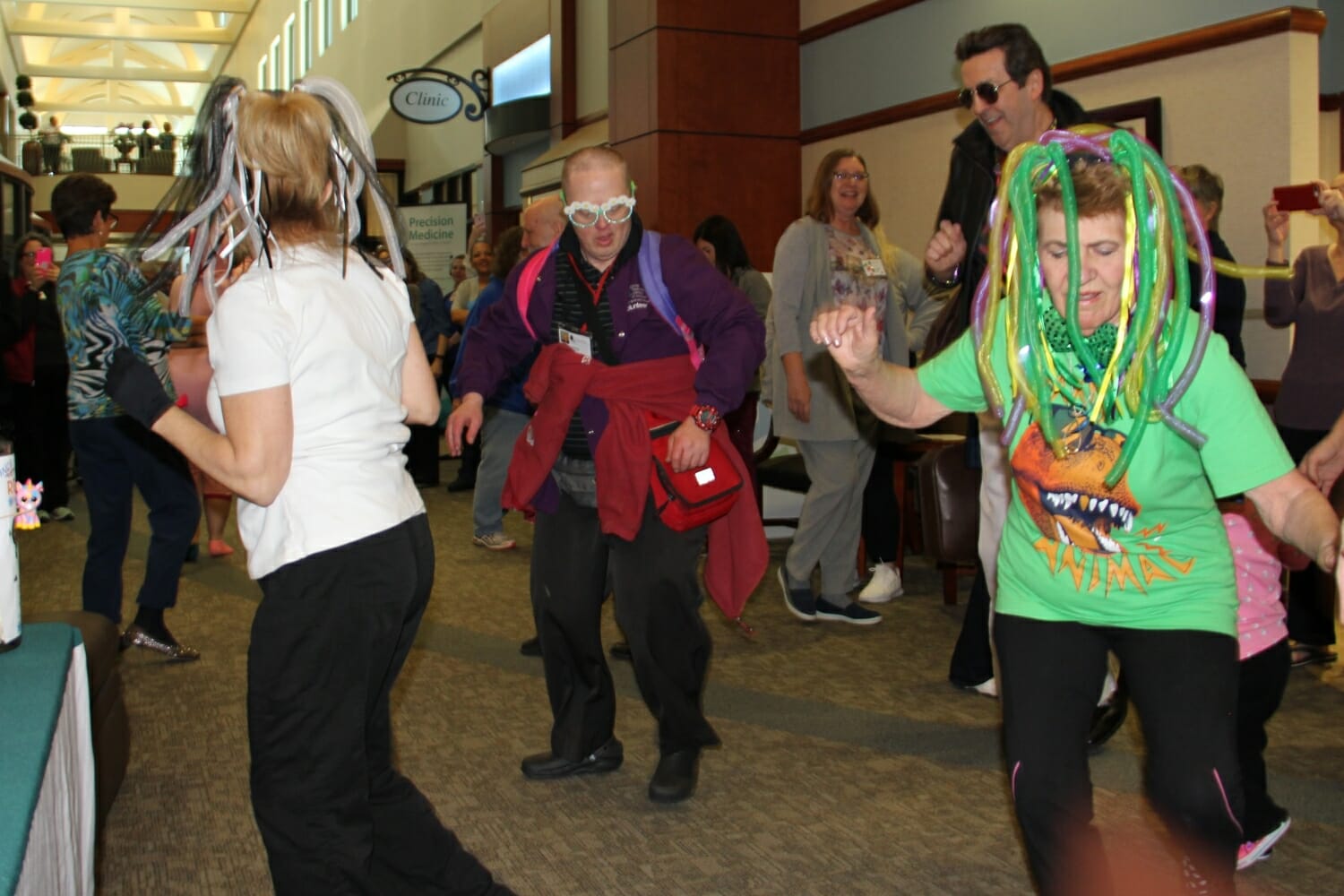 Loretta Brunetti is described as having the energy of someone in their 20's. The high-spirited 77-year-old from Tulsa, Oklahoma naturally rises early and is off to the races each morning, but it was losing her sister to cancer that made her find what's become her life's passion: giving back at a local cancer treatment center.
Loretta is easily recognizable at the Cancer Treatment Centers of America Tulsa, where she volunteers her time and energy, giving back to those fighting cancer. Putting on weekly flash mobs, karaoke nights, and just about anything else that involves laughing, dancing or fun for the patients, Loretta is today's Daily Point of Light award honoree. Points of Light spoke to Loretta to learn more about her work with CTCA.
You wrote a poem about what inspires you to volunteer. Can you share it?
Today I made someone smile / It may have been for a little while / But this special patient / Was going thru tests / Her heart was heavy / But she knew she was blessed / She didn't know how long would be her stay / So I gave her a hug & she went on her way / It only takes just a little while / To take time out to make someone smile.
Describe your volunteer role with CTCA.
I first started a walking class at CTCA, now we do flash mobs, karaoke, activity fliers, raffles. A lot of patients are fearful because they're far away from home. I'll visit patients that are going to be operated on, or have just come out from an operation. I'll do just about anything I can to make them smile, and make them feel comfortable.
You give others hope through song and dance. Explain.
A cancer patient I hadn't seen in two years recently came back to our karaoke night. His vocal cords had been paralyzed due to his disease, and he'd been told before that he'd never sing again. His treatment had improved him, and he got up for us and sang 10 Elvis songs. Things like that really inspire me.
What's been the most rewarding part of your work?
I lost my sister after the first year that I started volunteering for CTCA. I volunteer for myself, but her too. To see patients that are going through the struggles of radiation or chemo actually come up and tell me – 'Hey, you made me smile today!' or, 'Hey, when are we going to dance?' It just makes you want to stay there, and then go back the next day and help more.
You're the Flash Mob queen at CTCA. Explain.
I'm the leader, sometimes nurses or a doctor will join in for about 20 minutes of freestyle dancing. Patients and caregivers will be coming down the elevator, hear music and see us dancing, and join in. A lot of times I'll see people in wheelchairs stand up and dance for a bit. A lot of people schedule their appointments for Thursday's just so they can be there for the flash mob.
What have you learned through your experiences as a volunteer?
I've learned that I should have started volunteering a long time ago. I mean that in all sincerity. Nowadays everyone is so busy, and I thought that for a long, long time. But there's always time to help people out.
What event are you most looking forward to?
During Christmas, we dress up in outfits – Santa Claus and other Christmas outfits, and dance. This is an upbeat place. It's the people that make it special, the doctors, nurses. It's not just Loretta. The treatment center is where my heart is.
Why do you think it's important for others to give back?
Sometimes a lot of people are going along in life, and they're not really happy, and you never know how happy you could be by volunteering. It's that giving that gives you joy – you're the one that's getting, when you're giving.
What do you want people to learn from your story?
I hope that when you read my story, for those who say they don't have enough time to volunteer, I'd tell them: that's the only thing we've got left in this world, is time. We can always make the time to help someone else out.
Do you want to make a difference in your community like Loretta Brunetti? Visit All For Good for local volunteer opportunities.
Post written by Marlena Militana.
Share this post