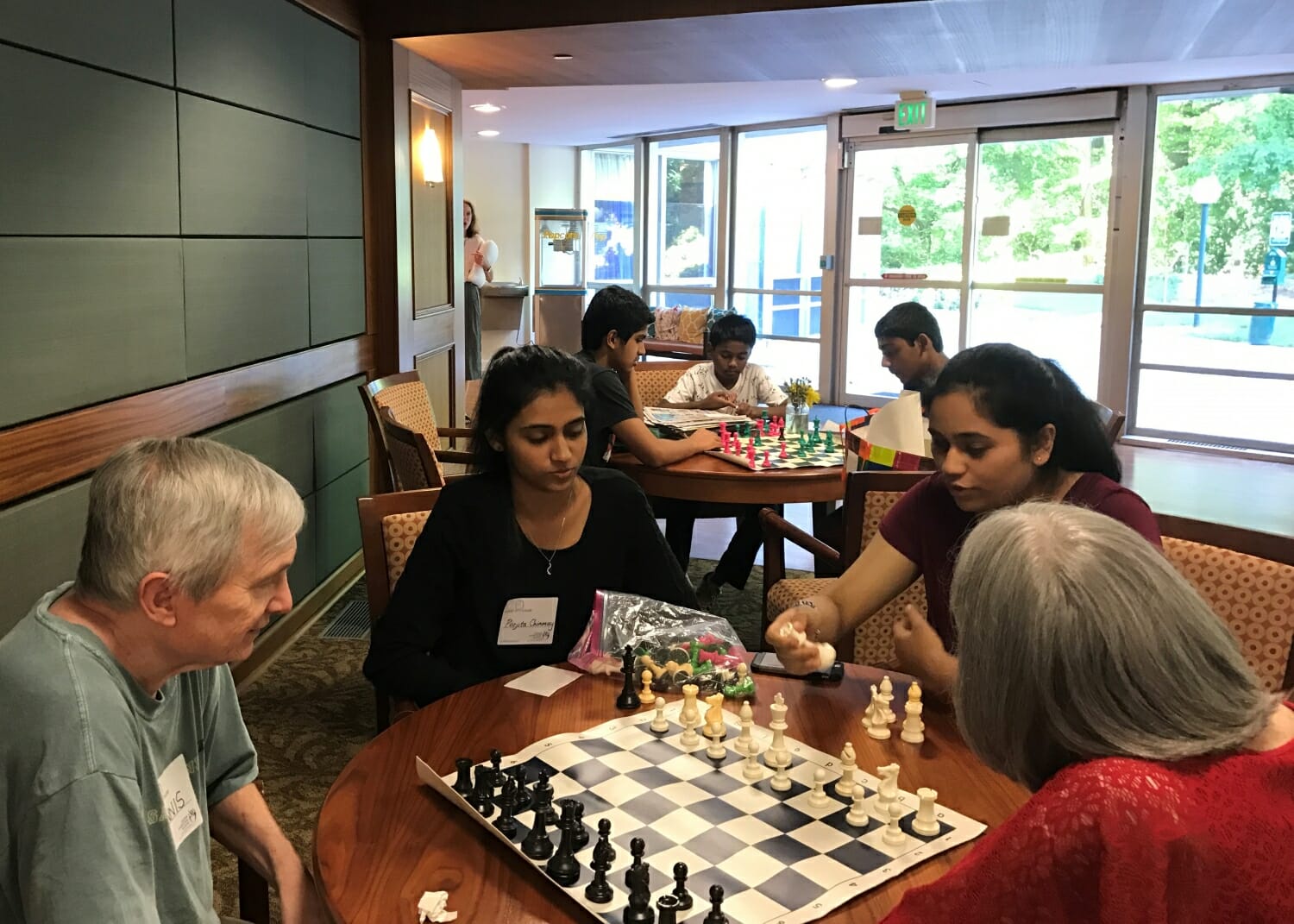 When 18-year-old Anuhya Tadepalli started volunteering, she would go to a senior center and typically, she says, she'd end up playing bingo or other games with the residents that weren't very exciting.
What if, Anuhya thought, chess was substituted for some of those other boring games? The recent Alpharetta, GA, high school graduate had played chess since she was a child. When she rolled up her sleeves and did the research on the positive effects chess has on mental health, she realized how impactful the game could be.
In 2016, Anuhya, along with a fellow high school student, launched Chess for a Cause, an organization made up of student volunteer clubs across the metro Atlanta area that is focused on reducing and reversing the effects of aging-related dementia in adults using the game of chess. Through her organization, which visits senior care, memory care and assisted living facilities, introducing them to the game of chess, Anuhya is making a difference in her community, and is today's Daily Point of Light award honoree. Points of Light spoke to Anuhya to learn more about her work with Chess for a Cause.
What inspires you to volunteer?
Generally, I enjoy helping my community. I realized I wanted to be involved in health care from a business approach for a career, and volunteering was a way to continue helping people in the same area. For personal reasons, I specifically enjoy going to help at senior centers because I don't have many interactions with seniors and I like meeting people. Senior centers can be lonely, and it's fun to meet new people and hear their interesting stories.
Describe your volunteer role with "Chess for a Cause"
I lead Chess for a Cause, but I also volunteer at centers too. If I'm going to a center, I will take 4-5 students with me to help. If it's a new center, we start with the basics. We'll set up a presentation and show seniors how the pieces move and different tactics. And then it's game time!
What's your favorite chess piece?
I like the queen. She's the most powerful.
What's been the most rewarding part of your work?
In the beginning, I didn't think people would respond so well to playing chess. They seniors seemed so lonely when I first arrived, but when I saw how excited they were playing, it was so nice to see them happy. Even for younger kids coming in to volunteer, it makes you feel good to see you had a positive effect.
What have you learned through your experiences as a volunteer?
Overall, leading other volunteers has taught me how I have to conduct myself in these environments. I learned how to approach people, make them feel comfortable, and be receptive to their needs. Volunteering has empowered me to evaluate the environment, and to be more innovative and make more of a difference. As I do more service, I become a better volunteer.
You're headed off to Cornell University in the fall. How will you continue your service?
I've looked up senior centers near Cornell, I'm talking to some professors there to see if we could launch an initiative at the university studying the impact of chess at senior centers. Back in Georgia, Chess for a Cause will be continued with our younger club members.
What's your life motto?
"No regrets." I like to try to do my best. That means if I have an idea, I'll test it out and see if I fail rather than thinking about it and not taking action.
Why do you think it's important for others to give back?
For students, especially, they don't realize how rewarding it can be to volunteer. At first, it seems like a lot of work, you might have to wake up early on a Saturday and a teenager might not be excited about that. But after you finish volunteering, you feel really good inside. I don't think people realize how good it makes you feel and how you see things in a different light after you volunteer.
What do you want people to learn from your story?
Don't just be a robot while volunteering. Create new solutions to the already established practices. I never thought I'd combine my love for chess with volunteering, but I realized that chess had a bigger purpose than just serving as my passion. It's now helping others.
Do you want to make a difference in your community like Anuhya Tadepalli? Visit All For Good for local volunteer opportunities.
Post written by Marlena Militana.
Share this post