After a Double Amputation, Teen Finds Inspiration to Provide Prosthetic Limbs to Children in Need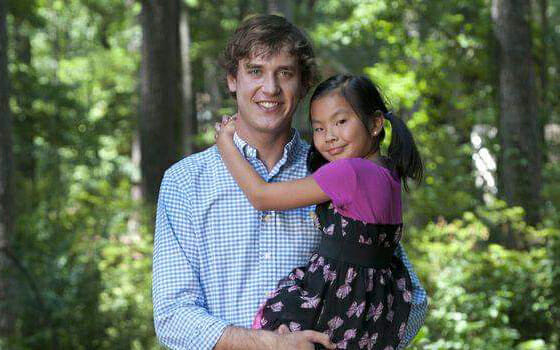 Meet Daily Point of Light Award honoree Jordan Thomas. Read his story and nominate an outstanding volunteer or family as a Daily Point of Light.
Jordan Thomas was just 16 years old when his family's annual boating trip went terribly wrong in 2005. After spending some time on the boat, Jordan jumped into the cool water, but his legs were no match for the strong ocean waves that took him straight into the boat's spinning propellers. Jordan was airlifted to the hospital and underwent three surgeries resulting in the amputation of both his legs from the mid-calf down.
While this devastating situation could have caused Jordan to sink into a depression, he instead started visiting other children in the hospital who were also amputees and found that many of them weren't as financially fortunate as he was.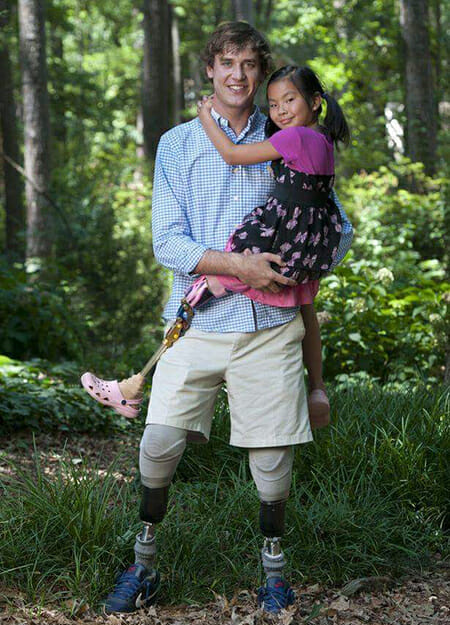 "My prosthetics are about $25,000," Jordan said. "Kids are outgrowing legs every 18 to 24 months so every year and a half to two years, they need new legs. Imagine the burden that puts on families, consistently having to shell out exorbitant amounts of money every 18 to 24 months in order to have their kids simply walk."
So in the first week after Jordan lost his legs, he started the Jordan Thomas Foundation, a nonprofit providing children affected by limb loss with the prosthetic limbs they need until the age of 18. He began by asking his family members for donations, but Jordan's foundation has now grown into a global mission, providing life-changing prosthetics to people from Colombia to Haiti, and gaining recognition – including being named one of CNN's Top 10 Heroes in 2009.
Shannon McKnight can attest to the tremendous impact Jordan is having on families affected by limb loss, as his foundation provided her two daughters, Jun and Mae, with prosthetic legs. But Shannon says Jordan's impact on her family goes even further than that – in fact, his story was what first inspired her to adopt her daughters.
While watching CNN Heroes, Jordan's story touched her so much that it gave her the push to adopt Jun and Mae, who were born without fully formed legs. Shannon and Jun eventually met their hero unexpectedly at a prosthetist's office in Florida, and Jordan brought on Jun and Mae as beneficiaries.
"What [the Jordan Thomas Foundation] has done is so far beyond [providing prosthetics] because what they are doing actually gave two kids life," Shannon said. "It really gave them a family and it gave them a future, which is even bigger than what an active lifestyle is."
On top of providing prosthetics, the Jordan Thomas Foundation also sends kids with prosthetic limbs to summer camp where they can learn to ride a horse, dance in hip hop classes and more, so they can realize their disability doesn't define them.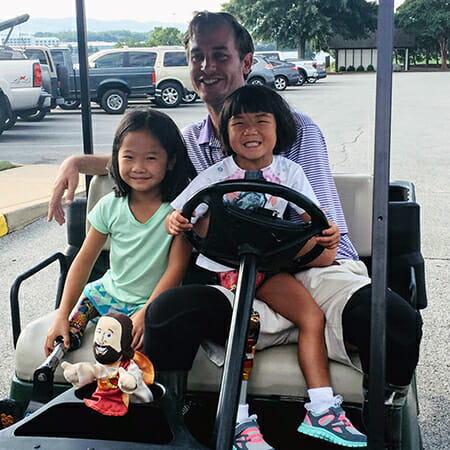 Jordan, now 30, also advocates on behalf of those in need of prosthetic limbs. He passionately speaks to lawmakers in hopes to help change the healthcare system and insurance plans that only cover a fraction of the cost of prosthetic limbs.
"Prosthetics are not a luxury. It's absolutely a necessity," Jordan said. "It is incumbent upon us to provide our children with the opportunity to live happy, successful lives."
Despite all Jordan has accomplished, he remains incredibly humble and engages directly with the children, giving them words of encouragement during a scary moment in their lives.
"We're 14 years down the line and [the foundation] has ramped up millions of dollars and helped hundreds of people and all that," Jordan said. "But it still comes back to that one-to-one connection with people. … Walking into a hospital room after someone has lost a limb and saying, 'You're going to be okay,' is the best thing that I do in my life."
Jordan can clearly stand witness to the saying that "life happens." But he says it's our choice to decide if we're going to be a victim of our circumstances or get out there and live our lives to the absolute fullest. And the biggest words of advice he gives to children who have lost their limbs, also applies to everyone:
"The only limitations that are there for you are the limitations you give yourself. There are no limitations in what you'll be able to accomplish if you're determined and willing to put the work in to do it all."
Do you want to make a difference in your community like Jordan? Find local volunteer opportunities.
Share this post