California Teen Volunteers to Strengthen School Attendance for Underprivileged Kids Worldwide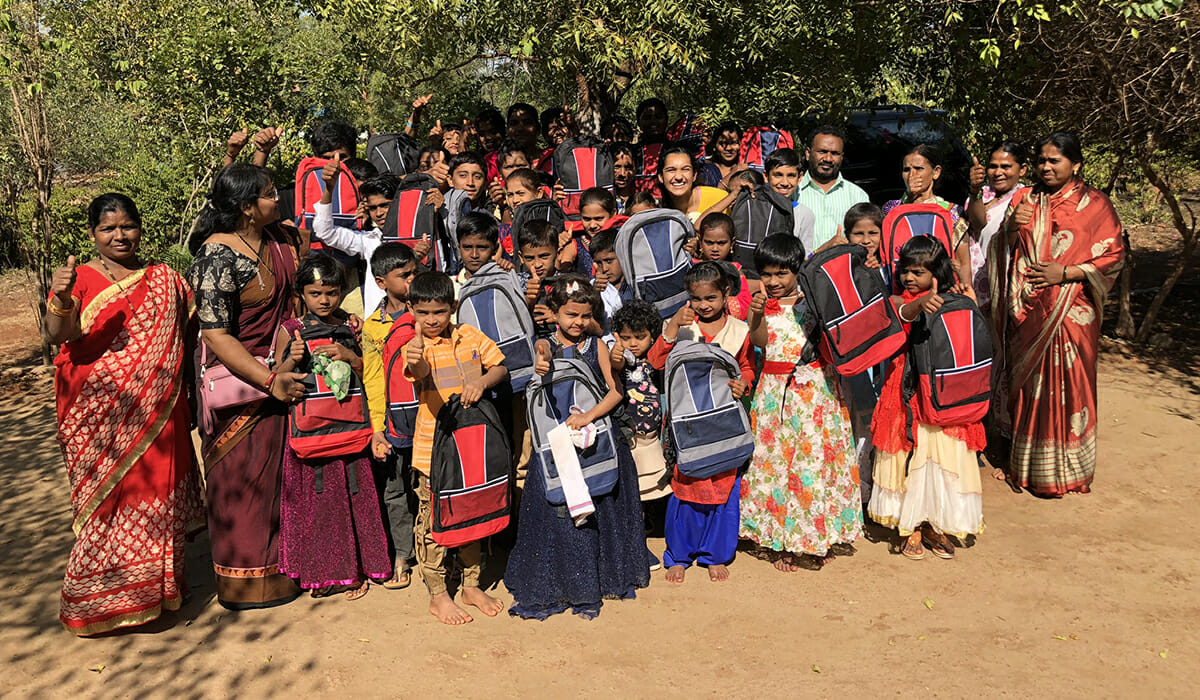 Meet Daily Point of Light Award honoree Riya Hariharan. Read her story and nominate an outstanding volunteer or family as a Daily Point of Light.
Visiting family in India, 16-year-old Riya Hariharan says she's experienced poverty and lack of access to education that is foreign to her hometown of Palo Alto, California.
Launching Giftkids in 2017, the current high school senior is providing critically needed educational and wellness supplies for underserved students around the world with the goal to motivate children to stay in school, be well, and change the trajectory of their future.
Making an impact worldwide and helping over one hundred children thus far, Riya has combined her passions for education and children, partnering with schools in Haiti, India and a refugee center in San Jose, California to better life for children in need.
What inspires you to volunteer?
I like to be involved in my community. I feel like volunteering is fun, and I'm using my time well by combining giving back to my community with helping children.
Describe your role with Giftkids.
I am the co-founder of Giftkids and I handle our communications. Additionally, I connect with organizations that serve children to identify how we can best help them. We ask for donations and financial support to continue to provide supplies to children. Lastly but perhaps most importantly, we provide a personal connection through our gift-wrapping parties. Friends, family and our local community of kids will volunteer to write personalized cards and wrap gifts during the holiday season which are then sent to students in need around the world.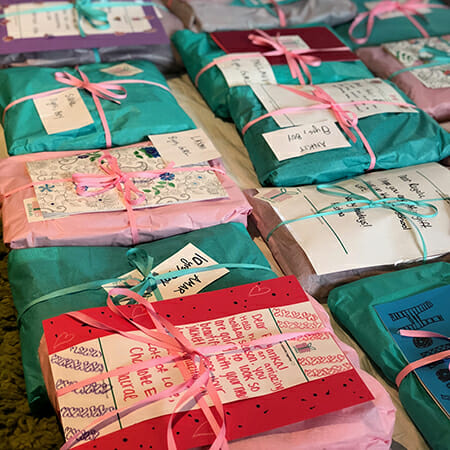 Explain how you help students.
Sometimes these schools don't have enough supplies, or their curriculum is lacking experiences. Our donations mean that their education is enhanced, and the students are motivated to go to school.
Share one personal story with me from your volunteerism.
In December 2018, my family traveled to India to visit my grandparents. While visiting, we traveled to an orphanage in Bidar, which is in rural India. We brought the students backpacks and school supplies for their school year, and as we drove up to this small school, we saw that all the children had lined up in front of the building. They had all dressed up for our arrival, and performed for us. It was a big celebration. We got out of the car and they came running at our family, they were super excited and so welcoming. I was so overwhelmed to match the faces to the school children who we had been connecting with, and realizing that these were the kids I am getting to make a small impact on.
What's been the most rewarding part of your service?
I sometimes overlook the opportunities I have had in my own life, but when you change your perspective, you realize that little things can make a big difference. In key moments, like visiting this school in India, you are there to feel the impact of your volunteerism. Making that small impact and connecting with children around the world is incredible.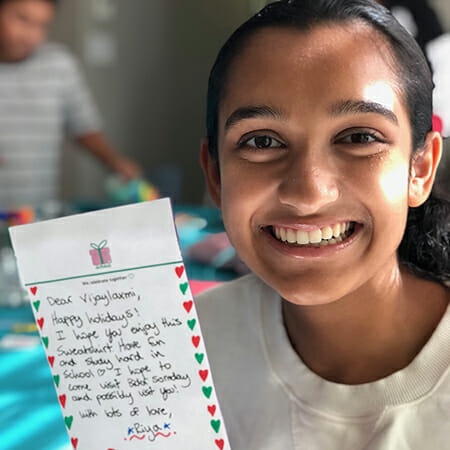 What have you learned through your experiences as a volunteer?
Volunteering is like reaching out to a friend and asking them how you can help them. I want to continue volunteering in the future, and can hopefully connect what I'm learning academically and combine that with service.
What do you want people to learn from your story?
No matter what age you are, you can always do something to help. It doesn't have to be the biggest thing, or have this huge otherworldly impact, your service can start small and grow from there.
What do you do for fun when you're not busy in school or volunteering?
Outside of school, I play piano, I love music. I love to read. I am really into fiction and memoirs.
How can readers help?
Please visit our website for more information about how you can help.
Do you want to make a difference in your community like Riya Hariharan? Find local volunteer opportunities.
Share this post