Retiree Cooks Up Meals, Conversation and Compassion as Hospice Volunteer
Meet Daily Point of Light Award honoree Leo Bonamy. Read his story and nominate an outstanding volunteer or family as a Daily Point of Light.
After a long career in the entertainment industry, Leo Bonamy knew he wanted to dedicate his time in retirement to serving his community. When the 70-year-old's mother passed away in hospice, his desire to give back to individuals approaching end of life became personal.
As a volunteer for Hospice of Kona in Kailua-Kona, Hawaii, Leo serves in several different roles as the center provides respite, transitional or longer-term care for patients. Leo cooks meals for the residents at Nakamaru Hale, the hospice residential home, assists at the center's thrift shop, and supports its annual bereavement camp for youth.
What inspires you to volunteer?
My mother is my inspiration for volunteering at a hospice center. She passed away in hospice in Michigan a few years before we moved to Hawaii, and when I was introduced to Hospice of Kona, I really liked the organization, its efficiency and the staff. Their mission spoke to me personally because of what I went through with my mom, and they do a lot of good here, there's a real need for the services they provide.
Describe your role supporting Hospice of Kona.
I serve in a few different roles for Hospice of Kona, including patient care. Some of my responsibilities include:
Services at Nakamaru Hale: I cook meals at the hospice residential home for the patients. We serve people that are terminally ill who don't have family, or the family needs respite. If I'm not cooking, I'm keeping the kitchen clean, I do chores and I help with patient care. Sometimes I'll provide companionship and just sit and talk with a patient if they need some company.
Transportation: I will take patients on errands, or to doctor's appointments.
Camp Erin: I serve as the "backstage guy" for the hospice's annual camp for grieving children, so I take care of lighting, sound and audio for any shows or movies we have for the children. I also generally support maintenance.
Memory Lane Thrift Store: The hospice's thrift shop is located in downtown Kailua-Kona, and it provides funding for the organization. When I first started volunteering, I told the hospice that I'm not a shopper, and I hate thrift stores (laughs). I'm in charge of anything donated that has a wire. I'll test or plug the item, price it and then move on to the next.
What's been the most rewarding part of your service?
Paying it forward. I enjoy working with the hospice patients because the service puts me in touch with my own reality. Three years ago I had a major cancer surgery, and while I'm in excellent health now, volunteering has connected me with the challenges others may face.
You cook for the hospice patients. What's your favorite breakfast order?
Omelettes. I'll use anything that's in the refrigerator for ingredients. Vegetables, cheese and bacon, sausage and spam. But I'll make whatever the patient wants: waffles, pancakes. The list goes on.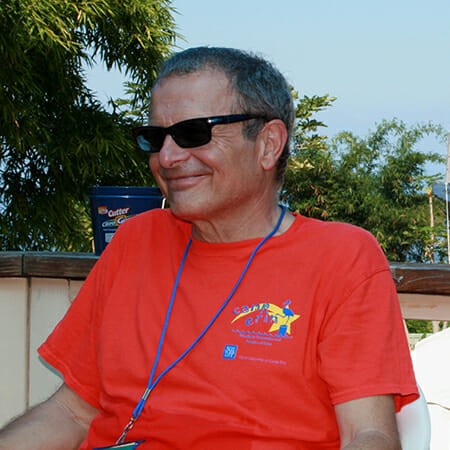 What have you learned through your experiences as a volunteer?
My volunteerism has put me more in touch with my mortality. As a cancer survivor, the surgery I had to undergo was pretty gnarly. Helping others has helped me and my wife deal with all of that resulting baggage from my own health issues. Some patients have families that come and visit, and they are well taken care of, and some don't have anybody. It's nice to be there for them.
Share one personal story with me from your volunteerism.
There was this homeless man who came in off the streets to the hospice a few years ago. He had a lot of health problems. When I would arrive to volunteer on Tuesdays, I'd drive this man to Walmart so that he could buy any items he needed. Most patients that stay in hospice might be there for a few days, but this guy was a resident for six to eight months, which is really unusual. As it turns out, he was from Michigan, where I grew up. We'd ride around on the cart at Walmart, he'd get the things that he could pay for that he needed. Then we'd stop at Taco Bell or KFC to get his fast food fix. I would also see him every Sunday at the hospice residential home, I'd cook him breakfast. We really got to know each other. He was very spiritual and very grateful for everything hospice was doing for him. He's since passed away. He was a really loving man in spite of all of the challenges he faced in his life.
What do you want people to learn from your story?
When I was working, I was running my own company and I had two children to raise. The responsibilities of living and raising a family were all-consuming. I always knew in my heart that at some point I would have time to give back to my community. Paying it forward with hospice volunteering gives me more, I think, than I give of myself. I feel that I have benefitted from volunteering, and I think that everybody should take whatever time they have and volunteer in an organization that they're interested in, whether the focus is on children, medicine or adults.
How can readers help?
Please visit Hospice of Kona's website for more information about how you can help.
Do you want to make a difference in your community like Leo Bonamy? Find local volunteer opportunities.
Share this post