Woman Finds Second Family Through Serving in Kenyan Community
Meet Daily Point of Light Award honoree Emily Karr. Read her story and nominate an outstanding volunteer or family as a Daily Point of Light.
When Emily Karr first heard about her former colleague's nonprofit organization, The Lemong'o Project, she was interested in how she could possibly help through donating. At the time, she would have never imagined that almost a decade later, she would be the vice president of the nonprofit and would visit the rural Kenyan community it serves almost every summer.
The Lemong'o Project is dedicated to empowering the people of Lemong'o through supporting their nutrition, education, healthcare and employment. The organization provides free lunch to all of the 500 students at Lemong'o's school as well as the salary for four of its nine teachers, which has greatly improved both attendance and test scores. It offers a twice-yearly medical clinic, which last year served almost 800 members of the community. The Project also runs a women-operated market to create and sell goods like jewelry and baskets in the United States.
As vice president of the Lemong'o Project, Emily helps with fundraising, media and board operations. But she says the most rewarding part of her work is spending summers in Lemong'o, where she helps facilitate the women's market as well as the medical clinics. Emily said she has found another family in the community of Lemong'o, who inspired her to become so much more involved in the Project in the first place.
Describe your volunteer role with The Lemong'o Project.
I am currently the vice president on a very small board. My roles for vice president are kind of all encompassing. I do a little bit of everything. When I am not in the village, I do mostly fundraising, so either generating fundraisers here in Saudi Arabia or Portland, Oregon, or spreading the word about fundraisers that other board members are doing because the board is spread out. I'm currently in Saudi Arabia, the president currently lives in Anchorage, Alaska and then we have other board members who are in Philadelphia. I assist in promoting fundraisers in their different locations. I've helped with creating crowdfunding fundraisers. I do a lot of the media stuff, so Facebook posts, newsletters, creating brochures or advertisements for upcoming events, posters and stuff like that. Then we have board meetings so I participate there and then if there are things within the meetings that come up that need to be done, we delegate who does those things.
I have been fortunate enough to go to Lemong'o, I think maybe seven out of nine summers since I've been involved with them. When I'm there, I help to facilitate the women's market. The women bring their jewelry or baskets or their beaded work to sell and then we buy those things and bring them back to the states and sell them. With the money we raise from that, we send it back to the project. I help facilitate what the women will make for the markets. Each year, I pay close attention to what kind of merchandise sells, and then I have young business women there who I'm in contact with throughout the year. We talk about what the mommas should make and if there are new types of earrings or necklaces that we want to try out, then I communicate that with her and she communicates with the other women. We also just within the last year started doing workshops, so if there is new type of merchandise that I think might sell nicely, then I communicate that to my contact person there and then she hosts workshops to teach the women how to create the different things.
Also while I'm there we do two medical clinics. I help with setting that up, doing inventory of different medication we have and then on the day of the clinic, helping the clinic run. It runs pretty smoothly now but in years past when we just starting, there needed to be more assistance on my end. Now it runs super smooth. We have a local doctor and two nurses who come and then an eye doctor and a lab technician. They're all local people so they come and then we just invite anybody within the Lemong'o community to come and they receive a free medical check up and then medication for anything they need. Then if our budget allows, the doctors refer them for further check ups or further procedures to be done and if we have the funds, we do that as well.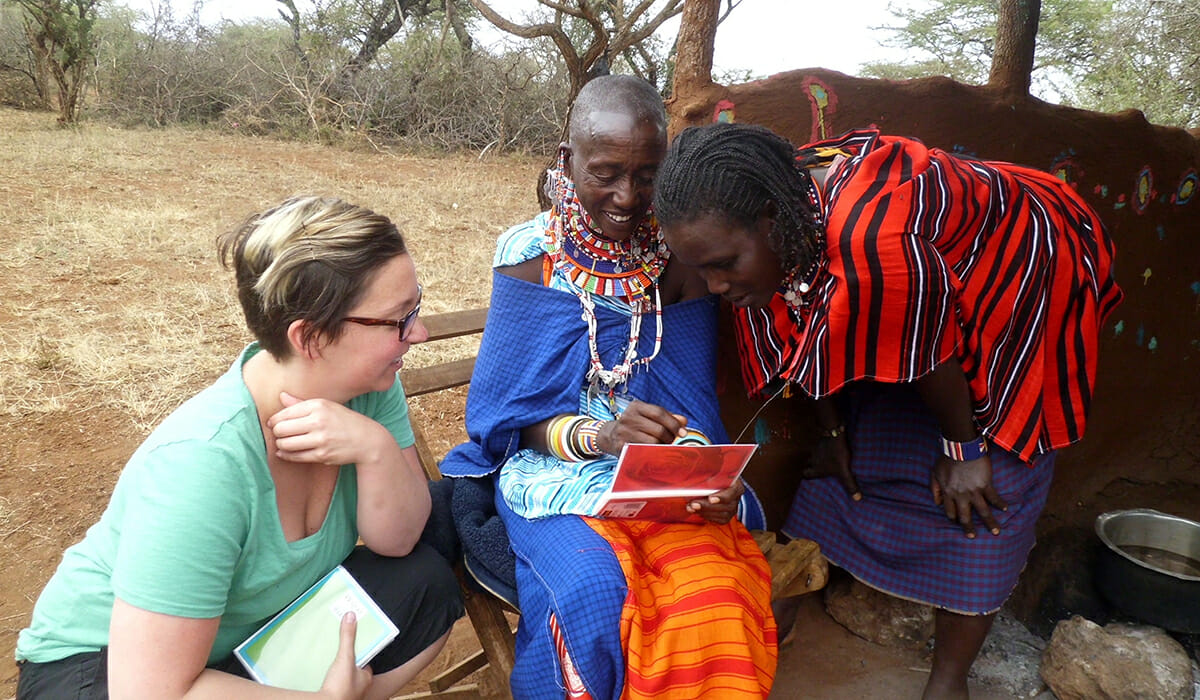 How does the Lemong'o Project assist the community there?
It assists in several different areas. The first two are kind of our main areas, education and nutrition, and then we also assist in medical and employment. The first two areas, education and nutrition, our budget allows for us to provide lunches to children who go to the school in Lemong'o. The school hosts pre-kindergarten through eighth grade, so there are about 500 students. As long as students are attending the school, then they get a free lunch. That's the nutrition part of the Lemong'o Project. The educational part of the Lemong'o Project comes with supporting, right now it's four teachers at the school. The government only provides five teachers for 500 students and we understand that's not enough for children to get a good education. In the past, before the Lemong'o Project started, they had what were called parent teachers, and the parent teachers would receive a salary that came from school fees that the parents would pay. But what really in reality happens is that parents are not able to pay the school fees. It's about five dollars a year, but parents are not able to pay that, so the parent teachers do not get paid. In most cases, the parent teachers don't stay and that disrupts education because you've got teachers coming in and teaching for awhile and then not teaching. It's not a conducive learning environment. So the Lemong'o Project pays for four teachers, their full salary, so we can retain teachers and have more teachers at the school. That's the educational part of the Lemong'o Project. The health part of it, the nutrition and serving children lunches kind of goes into that a little bit, but then we also do the two medical clinics each year that provide medical service. I think this last summer we served over 800 individuals providing them with some kind of medical care with those clinics. The employment part is what we do with the women's market, so facilitating the women to make different things. We buy those goods at a fair price for the women and then we bring them back here to the U.S. to sell them and then that money we make goes directly back to the funds that we use for the food, the teachers' salaries and the medical clinics.
When and how did you get involved?
I worked with Carolyn Tague, who is the founder of the nonprofit and also the president. I worked with her at a behavioral school in Anchorage, Alaska. She was just going to Africa when I met her and then we separated the schools we taught at, so I didn't have contact with her for probably about five years. Then I got an email from her that she had started a nonprofit. I reached out to her because I was interested in what it was. We met and started talking and she told me about Lemong'o and the experiences that she had there for the past five summers. I decided to go with her to Lemong'o, and I think that was in 2010. I went and I spent three weeks in Lemong'o with her and I just completely fell in love with the people there. When we go, we stay in a traditional mud hut, meals are cooked over an open fire, there's no running water. … I just kind of fell in love with it and I started going with her every summer. I went with her three or four summers in a row and then I moved to Saudi Arabia so I wasn't able to go for the first year, and then I've continued to go back and meet her there for the summers.
I originally was just going with her, I didn't really have any intentions of getting involved with the nonprofit other than maybe donating to it. But just having my experiences with the people that first visit that I had, and seeing the life they have — although to me it seems like a very simplistic way of life, they work very hard and life is very difficult for them. Despite the difficulties they face, they're very positive, they laugh a lot and they're very grateful for what they do have even though it's very little. [I made] a personal connection with the people and I just kind of fell in love with them and it just became natural for me to work towards helping continuing to support the community. Each time that I go, I get to know the community more and individuals more, and continue to learn their stories of their life and the struggles they face. It makes me feel very fortunate for the life that I have and the different things that I have access to that they don't, like clean water and electricity and things I kind of take for granted. I feel like I need to give back, I need to give because I can. They've opened my eyes to a lot and so I'm grateful to them and I feel like I need to give back to them for what they've given me.
What kind of change have you seen in the community since the Lemong'o Project began?
Before [Carolyn Tague] started the lunch program, there were about 200 students in the school. When the lunch program started, that number jumped to about 500. So because of the lunch program, more kids are coming to school which is a good thing. Specifically within the school, they have to take yearly assessments and then based on their school's scores, that delegates a little bit what the government can provide for the school. So lower-scored schools essentially get less support and they have typically been a lower-scoring school. Since the lunch program and the consistency within the teachers, their scores have gone up, higher and higher each year. Then as far as the medical clinics, that's a basic one where people have access to healthcare that they would not otherwise have access to. The closest hospital to Lemong'o is about 45 minutes away so you need some sort of transportation. A lot of times that transportation cost, which I think is about a dollar to get to the hospital, they don't have that money so they aren't able to get the medical assistance they need. Then the employment part, women, with the money they're making by selling the jewelry, they're able to provide for their family. A lot of times we see that money going towards school fees that they owe for their children or getting the basic necessities of food or medical care that their child might need.
Are there any future partnerships, programs, or events that you are excited about?
We've been trying to get grants for a long time and we have been struggling with that. We've come to the realization that maybe we're not getting grants because grant holders see us as a hand-to-mouth organization. We understand that, and we want to be looked at as a nonprofit that provides some kind of sustainability within the community, so we don't want to be a hand-to-mouth organization. We have started the process of looking for grants to start a voluntourism program. We have the facility already, we have a space where volunteers — which are me and Carolyn — where we stay, so we're really excited about this voluntourism business we would be starting. We are looking for grants for the voluntourism business and we have an organization that has approached us, a TV show that's called "The Fixers," so we're hoping that they will assist us in fixing up the volunteer location where we stay … so we could start this voluntourism business. That's our big area we're working on right now.
What have you learned through your experiences as a volunteer?
Everything I've been involved in, I've learned a lot. I've learned all the business side of running a nonprofit, little things like making a newsletter and doing a crowdfunding campaign. I didn't know any of those basic, I guess you could call them office-type jobs. I've also learned more about Africa and how it runs and I've learned about people living in poverty, what that entails, and how to be supportive of that. I've learned a lot.
What's been the most rewarding part of your work?
I would say the relationships that I've made with the people. I really consider them my African family. I have mothers and brothers and sisters and I've been able to see children growing up.
Do you want to make a difference in your community like Emily? Find local volunteer opportunities.
Share this post