Man Perseveres Through Disability to Help Disadvantaged Population in Virginia
Meet Daily Point of Light Award honoree David Hill. Read his story and nominate an outstanding volunteer or family as a Daily Point of Light.
At the age of 17, David Hill was in a car accident that left him disabled, and he still struggles with a brain injury resulting from the crash. Persevering through his personal challenges, the now 46-year-old Coeburn, Virginia resident is dedicated to going out and doing good for others less fortunate.
As a volunteer with The Health Wagon, an organization which provides mobile health services to the medically underserved in Southwest Virginia, David always shares a smile and kindness with others. Despite his own struggles, David believes that tomorrow is just another day to perform acts of service. We spoke with David, his sister, Paula Hill-Collins, and Teresa Tyson, the executive director of The Health Wagon, about his volunteerism.
What inspires you to volunteer?
David: I volunteer because I want to help others and I don't want them to not be informed about the proper things and how they can get help.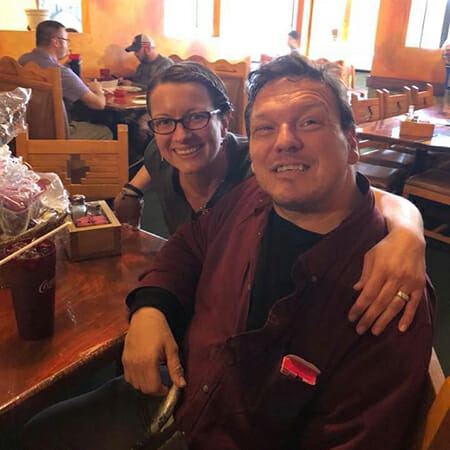 Describe your role with The Health Wagon.
David: I do various things every now and then to help patients. I'll buy flowers for people when they're in season. I always greet people at the door, I offer them water or soda pop. I usually keep the backroom as clean as I can, and take out the trash.
Paula: He's also worked in the community garden. The Health Wagon is a mobile unit that works to provide health care access to some of Virginia's most disadvantaged populations, so David helps with fundraising for patients who are in need of dentures or scans they cannot afford. He has also helped develop a traumatic brain injury support group in the area to bring awareness to traumatic brain injuries. He always has a smile on his face and a nice joke to tell despite his struggles.
What's your life motto?
David: Philippians 4:13, I can do all things through Christ who strengthens me.
What does it feel like to know that you're helping others that are less fortunate?
David: It makes me feel like God expects me to help others. Our purpose is to help others. Our mother instilled that in us, to serve others.
Share one personal story with me from your volunteerism.
Paula: We had a patient that come in for fasting blood work, and she met David in the lobby. She told David that she was so hungry, because she'd not been able to eat ahead of the blood work. David had two Big Macs in his backpack, one for lunch and one for dinner, and he reached into backpack and tried to give her one of his hamburgers. She told us how much it meant to her that he saw someone in need and in a way, was giving his shirt to his brother.
What do you want people to learn from your story?
David: Get out and get involved in helping others.
Teresa: David has a traumatic brain injury, but he's never given up. What people see in David is that he shows the fortitude of not giving up even though he's personally experienced health issues. David has been so tough and so resilient, he inspires others.
How can readers help?
Please check The Health Wagon's website for more information about how you can help.
Do you want to make a difference in your community like David Hill? Visit All For Good for local volunteer opportunities.
Share this post