Teen Volunteers to Bring Art to Sick Children, Young Adults & Seniors
Meet Daily Point of Light Award honoree Olivia Cuthbert. Read her story and nominate an outstanding volunteer or family as a Daily Point of Light.
The memories Olivia Cuthbert shares of her childhood friend, Katie, are joyful ones. The two took art lessons together, they went to the same church. On December 8, 2015, 7-year-old Katie passed away from brain cancer as a result of childhood ependymoma. While hospitalized, Katie did a lot of art work to pass the time, and Olivia decided that she'd honor her friend by giving other sick children, young adults and seniors the chance to express themselves creatively through art.
Establishing A Work of HeART in 2017, 18-year-old Olivia's mission is to bring the joy of art to others facing critical illnesses and disabilities. Whether suffering from a temporary, long-term or terminal illness, the Dubach, Louisiana resident wants individuals to embrace creativity, and have an opportunity to forget about their serious health conditions for a time.
What inspires you to volunteer?
The response and gratitude that I receive back inspires me. Knowing that you can put a smile on somebody's face for a fraction of their day, giving them a few hours of fun to take their mind off their illness. That service can change their whole concept for that day, and that inspires me to give back more.
Describe your role supporting A Work of HeART.
I am the founder and voluntary executive director of A Work of HeART. I recruit volunteers, purchase all the supplies we use for art projects, and run our social media. I also coordinate fundraising, and connect with hospitals and other organizations where we are interested in bringing our program to. Art is a stress reliever, and thus far, we've changed the lives of hundreds of children within Louisiana and across several other states by inspiring them through art, helping them to realize they are not their illness. We also volunteer with young adults and seniors in nursing homes.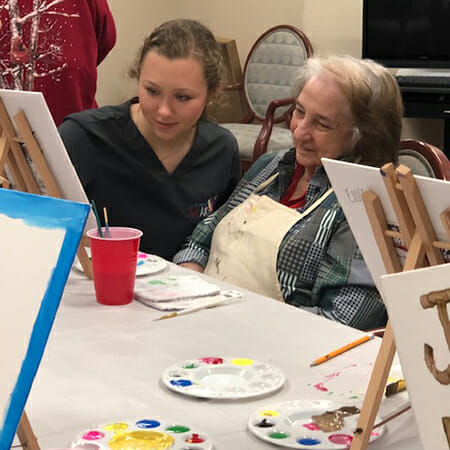 What's been the most rewarding part of your service?
Hearing all the stories that people tell me about their experiences, and honoring Katie by sharing her story is the most rewarding part of my service. Katie was always super happy, so I know that she would be really supportive of our efforts, and I know she would want to be a part of it. She only lived for 7 years but she had such a big impact in the lives of so many others.
What have you learned through your experiences as a volunteer?
I've learned not to underestimate someone because of their age or disability. I've volunteered with kids who don't really have use of their hands, but as a workaround, this one particular girl I visited in the hospital painted with her mouth. I didn't think she'd be able to paint, but she did, and her work was amazing.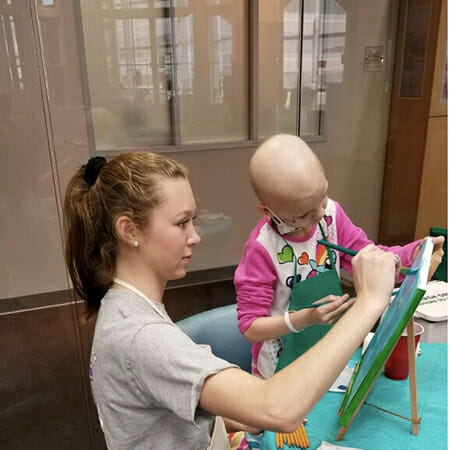 Share one personal story with me from your volunteerism.
One little girl was bedbound so she couldn't participate in group activity. I went to her bedside, and she talked to me about her treatments and explained that she'd been battling a rare form of cancer for a very long time. After we completed her art work, she cried and asked if I would come back and visit her again. I felt really connected to her, and that really fun and really powerful moment is one that I think about as I continue my service.
What do you want people to learn from your story?
Get active in your community, no matter what your circumstance is. If you have one hour a week to volunteer, get out in your community and volunteer. You honestly receive more of the benefit from volunteering than some do receiving the service.
How can readers help?
Please check our website for more information about how you can give back.
Do you want to make a difference in your community like Olivia Cuthbert? Find local volunteer opportunities.
Share this post
---