Running for Good, Los Angeles Man Serves Skid Row Community
Meet Daily Point of Light Award honoree Kit John. Read his story and nominate an outstanding volunteer or family as a Daily Point of Light.
Kit John's mother used to set aside essentials each morning as the family ate breakfast before school, items she'd bring to people in need in the community. Explaining to her children that not everyone in Los Angeles was as fortunate, she encouraged them to give back.
Today, 39-year-old Kit is using movement to promote change, as the personal trainer by day gathers donations for "Movement Runners", an organization that encourages a healthy, engaged and socially involved community. Motivating people to be active and to extend their hand to the homeless and others in need, Kit receives hundreds of essential items in donations each month, which he then is able to donate to people in need in Skid Row, an area of downtown L.A. plagued by homelessness and poverty.
What inspires you to volunteer?
The bigger picture: we are all in a position to give back a little something. If we come together and give back, we can help our community, little by little. When I was growing up, my mom would take extra bread, extra butter, and bring it to the people really hurting and struggling. Our society is always throwing stuff out, why not take that extra, and help someone in need?
Describe your role in Movement Runners.
I'm the founder and current president of Movement Runners. We motivate people to be active in the hopes of implementing a healthy lifestyle, and encourage people to help others less fortunate. We have an event every single day, which I promote and lead, whether it's a run, workout, or a volunteering event. We gather donations for the community in south Los Angeles including essentials like water, toilet paper, hygiene products, clothing. We personally hand these essentials out to people in need, whether it's children or adults.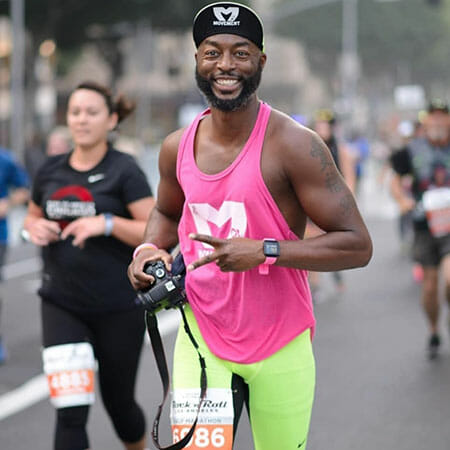 What's been the most rewarding part of your service?
Movement Runners is bigger than running. I helped some individuals who have reached out and said that I saved their lives. People who don't have the will to live, they join us, they want to be a part of what we're doing together. We're a community making a positive impact.
What have you learned through your experiences as a volunteer?
I do more for others than for myself. Sitting down and having a conversation with someone could literally change their life. Everybody is always going through something, so put aside your problems, and dig into the next person by spending five minutes talking with someone you might not otherwise.
Share one personal story with me from your volunteerism.
We were donating shoes in Skid Row, which we do about twice each year. I had collected at least 200 pairs of shoes, and there was this guy literally out in the streets of Skid Row walking barefoot. He said he'd been trying to get shoes and something to eat. He had blisters on his feet, and so I asked him what size he was. We gave him some items and shoes. He busted out crying. It hit all of us emotionally. This is why we do this. It might not have seemed like a lot, but to this man, because of how we helped him, he could now get back on his feet and he wouldn't have blisters anymore. These are the things we take for granted.
What's your personal motto?
Train your mind to see the good in everything.
What do you want people to learn from your story?
We can't do it alone. When we come together as a community, we can do a lot. We are in a position to give back, we should make the world be a better place.
How can readers help?
Please follow me on Instagram for updates on our events, and how you can help.
Do you want to make a difference in your community like Kit John? Find local volunteer opportunities.
Share this post