After Personal Loss, New York Mom Channels Grief Into Helping Others, Supporting Mental Health Programs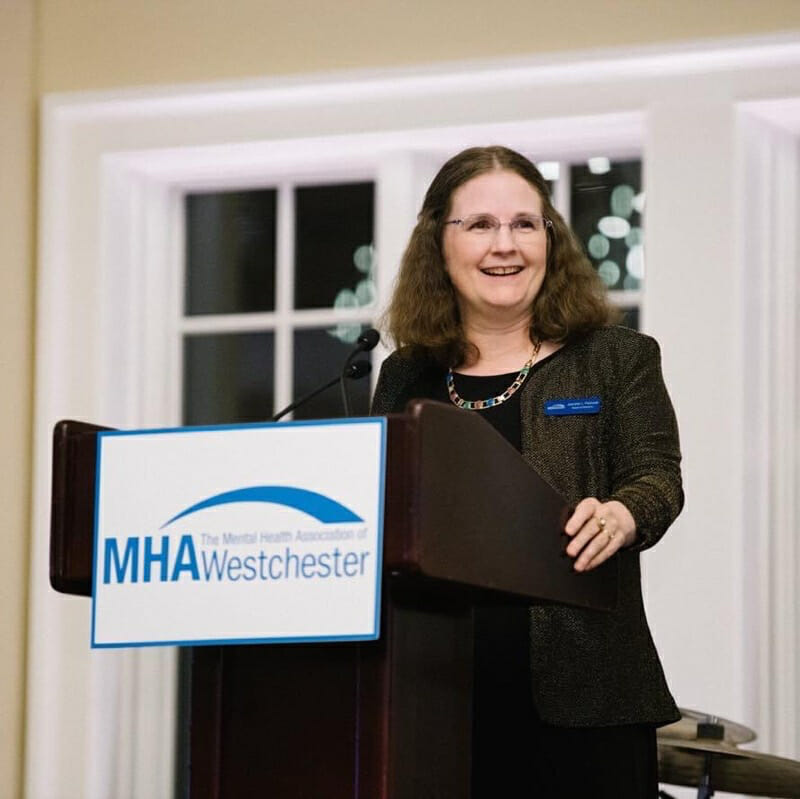 Meet Daily Point of Light Award honoree Jeanette Fairhurst. Read her story and nominate an outstanding volunteer or family as a Daily Point of Light.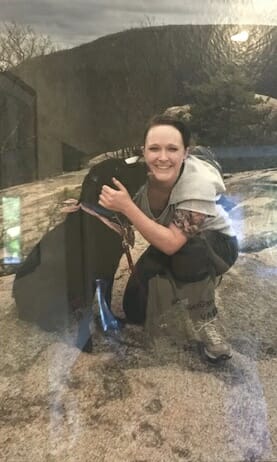 One of Jeanette Fairhurst's most precious memories of her late daughter, Ali, a photo with Ali and her foster service dog, a future guiding eye dog she was caring for. Sadly, Jeanette's daughter died by suicide shortly after the photo was taken. This memory is one Jeanette holds close to her heart, as she remembers the love and kindness her daughter exhibited towards others.
In the wake of her daughter's passing, Jeanette says she knew she had to carry her lived experience with her as she worked to make something positive out of the hurt. The Thornwood, New York resident turned to Mental Health Association of Westchester, where she now serves as a board member. The organization, which serves as a front-line resource for children, adults and families experiencing behavioral health conditions, offered Jeanette an avenue to raise awareness of suicide and promote conversations around mental health.
Serving as a volunteer since 2015, Jeanette has helped countless people learn more about mental health and how to develop the tools needed to build resilience.
What inspires you to volunteer?
My parents were very giving, so I grew up around service. Volunteerism also helps heal. Connecting with others is good for myself as well as trying to do good for others.
Describe your volunteerism.
MHA Westchester: As a board member for MHA Westchester, I've helped to guide the growth of the organization through fundraising and programming, and offer input from the point of someone with lived experience with mental health.
Regeneron Resilience is Essential (RisE) Employee Interest Group: As a Regereron employee, I work by day on health and wellness issues, and additionally, through service, as the founder and president of RISE. Counting more than 100 members, we are helping countless people learn more about mental health and how to develop the tools needed to build resilience.
BluePath Service Dogs: Ali worked with the people that formed BluePath before her death. They named a dog after Ali, a white lab. We've done walkathons and support BluePath, which provides autism service dogs, offering safety, companionship and opportunities for independence.
American Foundation for Suicide Prevention (AFSP): We also volunteer with AFSP, an organization that works to save lives and bring hope to those affected by suicide.
Green Mountain Camp for Girls: We sponsor annual scholarships at this camp. Their mission is to empower girls to believe in themselves and their ability to make a difference in the world.
Share one personal story with me from your volunteerism.
I'm a liaison for the MHA Westchester Peer and Family Advisory Council which is made up of peer counselors with lived experience and clients. We all go through little ups and downs in life, but if you are taken out by a mental health episode or an addiction episode, you're losing so much of a valuable person. You see these people who have gotten through that and thrive. They may still struggle, but you see the potential. And that really makes such a difference.
Why do you think it's important for others to give back?
We're all in this together. The only way to really get through life and enjoy things is with other people. The more we all realize we're more alike than different, the more we all can support each other and really, that builds resilience.
What's been the most rewarding part of your service?
It's very rewarding to see peers who are such role models, and it's such an important thing that people are given chances to keep growing. I'm also amazed at the growth that's gone on at MHA, the people are so innovative in how they're pushing to stay ahead of the curve, which at this time is so important. They do all the day in, day out, hard work.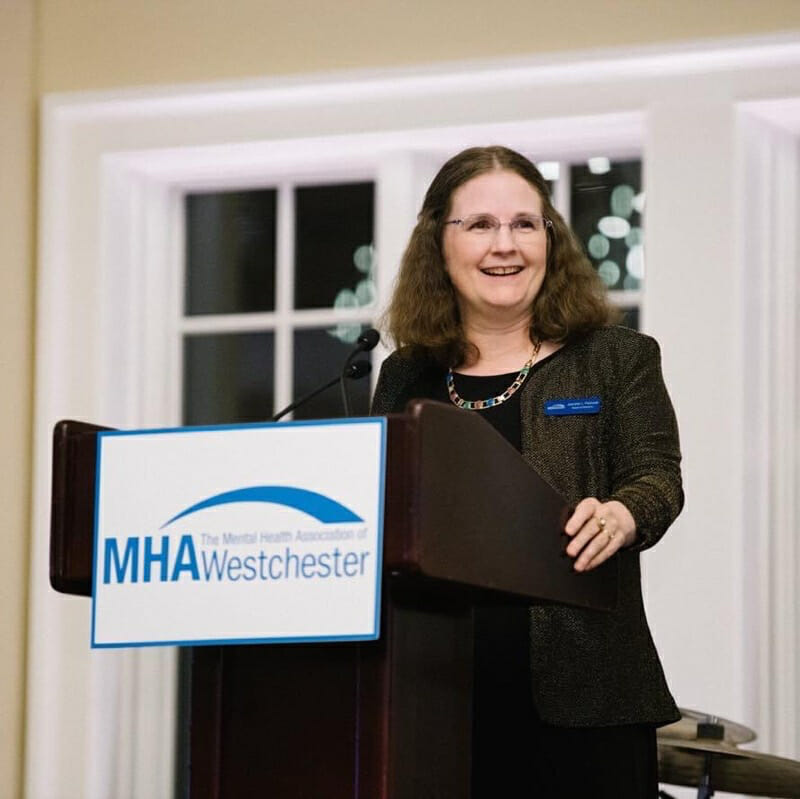 What's your message to those struggling during these difficult times?
It will get better. Things will come around, but you have got to hold on. I wish I had been able to say that (to Ali). We were very open about what happened to my daughter. Through RisE, we emphasize that with resilience, you're able to do more and connect. Everybody needs to have some way of getting through. If it's stopping you from moving forward, every problem is a big problem. By focusing on resilience, we bring people together who are going through all sorts of things and acknowledging it with no judgement.
How have you continued to volunteer throughout the COVID-19 pandemic?
Everything for MHA Westchester has switched to virtual participation. It's challenging because a lot of support I do is through connecting with others. We have had to get creative and connect with people who are going through difficult times.
In one word, what does volunteering mean to you?
Survival. Volunteering means survival for all of us and the planet. We need each other.
How can readers help?
September is Suicide Awareness Month, and in October, MHA Westchester holds their gala which funds important services including court appointed advocates for kids. Please visit their website for more information about how you can help.
Do you want to make a difference in your community like Jeanette Fairhurst? Find local volunteer opportunities.
Share this post