Volunteer Dedicates Over 20 Years of Service to Habitat for Humanity
Meet Daily Point of Light Award honoree Elliott Flick. Read his story and nominate an outstanding volunteer or family as a Daily Point of Light.
For over 20 years, Elliott Flick has been an avid volunteer for Habitat for Humanity, an international nonprofit that helps families in need build and improve their homes. Despite also working and raising a family, Elliott volunteers his time to not only lead home build projects, but also currently serves on the Board of Directors for Habitat for Humanity of Chester County, located in Pennsylvania. Elliott serves on two of the Board's subcommittees; the Family Services Committee, which helps identify families to be recipients of Habitat's work, and the Neighborhood Rehabilitation Committee, which is working to expand Habitat for Humanity of Chester County's outreach by also rehabilitating already-existing homes.
Elliott will be recognized by his employer, Exelon Generation, at Exelon's 2020 Powering Communities Employee Volunteer Awards. The annual awards ceremony will honor 24 employees this spring and award grants to the winners' nonprofit partners. Thanks to Elliott's dedication to volunteerism, Habitat for Humanity will be receiving a $20,000 grant.
Describe your volunteer role with Habitat for Humanity.
I am currently on the Board of Directors for Habitat for Humanity of Chester County. I've been on the Board for a little over a year now. I have a couple of roles, being on the Board, but there's two different subcommittees I'm involved with. The first one is heavily involved with identifying families that we can qualify to work with Habitat to be recipients of the work that we do to help improve peoples' living conditions and housing. The second committee is one which is involved with changing how the charity has operated for many years now. The charity has been primarily involved with building new houses for low-income people. We're working to change the way the organization operates so that now we will also help people who are low income who need support with staying in their existing house, because maybe they have safety issues, or they need help because their roof is leaking, or other kind of structural issues. We're looking at doing that because it will be a way for less resources to be able to touch and help more families than we otherwise are able to do when we just purely focus on building homes for low-income people.
Are you also involved in home build projects?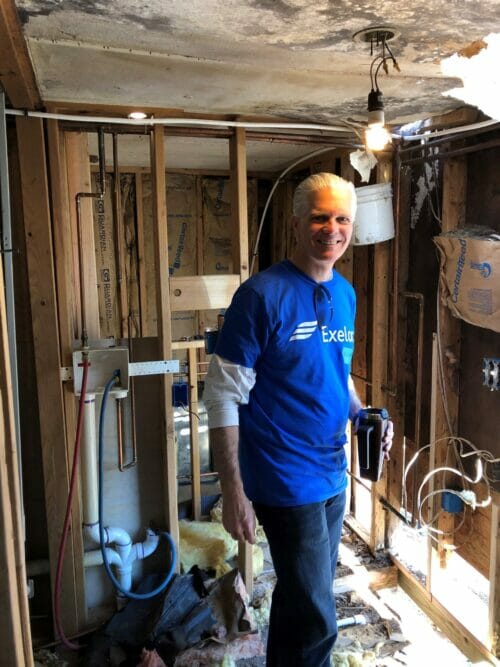 Habitat for Humanity has been my go-to charity for more than 20 years now, not only from a financial-contribution perspective, but I love going on home builds and it's something I try to do several times a year. Unfortunately, Covid has kind of put a cramp in that style this year. Last year, for instance, in the fall I took a team of 24 people from my work to one of the Habitat build sites near where I live. We spent the whole day working on getting a house that was close to the end of construction ready to go be turned over to a family. Then a couple months later I had the great experience to be able to go for the ceremony where we actually turn the keys over to the homeowner. It was really a very touching experience to be able to be there when something like that happens, particularly knowing that my coworkers and I had spent time working on the house to get it ready for them to be able to live in. So I certainly do that, and then this Habitat chapter also has a part of the organization that is called the ReStore, which is basically a store that people donate building materials and home furnishings and other things like that, and then the charity sells those and uses the proceeds from that to help with our constructing new house projects. My oldest daughter has caught the bug of being involved in this charity from me, so she's been working at the ReStore for a good part of the beginning of this year prior to all the Covid happening. She also has been joining me on home builds and she really enjoys it, so it's near and dear to me that somebody directly in my family has really caught the bug and is getting involved now with helping the community also.
What drew you to this organization all those years ago?
I enjoyed working on homes myself and buying houses, fixing them up, and working on them. I got a lot of satisfaction out of doing that and I heard about Habitat for Humanity through the media. Then there was an opportunity with work that they were doing what they called a 'Christmas in June' project, where they were going to a home. I spent the whole day up on the roof, helping tear off the roof and putting a new roof on this person's house. By the end of the day, just getting a chance to talk to the homeowner was really something that touched me to be able to realize what a huge impact me and the folks who I was working with were able to make. That has stuck with me to this day. I guess that over the years, I have gotten more and more involved in looking for opportunities to get involved and do some of these house builds. I had an opportunity a number of years ago, for instance, where I was living in Tennessee at the time. Tornadoes had torn through an area not far from where we lived, and it had destroyed all kinds of peoples' houses. I took a team of folks with me to go and basically help a family to pick up their lives and do what we could in order to help them with reestablishing the living situation. Those types of experiences over time really stuck with me and made me really want to get more and more involved, to the point now that I've gotten involved in a Board capacity, because it gives me more opportunity to help with the strategy that the charity is using and be even more influential in my work.
Is there anything you would want people to know about Habitat for Humanity's mission, especially for anyone who might not be aware of how big of an issue housing insecurity is?
Habitat for Humanity's mission is to put God's love into action by bringing people together to build homes and build up communities and build up hope in people who don't necessary have hope. We do this through not only construction of homes that are affordable for low-income people, but we're also doing this through helping people to be able to stay in their homes when their homes are in a state of disrepair. It's about providing families with a hand up to help themselves, not a hand out. The charity isn't just in the business of giving people houses. We help people to qualify for homes. We provide them with no-cost mortgages and other things like that to support them, but it's about providing people with a hand up in this world and not just giving people a hand out.
Are there any future partnerships, programs, or events that you are excited about?
Right now we're in the midst of soliciting for families in need who are in the Coatesville, Pa. area and the West Grove, Pa. area, because we have active home constriction projects that are going on. We have 16 homes in the next year that we anticipate that we will be able to complete, so we're actively soliciting for people who could meet the requirements to be able to move into some of the properties that we're actively working on.
What's been the most rewarding part of your work?
I get a tremendous amount of satisfaction from actually getting a chance to talk to the homeowners and people who we've been able to help, and hear their stories and understand that the work we're doing makes a difference. Secondly, I had mentioned my oldest daughter who has now caught the bug for Habitat and being involved. I take a lot of satisfaction that she's [become involved] much earlier in her life than I was when I first started getting involved in the charity, and she's got a passion for helping others. It makes me feel like I'm probably setting at least a decent example in that regard as part of her upbringing.
What do you want people to learn from your story?
I would encourage people to take the step and be open to doing something different and get involved with a charitable organization. It provides a lot of joy and satisfaction. You'll learn something about yourself and you'll help your neighbors in the process. If somebody is feeling like they can't just take on one other thing in their life, they should reconsider, because I certainly felt that way about myself, that I couldn't take on anything more. I have family, I have work, I have all other kinds of things I'm involved with. Be open to the opportunity that presents itself by getting involved in a charity to help your neighbors and fellow man.
Do you want to make a difference in your community like Elliott? Find local volunteer opportunities.
Share this post