After Retirement, Volunteer Creates an Inclusive and Safe City for People of all Ages who Walk and Bike
Jim Durham is passionate about keeping the streets in his Alexandria, Virginia, community safe. After retiring from full-time employment, he searched for ways to make a difference locally and was drawn to the spirited volunteers who advocate for a safe and accessible city for all. Jim now serves as the chair of the Alexandria Bicycle and Pedestrian Advisory Committee, and brings to life the organization's vision of a safe, connected network of streets and trails filled with people of all ages.
Since 2014, Jim has led advocacy efforts regarding infrastructure and policy change at the Alexandria Bicycle and Pedestrian Advisory Committee to make the city inclusive towards active modes of transportation. The organization is made up of local volunteers and engages thousands of Alexandria residents to find solutions for safe walking and biking. Because of Jim's passion and gift of inspiring those around him, BPAC's number of active members has more than doubled in the past five years.
According to Jim, infrastructure change is an issue that should be prioritized in cities and goes beyond increasing the numbers of bike lanes. He works towards ensuring pedestrian safety by advocating for increased crosswalk lead times, more no right turn on red signs and an integrated network of protected lanes, resulting in a 60 percent improvement in the reduction of crashes and accidents.
Jim believes that bike activity and safety is something anyone of any age can enjoy. He established a partnership with Alexandria Public Schools in 2016, and provides walking and biking education programming to elementary school students. The partnership began with a Bicycling in the Schools pilot program, and today consists of multiple initiatives, including fundraising for bicycles, bicycle training for teachers, volunteers delivering education during P.E. classes and more. "Around 25 percent to one-third of students we've met have never been on a bike before," said Jim. "If we don't want these skills and opportunities for joy to evaporate, then we need to teach them."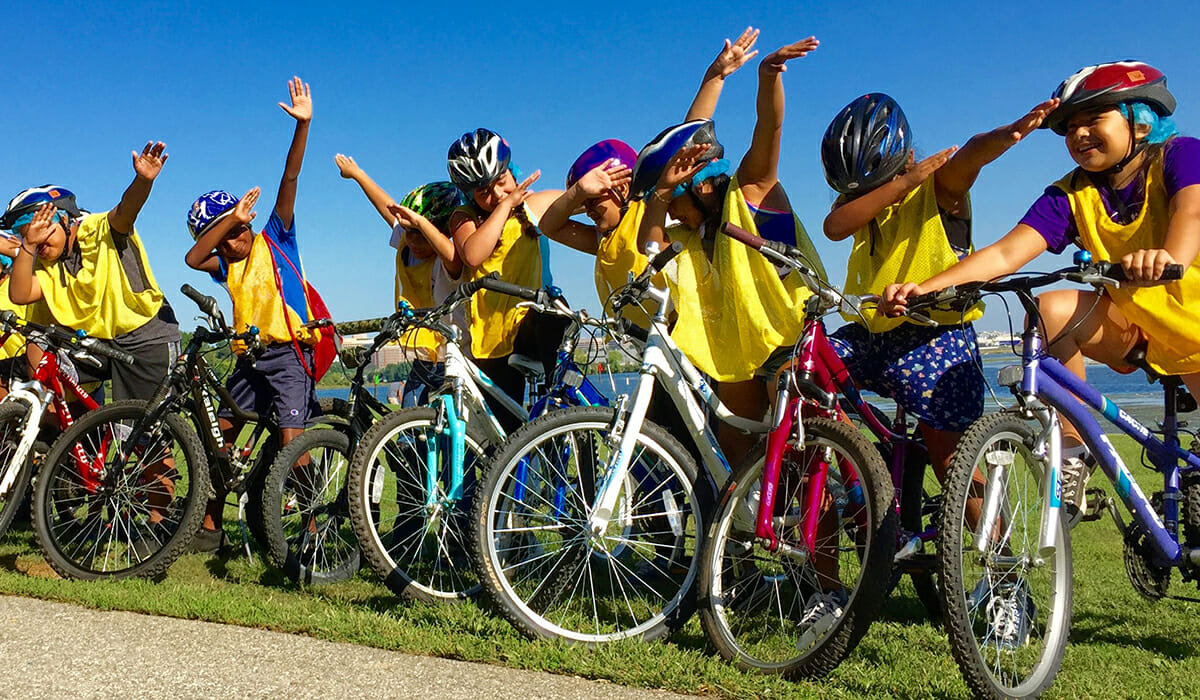 With a focus on youth safety, skills and fun, BPAC's Bike Rodeo program takes youth education to a new, sustainable level for kids and teens. In partnership with local organizations in Alexandria, Jim helps youth improve their cycling competence, safety and enjoyment by leading young cyclists through cycling stations that address equipment, skills and signaling drills, rider readiness and safety education. Volunteer mechanics tune up bikes and run helmet checks to ensure that kids are safe, and unique station activities reflect real-world practices similar to crossing streets and signaling to cars.
Additional innovative BPAC programs that Jim leads include Operation Illumination, an initiative that gives maps, bike lights and reflective gear to bikers at no cost, and bike mentoring where beginners are matched with mentors to help find their best bike routes and ensure that a bike is in good condition to ride.
One of Jim's favorite memories from volunteering has been spending time with the youth in his community. "The kids are truly gleaming with joy when they get to ride. It is one of the most rewarding experiences to see a kid's newfound confidence when they can operate and ride a bike," Jim said.
Jim continues to find new ways to engage others, including a program called the Arlandia Bikeshare Partnership, which gives community members in the Arlandia neighborhood access to new sources of transportation. It is funded by a People for Bikes grant where nonprofits can sponsor subsidized Capital Bikeshare memberships for low-income members of the community. In partnership with the Four Mile Run Conservatory Foundation, Casa Chirilagua and Capital Bikeshare, programs will discuss transportation issues relevant to the Latino community of Arlandria and will provide the adult students with a one-month trial and/or one-year Capital Bikeshare membership in addition to helmets and additional mentorship.
"There are so many ways to give back locally, and I want to encourage everyone to find one that fits their passions," said Jim. "We can all be respectful of a city's infrastructure and advocate for changes that make it safer for people to walk, bike and be active."
Do you want to make a difference in your community like Jim? Search local volunteer opportunities.
Share this post