Alaska Mom Seeks to Raise Awareness and Support Families Living with Kabuki Syndrome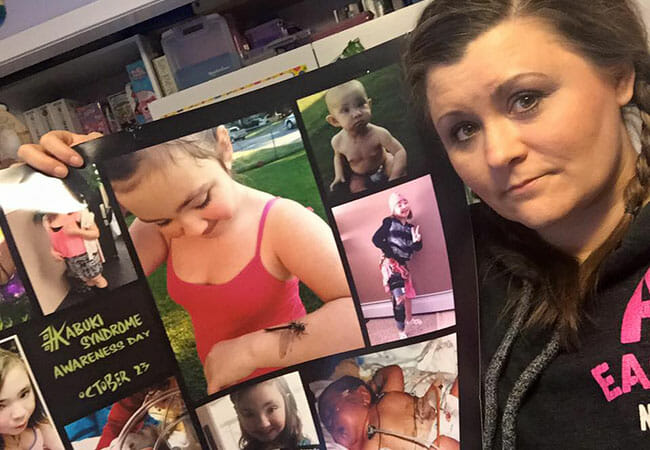 In 2001, Rene King's newborn daughter Rikki was diagnosed with Kabuki Syndrome, a rare and complex genetic disorder. Rene knew that the road ahead would not be an easy one; but she had no idea how many lives she would eventually touch through her family's experience with Rikki's condition.
Kabuki Syndrome affects approximately 1 in every 32,000 births. Those born with the condition can present a variety of symptoms, including developmental delays and intellectual disabilities, weak muscle tone, scoliosis and cleft palates, to name a few.
In 2013, Rene came across a social media post by a fellow Kabuki mom in Pennsylvania whose daughter had been turned away from a local charity that said she was too old for the specific toy she wanted for Christmas. Rene reached out to the mom and asked if she could "adopt" their family for Christmas and buy the gift to send to her, all the way from her home in Wasilla, Alaska.
"We ended up finding out that several families with Kabuki Syndrome in the lower 48 were experiencing financial hardships as well and were not able to provide Christmas for their kids," said Rene. "So we thought, 'OK, well we'll just find sponsors for these people' and we called it Operation Kabuki Christmas."
But Rene's efforts didn't stop there. Observing the lack of resources and awareness surrounding Kabuki Syndrome, she launched All Things Kabuki to raise awareness and provide support to families experiencing emotional and financial hardships.
"We saw a need in the community and saw that there was no active nonprofit in the United States advocating for Kabuki Syndrome," Rene said. "We started creating cards to hand out and mail to families with a really brief description of Kabuki Syndrome because so many people would get on our forum and ask, 'How do you explain it to people?' because it's so complicated. We just started making resources available."
Now a certified 501(c)3 nonprofit, All Things Kabuki has expanded beyond Operation Kabuki Christmas, running a variety of programs such as the Random Acts of Kindness Campaign, the All Things Kabuki Birthday Club, the All Things Kabuki Family Mentor Club, Operation Kabuki Warrior, and the All Things Kabuki Pen Pal Club.
Since its inception, All Things Kabuki has helped countless children and families affected by Kabuki Syndrome – including Rene's own family.
"It has allowed me to realize that this journey with this rare disease, while it's very complex, we have the greatest people in our community," she said. "It makes my journey as a mom raising a child with a rare disease easier, because I know there are so many other people that understand what we're going through. It's changed our life."
Share this post
---