Alaskan Teen Volunteers to Provide Food and Essentials to Families in Need with Blessing Boxes
Meet Daily Point of Light Award honoree Ashley Perry. Read her story and nominate an outstanding volunteer or family as a Daily Point of Light.
When Ashley Perry discovered that her classmates were sometimes showing up to school hungry, the 15-year-old Anchorage, Alaska teen decided to create the opportunity for neighbors to help one another, by providing community-donated food and essentials to families in need.
Installed in spots just outside schools within the Anchorage School District, Ashley's "Blessing Boxes" are filled with non-perishable food items, hygiene products, and clothing like socks, hats and gloves. Available to anyone in need in her greater community, the boxes are styled after so-called library boxes, and are based on an honor system concept of "take what you want and replace what you can." Intended for and supported by community members, Ashley is providing thousands of items to families in need across twelve boxes in her school district and counting.
What inspires you to volunteer?
I have Turner Syndrome, which is an immune deficiency. I've been on the receiving end of kindness and volunteering as I have faced my own health challenges, which inspires me to help others in return.
Describe your role with Blessing Boxes.
When I discovered that Alaska didn't have any Blessing Boxes, I decided to bring them to my home state. I work with my school district to establish Blessing Boxes outside schools. We currently have 12 boxes throughout the school district, but eventually will have 45 boxes across the district. I also add donated items to the Blessing Boxes. The items in the boxes are mostly donated, it is an easy way for those who want to help others to donate non-perishable food and other items.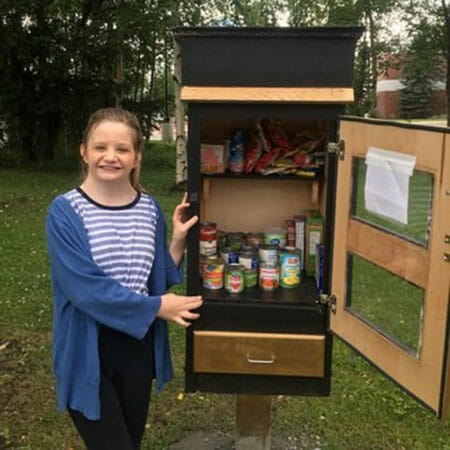 Share one personal story with me from your volunteerism.
A man came up to me and my dad as we were volunteering for Blessing Boxes, and thanked us for our service. This man said he relies on canned food that has been donated to Blessing Boxes. It felt amazing to hear that we were helping him, and it was confirmation that I'm doing the right thing by helping others.
What's been the most rewarding part of your service?
Whenever I drop items off at Blessing Boxes and come back the following week, it makes me feel awesome knowing that all the donated items all gone, and people have a full stomach and warmer heads.
What have you learned through your experiences as a volunteer?
I've learned about the kindness of other people. Blessing Boxes involves kindness from others in our community, and is dependant upon people and companies giving back. Everyone has kindness inside of them, and I am still learning about how that kindness can grow.
What do you do for fun?
I'm a gymnast. I'm learning how to play the guitar, and I'm learning the main chords right now. I've learned how to play "Hot Cross Buns," (laughs).
What's in the future for your Blessing Boxes initiative?
I'm trying to get as many boxes established as I can in our community. We're seeing how big we can get that number, not just in Alaska, but in other states, even outside our country, and see how many people can benefit from our boxes.
Do you want to make a difference in your community like Ashley Perry? Find local volunteer opportunities.
Share this post