Teen Volunteer Helps Feline Friends at Shelter Find Forever Homes
Meet Daily Point of Light Award honoree Coral Vidal. Read her story and nominate an outstanding volunteer or family as a Daily Point of Light.
Coral Vidal has two pet cats of her own, and says she values the comfort and happiness that they bring to her life. Wanting to provide shelter cats a more permanent home and bring the happiness she's experienced to other families, she decided to serve as a volunteer at her local animal shelter.
Currently a volunteer at the Montgomery Humane Society in Montgomery, Alabama, the 16-year-old focuses on helping cats be their happiest and best selves in the shelter environment so that they are strong candidates for adoption. Matching families with shelter cats and kittens that fit their family needs, Coral is serving animals in her community that need a good home and bringing the joy of furry friends to families looking to grow.
What inspires you to volunteer?
I am inspired to volunteer because I had extra time and wanted to contribute my time to serving others rather than just sitting around and doing nothing. It feels really good to make a difference, especially at an animal shelter, where you connect the animal with a person, and you know they're going to have a great time with their pet.
Describe your role with Montgomery Humane Society.
I usually volunteer in the morning before the shelter opens to help clean the animal cages and get the main visiting room all set. I give the cats food and water, do a health check, make sure their litter is clear and give them blankets for their cages. Also, we do general maintenance, so if dishes or laundry needs to be done for the animals, we'll do that as well.
Share how your volunteerism makes an impact on the lives of others.
Whenever children come in with their parents, the kid is usually just really excited to get their animal. Their joy is comforting to see, because you know that the cat will be going home with someone that has a personality match to theirs. Our volunteerism means that the cat won't have to be in the shelter anymore, and they'll get a more meaningful life. The cat will have a sturdy schedule and a routine and family. For the family or individual who is adopting the cat, they'll have someone special to come home to every day after work or school.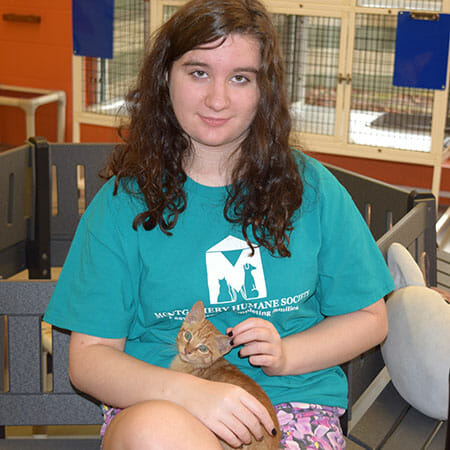 Tell me how you match cats to prospective adopters.
I will greet visitors at our shelter and ask if they're interested in adopting. If they are interested, I'll ask them what type of cat they are looking for, what approximate age (our shelter cats range in age from 6 months to 12-years-old), and personality-wise, what they are looking for. I will lead with personality because it is important to know whether an adopter wants a playful or snuggly cat. We'll also talk about how compatible cats are with other people and children, and then we match the person and cat.
What's been the most rewarding part of your service?
When you get to see people sitting at the shelter with a cat you know they're going to adopt. They're both super excited, the person and the cat, because they know that cat is the one. They're sitting there happy, taking Snapchats and Instagram pictures.
What have you learned through your experiences as a volunteer?
I've learned that people care about making a difference and they want to commit their time to making a change. People aren't just volunteering because they're supposed to. They grow into their service and generally enjoy the experience.
What's one way you hope to inspire others in your service?
If you have any free time, go out and try volunteering. Even if you are serving in a field you might not have interest in, you might be surprised – you could start to enjoy it. Try something at least once before you disregard the experience.
You have two pet cats. What are their names?
Yes, my two cats are named Jingles and Sherlock.
What do you do for fun?
(Laughs) I like to play video games but I don't get much time to do so nowadays. Usually I just do homework. I also do debate team and I love to hang out at competitions with my friends.
How can readers help?
Please visit the Montgomery Humane Society website for more information about how you can help.
Do you want to make a difference in your community like Coral Vidal? Find local volunteer opportunities.
Share this post