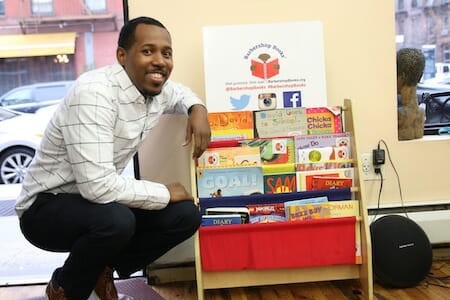 Today, on the Martin Luther King, Jr. Day of Service, we honor Alvin Irby with a Daily Point of Light Award for his commitment to childhood literacy. Read his story and nominate an outstanding volunteer, family or organization as a Point of Light.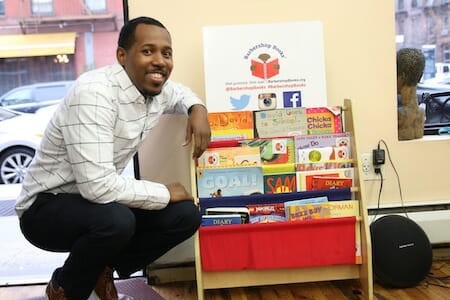 Alvin Irby crouches next to the Barbershop Books mini library at Levels Barbershop in Brooklyn, New York.
As a kid reading wasn't fun for Alvin Irby – but it was fundamental.
"My mom was a schoolteacher. For her, reading wasn't something we did for a few minutes before bedtime," he says. "It was sitting down at the kitchen table for a reading lesson instead of playing outside. It was work."
Ultimately, for Irby, it laid the foundation for a passion that developed much later.
These days, the 30-year-old is rarely without a book, and as a former New York schoolteacher himself he understands the difference that the love of – and proficiency in – reading has made in his life.
His Barbershop Books program brings his passion for reading to young boys by creating small reading areas in urban barbershops.
As we observe Martin Luther King, Jr. Day, Irby remembers how Dr. King fought for the disenfranchised and "how today we still have so many children who are forced to attend sub-par schools with no libraries or ineffective literacy programs. Reading is a civil rights imperative."
Irby got the idea for Barbershop Books after he noticed one of his students squirming and staring out the barbershop window while he waited for a haircut.
"I thought, 'He should be using this time to practice his reading.'"
Barbershops are one of the few places in the African-American community where black men and families from different socio-economic levels interact, Irby says. "They seemed like a natural place to encourage kids to read."
Research shows that young black males score lower in reading than nearly all other student groups. Irby believes this is partly due to a lack of adult black male reading models. Only two percent of U.S. teachers are black males and a majority of black boys are raised by single mothers.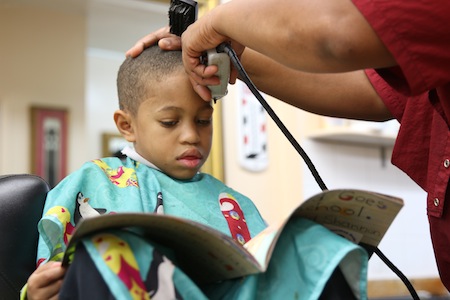 Luke Taliaferrow reads a book from Barbershop Books while getting his hair cut at Levels Barbershop in Brooklyn, New York.
As a result, "many black boys don't identify as readers," Irby says. "Reading is essential to participating in the knowledge-based economy of the 21st century. Once you learn to read, you can read to learn."
So far, about a dozen barbershops in the Harlem neighborhood and the borough of Brooklyn have devoted space to the small libraries, which typically feature 15 or so curated books and a chair.
"Seeing little kids get excited about reading is the greatest feeling in the world," says Dennis Mitchell, owner of Harlem's Denny Moe's Superstar Barbershop. Mitchell – who made sure his own children always saw him with a newspaper in his hand – laughs when he adds that "sometimes it can be hard for me to get a kid to put down his book and get in the barber chair."
For the future, Irby – who recently completed a master's degree in public administration at New York University's Wagner School of Public Service and is also pursuing a career as a standup comedian – says he plans to deepen the program's impact by finding creative ways to help turn barbers into local literacy advocates.
He's also working on a fun literacy app that can help kids read better as well as developing a curriculum unit and lesson plans using jazz-themed children's books.
Barbershops across the country have taken notice of Irby's innovative idea and set up similar programs.
He says he appreciates the feedback he receives from barbers, parents and community members. It means a lot to him to walk into a barbershop to replace a book and see a grandmother sitting there reading with her grandson. Or when barbers send him pictures of the kids.
"Children who read for fun even just once or twice a month do significantly better on reading tests, so these visits matter," Irby says. "And that feels good. I don't have it all figured out, but I couldn't stand by and do nothing. Barbershop Books is my something!"
Share this post