AmeriCorps Alum Fosters Environmental Stewardship in Texas Youth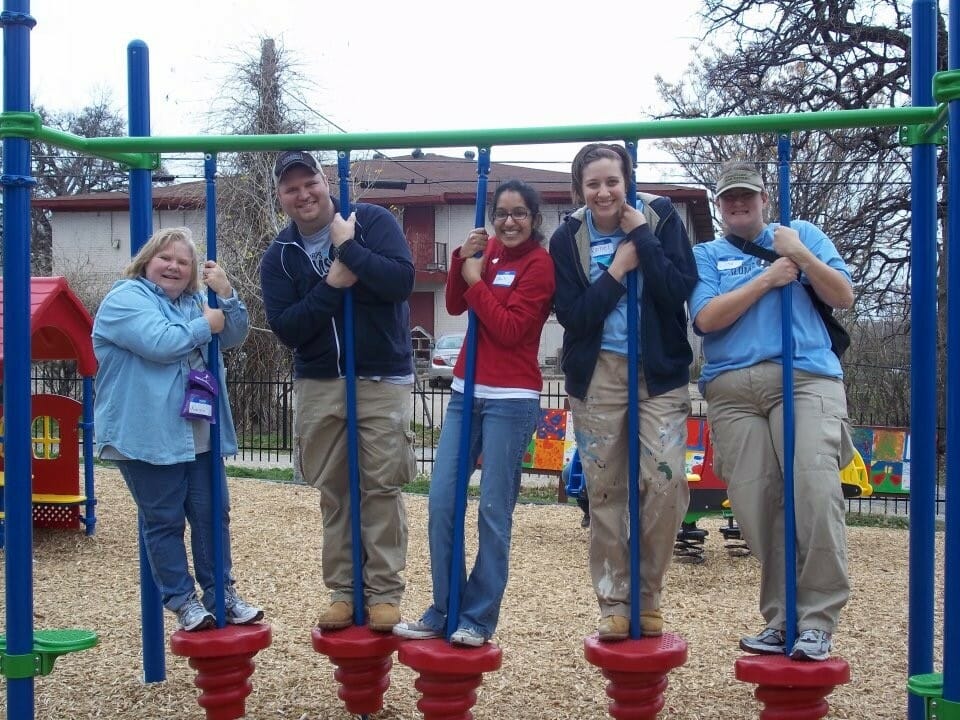 As vice president for the Board of Directors and volunteer leader for Trinity Environmental Academy, Dhriti Stocks works with the environmentally focused charter school in South Dallas to support its mission to use the Great Trinity Forest as a truly green learning laboratory. Her interest in nurturing young people comes naturally. As an alum of AmeriCorps Alliance of North Texas, Dhriti understands the power of harnessing youthful energy and enthusiasm to do good. A leader in the local chapter since 2010, Stock works diligently to make North Texas an incubator for young learners and emerging leaders.
What inspires you to volunteer – is it something you've learned from family/friends/church group?
When I was young, I loved the library. I would visit the Dallas Public Library's Renner Frankford branch weekly – sometimes more than once per week – and all of the librarians and staff always encouraged me to read and to get involved. As I got a bit older, they told me there was an opportunity to volunteer in the summer. I was so captivated by the institution and all its caring staff had done for me, that the jump to volunteering was easy and fun. When I had the opportunity to join the AmeriCorps national service program after college, I rediscovered my love of service and volunteerism. I've never stopped and I don't plan to!
Describe your volunteer role with Trinity Environmental Academy. How has your role grown and evolved?
I serve on the Board of Directors for Trinity Environmental Academy. I began as a volunteer on the committee to envision North Texas' first environmentally focused charter school, helped write the application to the state, and then ended up as a leader on the Board of Directors. It has been a fascinating journey, and I have learned a lot. Most importantly, I'm proud to be one of the supporters of an organization that is helping transform the way urban students are educated in the context of the environment – especially with the continent's largest urban hardwood bottomland forest right in our back yard!
Why is it important to you to support your community in this way?
I care very deeply about education. I have always believed in the power of education to change lives, but when I served in AmeriCorps, it became even more apparent to me that the educational opportunities that were available to me – and the support structures – are not available for all students. Serving with Trinity Environmental Academy enables me to change that for children and youth who live in a highly underserved region in North Texas. All children can harness their future if offered the right support, and if I can help them connect with and strengthen their community in the process – it's the highest possible honor.
What's the most challenging aspect of your volunteer service?
Serving on a Board allows you to see so much of the amazing work being done in an organization. I have the joy of seeing Trinity Environmental Academy's children showcase what they are learning, attending graduations and events, and supporting fundraising efforts. It's a job that never stops, and sometimes it's challenging in the moment – looking at Board policies or scouring financial data. Fortunately, that never lasts long!
Why is it important to you to foster environmental stewardship in these young people?
I didn't grow up in the United States; I actually grew up in Sydney, Australia. The difference in the amount of outside time and environmental interaction that students in schools there receive – especially at younger ages – and that of those in the United States is astounding. Especially among the urban children who attend Trinity Environmental Academy, some are so unfamiliar with the natural environment. Outside time and exposure to the environment are important and have been shown to have so many positive outcomes in individuals' lives, but it's also our responsibility as a species to steward our natural environment and to understand the interaction between our built and natural environments. I think our students need this now more than ever.
Why do you think it's important to give back?
If we don't do it, who will? I took the AmeriCorps pledge seriously and I carry this commitment with me – forever. I think it's so important to give back and to be engaged, because engagement in your local community is the easiest, quickest, and most fulfilling way to change the world.
Are there any future partnerships, programs, or events that you are excited about?
Trinity Environmental Academy partners extensively with the local HBCU, Paul Quinn College, and I'm excited about the collaborations and programming opportunities that will come from our partnership. For example, they have an organic farm on campus that they converted from a football field, and we have a vermicomposting (composting with worms) center starting up. Hopefully, our students will be able to help fertilize the farm with black gold from the compost learning center.
What do you want people to learn from your story?
I'd encourage everyone to get involved, no matter how they can. Attending a meeting about a cause that you care about can lead all the way to serving on the Board of a great organization. There are so many amazing ways to plug in, and every little bit of involvement from all of us matters a great deal.
Do you want to make a difference in your community like Dhriti? Visit All For Good to find local volunteer opportunities.
Share this post