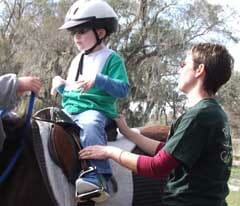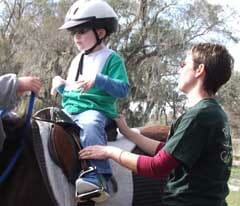 For the past three years, Amy has been volunteering with TiAnViCa Riding Academy in Bartow, Florida. She is a dedicated and steadfast volunteer who helps TiAnViCa Riding Academy provide educational and recreational therapeutic riding activities to physically, mentally and emotionally challenged individuals including veterans recommended by the local Veterans Affair office.
During the week, York works at a school for special-needs children and has a child with special needs as well. Once she realized how much her child benefited from TiAnViCa, Amy became a devoted and passionate volunteer for the program.
It takes three to four people to assist one rider per lesson in all kinds of weather. York's knowledge of horses and devotion every week helps the staff at TiAnViCa safely serve special-needs riders. York manages a team of volunteers providing leadership and encouragement to ensure the safety and well-being of riders, volunteers, and horses. Additionally, York has become an advocate for the program speaking at events telling her own family's story and participating in fundraisers.
Share this post