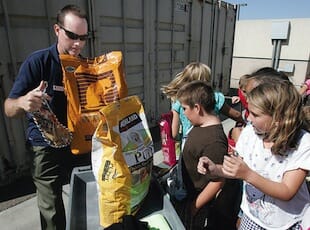 Many in Tracy, Calif., know Brian Pekari as "The Burrito Man." Last year on a whim, when a new restaurant in town offered a year's worth of free burritos as its grand opening prize, Pekari camped out in 100-degree weather for four days to ensure he would win. Victorious, he donated the prize to the city's family homeless shelter. Moved by Pekari's gesture, the restaurant gave him and his family another year's supply – which Pekari donated to the Boys & Girls Clubs of Tracy.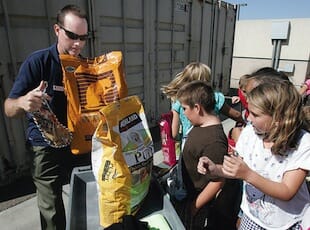 When Pekari's burrito campout received wide media coverage, he took advantage of his new local fame by founding Tracy United To Make A Difference, a community-building organization inspired by national Make a Difference Day, Oct. 26. (It's not too late to register your volunteer project for Make a Difference Day. Click here.)
In just a year, Tracy United To Make A Difference has built a coalition of more than 100 schools, businesses, government agencies, religious groups and civic organizations and mobilized 5,000 volunteers to address community needs.
The organization has served more than 12,000 community members and 100 abandoned and injured animals. Pekari has become the local coordinator of Make a Difference Day and National Volunteer Week, and last year received the city's Celebrate Service award for his volunteer efforts.
"My father died when I was 3, and my mother suffered from illnesses from the time I was born," says Pekari. "My community – relatives, coaches, teachers, friends – helped to raise me. I learned the power of community at a young age, and this is my way of giving back."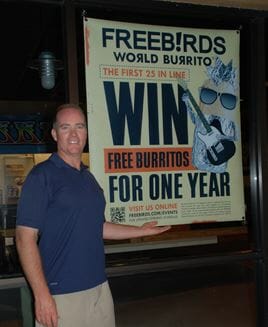 Pekari emphasizes that he wants Tracy United To Make A Difference to be a channel through which anyone can find a cause they want to serve.
"In 2012, when we started, there were heated political races going on, and Tracy was divided exactly 50-50 between Democrats and Republicans," says Pekari. "I wanted to make a strong statement that we are one community with far more that can unite us rather than divide us."
According to Pekari, one of the organization's most successful partnerships has been its collaboration with the Tracy Unified School District's Anti-Bullying Committee; three school districts have declared their schools "No Bullying" zones. The group has recruited faculty members and 115 student leaders to facilitate presentations and discussions about the effects of bullying. Pekari estimates that the program has reached more than 21,000 students.
In addition, Tracy United To Make A Difference is collaborating on a diversity and ethics program that has brought together about 10 religious communities and representatives of ethnic groups to participate in events and discussions focused on racial and religious sensitivity.
The organization has also partnered with youth mentoring programs that include counseling, intervention services for at-risk kids and opportunities to integrate kids into performing community service. Seventeen high schools and grade schools participate. And the group has helped thousands of city residents in need through regular food and clothing drives and by providing assistance to the homeless through ongoing support of the McHenry House (the family shelter that received the free burritos from Pekari).
"Volunteerism is the best medicine," says Pekari, who hopes to expand his group's programs. "Individually, we can all make a difference. Collectively, we can create lasting change."
Share this post