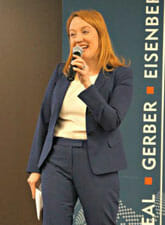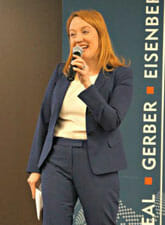 Together, Points of Light and Billion + Change are recognizing the exceptional work of skills-based volunteers during Pro Bono Week. Read the story about today's Daily Point of Light honoree, a lawyer who works with a non-profit group that pairs teen girls and professional women.
She has graced the covers of law magazines and her name appears on several "Who's Who" lists among top lawyers. Angela Elbert's many achievements as a legal professional convey her strong drive to succeed. A partner at a national law firm, she excels at counseling clients on risk management and insurance issues. And through her volunteer work with a special non-profit, Elbert is empowering teenage girls and professional women alike to reach for the top.
Elbert felt a calling to volunteer, and she knew she could apply her professional skills in a meaningful way. She joined a non-profit membership association that fosters the advancement of women lawyers. It was through this group that Elbert first learned about Step Up, an organization inspiring girls from under-resourced neighborhoods to fulfill their potential. She remembers being drawn toward Step Up's mentorship theme.
"I was most impressed by their dual outreach, young girls meeting with professional women," she explains. Through after-school and mentorship programs, Step Up inspires professional women to inspire teen girls. The goal is to help high school girls from under-resourced communities become confident, college-bound, career-focused, and ready to join the next generation of professional women – alongside Elbert.
Step Up's programming is oriented to equip both girls and professional women for bright futures. Teens take part in confidence-building activities, field trips to partner businesses, summer internships and college tours. Women sharpen their business acumen through professional development events, which feeds into more skills-based volunteer opportunities. The takeaway for both groups is evident: you're on a path to achieve.
To Elbert, the most rewarding outcome of this work is that in cities with historically low graduation rates, 100% of the girls involved in Step Up programs are graduating and being accepted into college.
Under Elbert's leadership as board chair, Step Up announced its first plans to expand since 2006, with plans to enter Dallas and Atlanta within the next five years. Elbert feels her professional background has been instrumental to guiding the organization during this growth phase. "I'm good at seeing the big picture and making a strategy to make others think that way, too," she says. "Once I decide I'm going to do something, I don't give up."
Step Up CEO Jenni Luke is grateful to have people like Elbert working hard to propel growth in the organization. "Angela has made such a big impact at Step Up because she takes her responsibility as a leader seriously, yet does it with a warmth and enthusiasm that is infectious," says Luke, adding, "We're very fortunate to have had her leadership at a local level and now on a national level."
According to this statement from Neal Gerber Eisenberg, the law firm where Elbert works, "We are proud of Angela's tireless efforts for the advancement and development of women. Angela's efforts have opened new doors for her colleagues, ensured that women have a larger seat at the table, furthered the career advancement and professional development of young, underprivileged women, and fueled the continued growth of women's initiatives."
Elbert sees firsthand that the barriers which have kept women from achieving their career goals are continuing to fall. "There are more and more opportunities for women where there might not have been before," Elbert states. "The world is opening up, and we have to be able to take advantage of these opportunities."
Who are the exceptional volunteers in your community using their talents to help others? Share their story by submitting a nomination for a Daily Point of Light award at http://www.pointsoflight.org/programs/recognition/dpol/nomination
Share this post