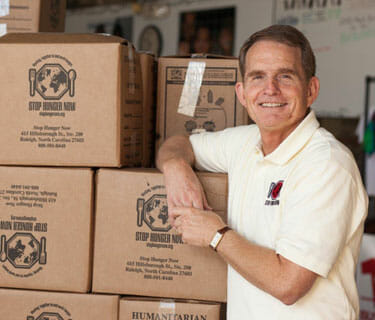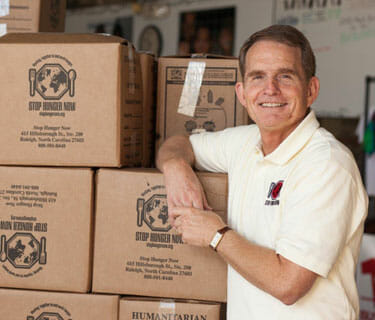 Together, Points of Light and Billion + Change are recognizing the exceptional work of skills-based volunteers during Pro Bono Week. Read the story about today's Daily Point of Light honoree, a healthcare exec who volunteers with a group seeking to end world hunger in our lifetime.
Ralph Puckett remembers the conversation that stirred his passion to volunteer. He was having lunch with his manager, who had just completed a special skills-based volunteer program at work that sends employees on short-term assignments to help non-profit organizations solve business challenges. Puckett listened to his co-worker talk about her positive experience, about the difference she made, and he wanted in.
"I realized the need to play outside my sand box and help other people," Puckett says. "I needed to think outside myself."
Eager to try something new and unfamiliar, Puckett enrolled in his employer's volunteer initiative for an assignment with Stop Hunger Now, a non-profit operating out of Raleigh, NC. Stop Hunger Now works to end hunger worldwide by mobilizing and engaging volunteers to package and distribute meals.
What he saw during a 5-day Stop Hunger Now trip to Belize resonated with Puckett. "I'm almost 63 and I have never been hungry," he says. "I saw chronic starvation and they had no means to correct it. I watched as people received our food and said 'Thank you, America.' This was the most rewarding."
Puckett's employer, global healthcare company GlaxoSmithKline, has brought nearly 500 people in its workforce through the company's PULSE Volunteer Partnership, performing service in 60 countries. Puckett's colleague at GSK, Kim Prillerman, passionately describes his tireless efforts to change the world, saying, "Ralph once shared with me that he felt he learned more from the team at Stop Hunger Now then he felt they learned from him. I know he used his skills set to make a significant impact, which is validated by this [Daily Point of Light] award."
When his stint with Stop Hunger Now ended, Puckett continued to support the cause, receiving training to become a CHEF (Certified Hunger Event Facilitator). The role of a CHEF is similar to that of a foreman, supervising assembly of meals in compliance with standards. In addition to working his full-time job during the week, he works on the weekends whenever the nearby Stop Hunger Now facility needs a CHEF.
So far in 2014, Puckett has participated in 18 meal-packaging events and has attended two others, involving thousands of engaged volunteers from all walks of life. He even turned his 62nd birthday party into a meal packaging event. The total number of meals packaged on Puckett's watch this year: 967,222.
The crew at Stop Hunger Now stand in amazement over the exploits of their eager volunteer. "Ralph is a gifted listener and makes everyone he meets feel important and valued," says Stop Hunger Now Regional Director Rick Kearney. Emily Everett, Chief Marketing Officer with Stop Hunger Now, adds, "Ralph really connected to our vision to engage as many people as possible in this work. He tells everybody he knows about the work we do."
Puckett feels everyone should try to give back to others. "You need to give back," he advises. "If you have a moment – 30 minutes or 5 hours – do something. Go play in another sandbox. Take time to invest in someone's life and continue to connect the dots."
All it takes is one local hero to make a difference and strengthen a community? Share the story of a difference-maker you know by submitting a nomination for a Daily Point of Light award at http://www.pointsoflight.org/programs/recognition/dpol/nomination
Share this post
---