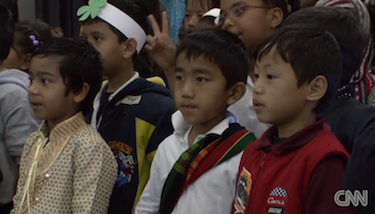 Today the world commemorates the birthday, life and legacy of the late Nelson Mandela. This year, on Nelson Mandela International Day, Points of Light honors Angela Hale with a Daily Point of Light Award. The Georgia native realized her passion to help people "who felt they didn't have a voice" by volunteering at a charter school dedicated to serving young refugees.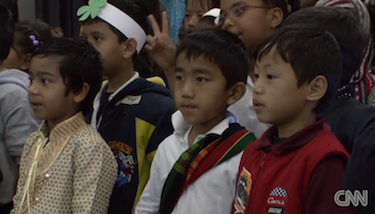 Click here to watch this CNN video about the International Community School, where Angela Hale volunteers 40 hours a week.
In 2009, Angela Hale, a Georgia native and single mother living in Decatur, was dissatisfied with the school her two young children were attending. Hale, who works at the nonprofit Carter Center in Atlanta, began asking for advice about good schools and learned about the International Community School in her town.
ICS is a K-5 charter school designed primarily to meet the needs of the large and thriving refugee community in DeKalb County. It is equally committed to educating American children from the area, as its goal is to foster and celebrate diversity within its student body. DeKalb County has one of the largest refugee communities in the U.S. – including many families displaced by war in their native countries. Refugee students at ICS represent 40 different nations and speak 25 different native languages.
Hale decided to enroll her son, David, and daughter, Elena, in ICS. She was amazed by the effect the school had on both her kids and herself.
"My children's previous school seemed like it was all about child containment and discipline," says Hale. "But at ICS, my son came home after his first day and said, 'Mom, I felt like I belonged within the first 20 minutes.' As I got to know the school community, I had the same reaction."
Hale began to volunteer at the school, doing chores ranging from painting the teachers' lounge to helping the school set up a computer database.
"The place was magnetic, like a family," says Hale. "The school is based on ideals, and the ideals are put into practice every day."
Hale began to increase her volunteer work, serving as a tutor and substitute teacher for students learning English as a second language. Hale joined the ICS board two years ago, serving as board chair last year. She estimates that while working a 40-hour week as a facility manager at the Carter Center, she puts in another 40 hours volunteering for ICS.
Colleagues credit Hale with strengthening the school both through fundraising and representing the school before county and state bodies. Hale served as chair of a 2011 auction that raised $30,000 for ICS, the largest fundraiser in the school's history. She also helped write the new ICS charter – more than 500 pages long – and lobbied for its approval. ICS was granted a new five-year charter this year.
ICS now serves 400 students each year. Many students from its inaugural year, in 2002, have now completed high school and won scholarships to prestigious colleges.
"I don't want to emphasize my individual work too much," says Hale. "I think my greatest accomplishment has been to assemble an amazing board of directors. I feel I'm living a charmed life because I'm surrounded by so many people I love and respect. … I'm part of a community effort, and we all believe in the cause."
Nominate an outstanding volunteer for a Daily Point of Light Award today.
Share this post
---