Animal Advocate Builds Kennels to Improve the Lives of Chained Dogs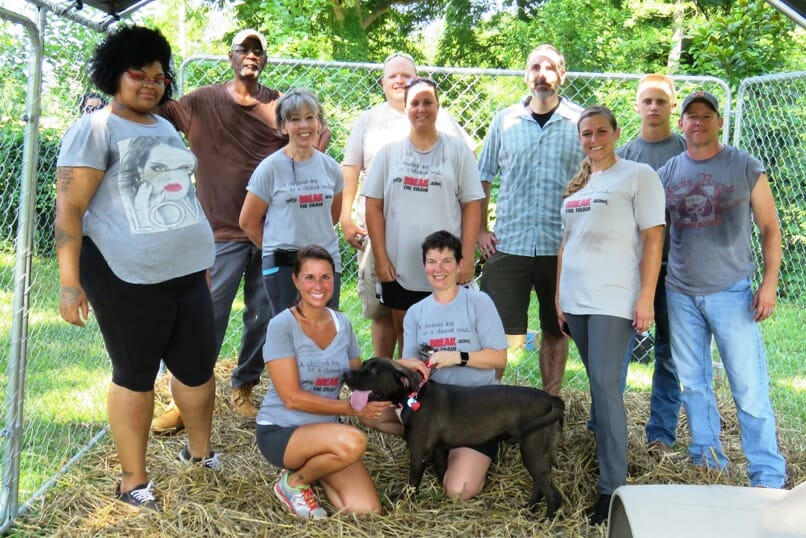 Sylvia Mayon, founder of Break the Chain Kennel Kru, has a soft spot for dogs and their humans.
For years, she had driven past homes around Greensboro, North Carolina, where dogs were chained. It always angered her to see the animals tethered, but she didn't think she could do anything about it. Even after she began volunteering with the animal relief agency, Project B.A.R.K, she focused on fundraising and avoided outreach work.
"I didn't think I could emotionally handle getting to involved directly with the animals," Sylvia recalled. "And, here there are a lot of chained dogs."
Sylvia slowly got past her reservations about field work, and began canvassing neighborhoods with Project B.A.R.K. to help educate people about spaying and neutering their pets. During one of those neighborhood visits she met William Jones and his energetic dog Ca$h.
William and his family were considering surrendering Ca$h because they didn't have enough money to pay for a kennel – nor did they have enough funds to pay Guilford County's $500 fine for tethering dogs.
"I said to William, what if [I] sent an email out to [my] friends and we raised enough money to build you a kennel?" Sylvia recalled. "His wife was in tears."
Though Sylvia and her husband Andrew had never attempted to construct a kennel before, they collected enough money in a few days and showed up in William's yard with metal fencing, stakes, straw and plenty of elbow grease. Four hours later, Ca$h had a brand new enclosure and Sylvia had a new dream.
"When [Andrew and I] got in our car, we all had tears in our eyes. We said this is what we were meant to do, and that's how Break the Chain Kennel Kru started."
According to The Humane Society of the United States, the effects of tethering dogs include higher vulnerability to parasites, harassment by strays, and embedded collars that have to be surgically removed when dogs continue to grow unchecked by their owners.
Also, people are at a higher risk of being attacked by dogs that have become aggressive and territorial due to the isolation and confinement that comes from being tethered.
"Dogs aren't meant to be chained," said Sylvia. "Dogs are meant to be companion animals. They aren't meant to be outside their whole lives. It's not healthy."
All of the dogs that receive kennels from BTCKK must be spayed or neutered prior to the build, and pet owners are asked to pay the help they receive from the organization forward by volunteering to build kennels for other families, if they are physically able. Ca$h's owner, William, was one of the recipients who returned again and again to help out on future builds, and he is now a member of the organization's board.
"Everyone that is volunteering […] they have a heart of compassion," William said. "It goes beyond let's help this dog or this family – it's about connecting people and communities and being there for one another.
BTCKK's kennels cost $600 to construct, and Sylvia and her volunteers have gotten their construction time down from 4 hours to just 30 minutes. The nonprofit limits its kennel builds to no more than two a month, so that they can maintain a high quality of care, and they often raise funds for builds by hosting 'Paint Your Pet' nights at a local studio.
"Our goal is not how many dogs can we unchain and how many kennels can we put up," Sylvia said, of her unique 360-degree approach with BTCKK. "The goal is how many families can we help all the way through with everything."
Sylvia's desire to help humans as much as their pets stems from her own childhood. She was six-years-old when her mother abandoned the family, and Sylvia and her brother were sent away to foster care. When she returned home a few years later to live with her father, the family still struggled – many times not having enough to eat.
"If [people] have had a rough background, they [should try to] take that and turn it into something positive that will make a difference in someone's life," Sylvia said.
"I just went on a home visit three nights ago, and the kennel was in shambles. They have two little kids, and you can tell this family is really struggling financially. I had moved up this build to happen before school so we can surprise this little boy and girl with backpacks and school supplies and new outfits for school."
"I just always want people to know that we are not just for the dogs. And, a lot of that comes from what I didn't have. I didn't have new school clothes and a backpack. So, that's a very important part of what we do."
Do you want to make a difference in your community like Sylvia? Visit All For Good to find local volunteer opportunities.
Share this post