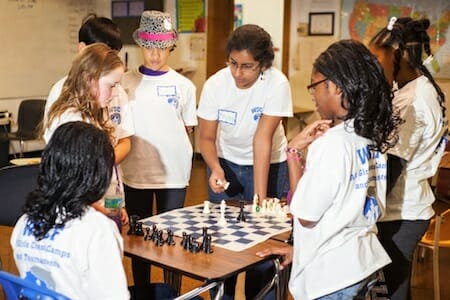 Meet Daily Point of Light Award honoree Anjana Murali. Read her story and nominate someone you know as a Point of Light.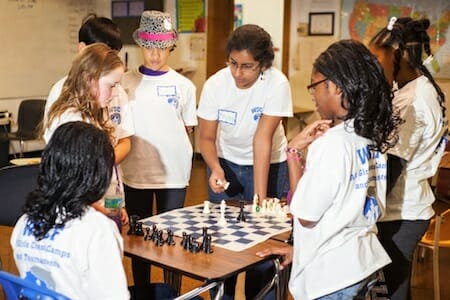 Anjana Murali, center, teaches participants in her chess camp for girls about the game.
At age 11 – playing in her first chess tournament – Anjana Murali learned about the gender disparity in the world of chess.
"I was the only girl," she recalls. "I was intimidated but I thought, 'Whatever, I can do this.'"
Murali sat down to play her opponent, a boy. She remembers overhearing him and his friends right before the game. He said, "I'm playing this girl. I should be done in five minutes."
Chess is a game that takes planning and thought, and generally, more than five minutes to play. But five minutes later, Murali lost. "It was so humiliating," she says.
Instead of letting the loss get her down, she was inspired to get to work.
"[Chess] was all new to me, and I wanted to get good at it and beat the guy," she says. "I was determined to prove that any girl could become queen of the chessboard."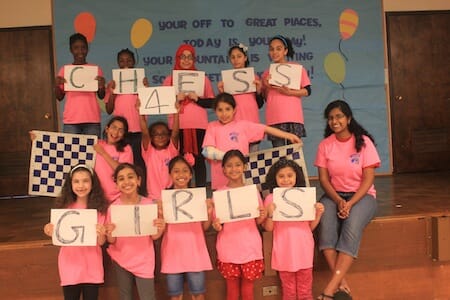 Anjana Murali, right, shares a lighthearted moment with her campers.
Two years later, at the same tournament, Murali was named the Wisconsin State Chess Federation champion.
Inspired by her tournament experience, Murali – now an 18-year-old college student in Pittsburgh – began Queen's Game in 2012. The all-girl chess camp is designed to help break down gender barriers while introducing chess to girls.
"I conducted my chess camp in order to help women and girls take a stance against gender disparity," Murali says. "Chess has been viewed as a male-dominated sport for a long time. Not very many girls are interested in the game of chess, as they think that it is not a game for them."
The grant-funded day camps are free. In addition to introducing chess to more girls, Murali's camps aim to boost confidence and improve critical thinking skills.
"Chess is a lot like life," she says. "You have to be thinking about your next move and what you want to get out of it. The camps help teach girls these valuable types of critical thinking skills in a fun environment where they play a game."
The U.S. Chess Federation has taken notice of Murali's work. The organization has invited her to be a part of a national initiative designed to attract more girls and women to chess.
Meanwhile, Murali has a grand plan: "My goal is to expand my all-girls chess camp to the national level in order to encourage more girls to play chess and to remove the gender disparity that exists in the game."
Share this post