Army Veteran Helps Community Recover from Hurricane Harvey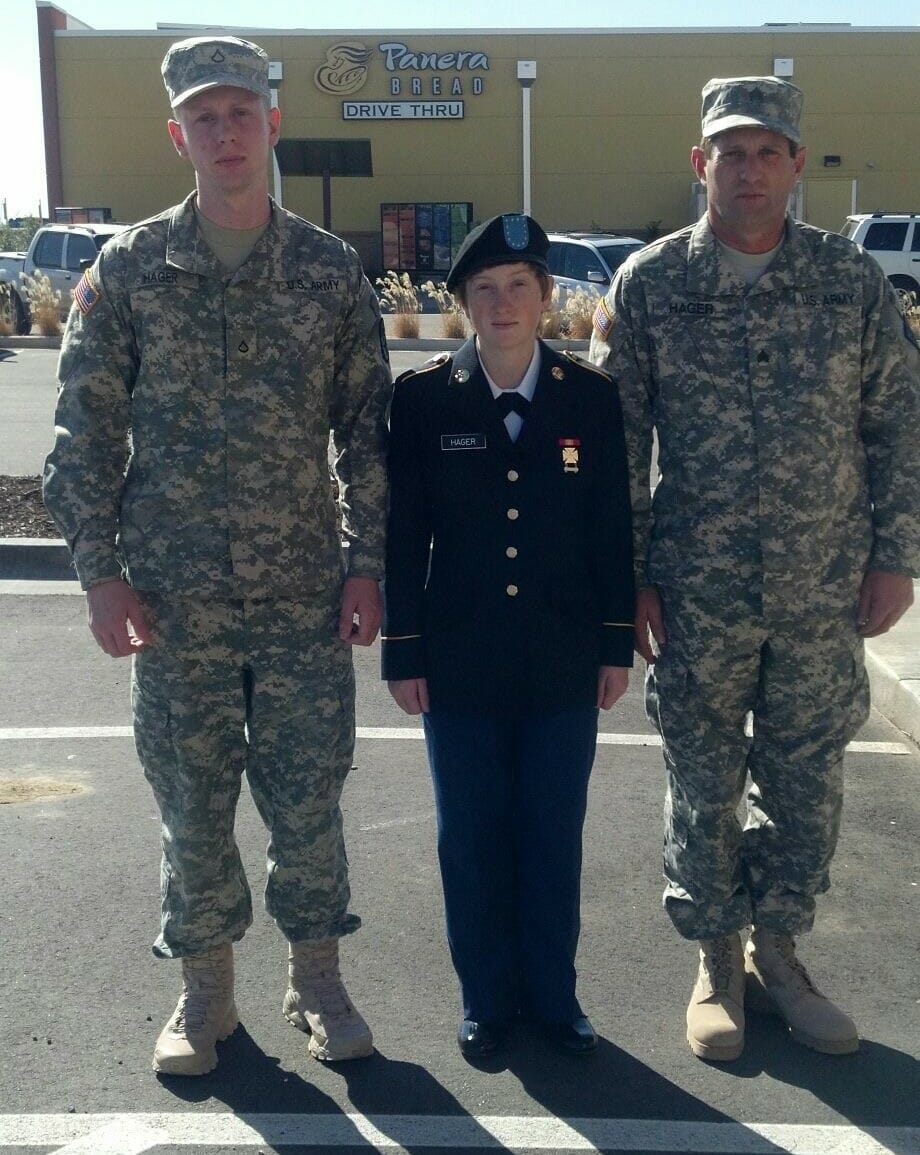 25-year-old Tyler Hager is a military veteran who says his sense of community was cemented during his time supporting fellow soldiers. Both his father and brother served in the military, and so the Houston, Texas resident said he decided to follow the same career path. After serving for three years in the Army Reserve, and inspired by the selfless service the Army promotes, Tyler has dedicated himself to his community through a variety of service projects.
Tyler committed to rebuilding Houston neighborhoods in the wake of Hurricane Harvey, a devastating storm that crippled the city in the summer of 2017, totaling $125 billion in damage to the metropolitan area.
A current shift supervisor and Coffee Master at Starbucks, Tyler was recently accepted into the Starbucks Service Fellow Program, powered by Points of Light. This pilot partnership aims to redefine corporate engagement and strengthen the capacity of local nonprofits. This innovative program will benefit Points of Light Affiliates and their local nonprofit partners in 13 communities in the United States. Tyler is one of 36 Service Fellows nationwide. His placement will be under the supervision of Points of Light affiliate Volunteer Houston supporting Recovery Houston's long term recovery efforts.
Tyler is making a difference in his community by lending a hand to those in need, and is today's Daily Point of Light award honoree. Points of Light spoke to Tyler to learn more about his service.
What inspires you to volunteer?
I think it's mostly just because I come from a really small town where giving back was emphasized. We weren't really the richest family growing up, so a lot of what we did was in our community. Even though I live in a bigger city now, it's still the same kind of community as the one I was raised in. People still need to help each other to access to resources they wouldn't necessarily have access to on their own.
Your military service has had a lasting impact on how you've committed to volunteering. Explain.
I was a combat medic in the Army, taking care of soldiers. Serving in the military has been so impactful on the direction of my life. The military instilled this mentality in me that everything you do is with a purpose. You move, act and find purpose in everything you do, and you're not doing it alone. We had to always be with a battle buddy, learning that teamwork goes a long way. And that's the kind of stuff I still think about all the time as I continue my service.
Describe how you helped your neighbors following Hurricane Harvey and the historic flooding.
I got lucky because my area didn't get hit by the storm badly, but I had some friends that lost pretty much everything. I set up a GoFundMe page for my friend Bu to help her family get back on their feet after the storm. I also cleaned up some of our neighborhoods from debris. Some of the streets were just littered with trash and debris. After the storm, we did our best to clean and help our neighbors, because no one wanted to be reminded about the devastation.
How can people help those affected by Hurricane Harvey?
There are still plenty of organizations to donate to, but more generally, Recovery Houston* is an organization that has been put in place to help the area better prepare for natural disasters. The damage wreaked in the area by Hurricane Harvey was almost as costly, if not as costly, as Hurricane Katrina. Through Recovery Houston, we're evaluating how we can we create a better plan for cities that don't already have plans in place for natural disasters.
* Kat Creech, Founder of Recovery Houston, was Daily Point of Light #6113. She was one of five Daily Point of Light Award honorees recognized last October by the five living former U.S. presidents, including Barack Obama, George W. Bush, Bill Clinton, George H.W. Bush and Jimmy Carter, during the "Deep From the Heart: The One America Appeal" concert benefitting communities impacted by the hurricanes in 2017.
What's been the most rewarding part of your volunteerism?
Most of the volunteering I've done is not for what I get out of it. I've never done anything with the expectation that I'll receive anything in return. Selfless service is an Army value, and I live my life working off of the idea that everything should be a selfless act.
You have a personal passion for LGBTQ causes. Describe how you've helped this community.
I supported an initiative we launched for transgender individuals in the Houston area to help them legally change their name and gender markers on IDs, such as birth certificates. Since the process and paperwork can be difficult, many of these individuals end up getting denied when attempting to make these updates. We brought in a group of lawyers who helped our cause on a pro bono basis over 2 weeks, and ended up helping about 30 people change their names. As a transgender individual, I champion LGBTQ rights, and actively support more access to resources and information for the community.
What motto do you live your life by?
Just live life. Every day is a different day for me. I live asking myself how I can make the most of each day I have here.
You're a Coffee Master. What's your go-to cup of Joe?
I drink the same drink every single day. A Blonde Starbucks Doubleshot on Ice. But getting into coffees…any coffee bean from Guatemala, because it's got the richest soil. We outsource coffee from at least 5 different areas in Guatemala, and each different area offers a different taste due to differing elevations in the country, and the varying soil.
Why do you think it's important for others to give back?
We're so involved in our everyday lives, we sometimes forget how critical helping others is. It's important to give back to the community, and support the cycle of promoting resources and helping those in need.
Why Did You Apply For the Starbucks Service Fellows, powered by Points of Light program?
I am most excited about the fact that I could continue to do community service work while also growing my responsibilities within my role at Starbucks. I want to continue climbing and expanding my role at Starbucks, I could go on for hours, it's an amazing company.
How do you think this Starbucks program will help your volunteer work in the future?
This program will become bigger than we can all imagine. I know my time and volunteerism is going towards something with potential. If we start something small like Starbucks did, and expand, then we can turn this community service opportunity into something that is spectacular.
What do you want people to learn from your story?
The smallest little bit of effort can go a long way. Even something so small that doesn't cost you anything out of your own pocket. The simple act of kindness or generosity can change a person's life in an instant. We should all strive to live our lives selflessly and be more aware of our surroundings.
Do you want to make a difference in your community like Tyler Hager? Visit All For Good for local volunteer opportunities.
Post written by Marlena Militana.
Share this post
---