At Michigan Retirement Community, Volunteer Records Memories to Last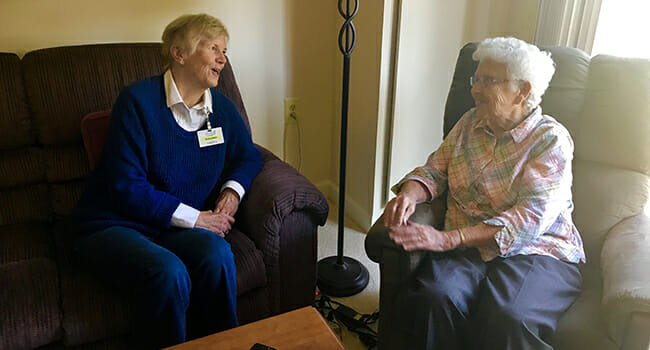 As Gwen Joseph revisited hours and hours of family memories – Christmas Eves spent with her extended family celebrating their Swedish traditions with performances, a family choir and food – the familiar sounds of joy brought her back to those moments, captured by her grandfather, who would hit record on the tape player at the start of the night and let the tape roll.
She discovered this trove of recorded family tapes while clearing out her parent's home, after losing them both in 2012. "It meant so much to not just remember the stories of my childhood, but to hear their voices. I thought, 'this is something everybody should have the chance to have.'"
Just as these tapes were valued by her family, Gwen realized that recorded memories could be meaningful for others as well. In a time when photo albums gather dust and many memories simply live on our smartphones and hard drives, she became a digital archivist, creating the ultimate gift for those who don't have much time left.
Working with the Liz Vachon, the volunteer coordinator at Canterbury-on-the-Lake retirement community in Waterford, Michigan, Gwen began to put her idea into play by recruiting residents, all "fabulous and fascinating" she said, who were interested in sharing their life stories.
According to Liz, Gwen has a gift for eliciting incredible stories from the residents for their memoirs, often long-forgotten.
"Gwen is the new journal or diary. She knows what questions to ask to further their discussion on whatever memories they remember, or to even help them remember different things in their lives that they might not have ever shared with anyone," said Liz. "She digs deep to get people to tell their stories. Recording that family history for posterity is so cool … a great-great-grandchild could hear this story one day. So invaluable to the families."
A self-described "career volunteer," Gwen had to do a deep dive into technology to learn how to compile edited CDs for the residents, something she'd never done before. She spends up to 8 hours interviewing each resident, then as many as 40 hours editing just one CD. While time intensive, Gwen said the effort is fulfilling.
"It's a passion," she said. "I was raised to believe it has to take a community. You have to be involved, you have to help however you can."
Gwen, a former educator and reading specialist, said being involved was a family tradition – the value of volunteerism instilled in her by her mother and father.
"I like people and I love the feeling you get," Gwen said of volunteering. "You don't do this kind of stuff for rewards – the emotional payback is worth a million rewards. I do it, and I think most people spend a lot of time [helping others], because you know you're making a difference."
Gwen's work of archiving family history is a lost art, according to Liz – one that helps many residents at Canterbury, including those who are suffering from various forms of dementia. Liz said that Gwen has interviewed about 10 residents so far, with a growing list of residents to work with this summer.
What continues to feed Gwen's passion? The unexpected moments with the residents.
Listening to one resident tell her story, Gwen commented, "that's just fascinating." Each time, the resident would respond, "it's everyday life." Gwen believes this project helps the seniors see how wonderful they are, and how amazing their stories are: "They get excited about [a memory], they smile. They'll literally say, 'I haven't thought about that in years!' They'll say 'what a wonderful memory that is.'"
To find volunteer opportunities in your area, search All for Good.
Share this post
---