Meet today's Daily Point of Light Award honoree Audra DiPadova-Wilford. Read her story and nominate someone you know as a Point of Light.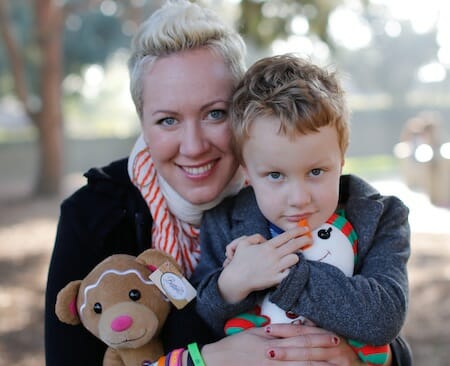 Audra DiPadova-Wilford and her son, Max
Watching her 8-year-old son, Max, battle brain cancer was all the motivation Audra DiPadova-Wilford needed to bring accessible, whole-body wellness to kids – including children of military families – in their own battles with cancer and other life-threatening conditions.
Through her volunteer-driven nonprofit MaxLove Project, DiPadova-Wilford supports cancer research, provides nutrition coaching and runs a fun camp for kids fighting illness, among other programs.
She also helps distribute Twilight Turtles, plush nightlights that soothe kids staying overnight in hospitals. In partnership with toy manufacturer Cloud b, the California-based organization has distributed $150,000 worth of Twilight Turtles to children with cancer.
Now, doctors actually prescribe the lights, which makes them eligible to be covered by insurance. And DiPadova-Wilford is working with partners on extending the line to include other therapeutic toys.
An accomplished professional chef, DiPadova-Wilford has also worked with doctors and dieticians to build awareness of the connections that diet has to overall wellness.
She found out that kids who do survive life-threatening illnesses are more likely to develop Type 2 diabetes or become obese because of diets in the hospital.
Through her research, she learned about cancer-fighting foods and that some foods are linked to cancer growth. She has used what she learned to work with families and dieticians on meal plans, developing a Fierce Foods Academy workshop and other resources including the Broth Bank, a service that provides families with organic broths on a regular basis.
DiPadova-Wilford, her son (who claims the title of chief inspiration officer), supporters and volunteers have even bonded together over some creative work: Max started a "rainbow loom" craze when he and classmates sought to break the world record for the longest loom.
The looms were featured on "Jimmy Kimmel Live" and "Ellen." DiPadova-Wilford has also shaved her head multiple times to help fundraise for partner organizations. She has brought support, comfort and well-being to a multitude of children struggling with illness and their families.
DiPadova-Wilford's passion and creativity stem from wanting to give her son the best chance to thrive. But it is furthered by working with other families going through similar struggles.
"I feel empowered and connected," DiPadova-Wilford says. "And those are things we do not often feel in the childhood cancer world. … Together we can make the world a better place. Together we give hope."
In 2014, DiPadova-Wilford was recognized by L'Oréal Paris and Points of Light as a Woman of Worth for her extraordinary volunteer work. Nominate an inspiring woman creating change in her community to be one of this year's Women of Worth at www.womenofworth.com.
Share this post