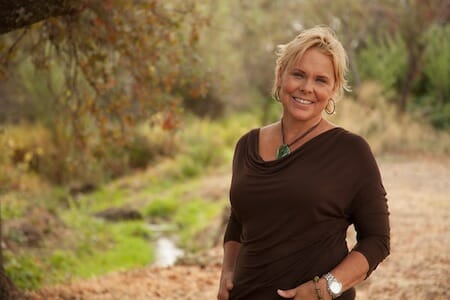 Meet Daily Point of Light Award honoree Jenny Williamson. Read her story and nominate someone you know as a Point of Light.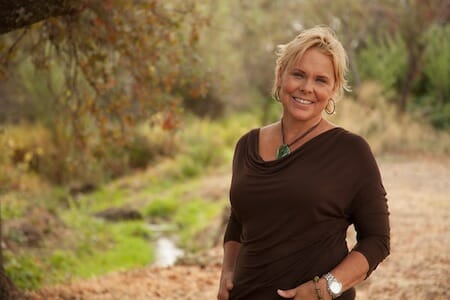 Jenny Williamson (Photo by Nilaya Sabnis)
Jenny Williamson first learned the phrase "human trafficking" while listening to a sermon at church.
Her pastor was explaining to the congregation that they lived in a world where children are sold for sex. The thought both repulsed and moved her. She went home and started researching the issue online, learning that her hometown of Sacramento, California, was a major hub for sex trafficking.
"When I found out it was happening in my own backyard, I went from being broken-hearted to incredibly angry," Williamson recalls.
Williamson discovered there were few services to rehabilitate children rescued from the sex trade. So she set out to help those children by learning about how best to serve them.
She spent time exploring the issue, meeting with local law enforcement officials, child service agency staff, doctors and specialized therapists to learn every facet associated with helping children recover from sexual abuse.
In 2005, she used what she learned to create Courage Worldwide, a nonprofit volunteer organization with a mission to help people find their unique purpose. In 2011, the nonprofit opened Courage House, a home for girls rescued from sex trafficking. There are two locations – one in Northern California and one in Tanzania, Africa.
"They are told over and over and over again – no one cares, you have no value and this is all that you are good for," Williamson says of the girls, ages 12 to 17. "And that is what we're trying to do at Courage House, is show them that worth."
Focused trauma therapy, an on-site school, dance/music/arts studio, equestrian and riding program, and a variety of classes in social and life skills are offered to each girl aged so she is equipped, encouraged and empowered to begin the journey of healing.
Williamson, who adopted two of the children she has helped through her relief work, says it requires 18 to 24 months of trauma therapy for some of the girls to feel safe enough to imagine their futures.
Because there are limited resources to rescue, rehabilitate and house abused young people coming out of such a horrific childhood, Williamson saw a need to develop training for others in the community, including volunteers and local law enforcement personnel.
Meanwhile, Williamson and her team have raised more than $5 million since 2010 to expand the campuses and programming for Courage Worldwide.
Their vision is to engage 1 million people to build 1,000 homes in 100 countries during the next 10 years so that hundreds of thousands of young people can be rescued and restored.
Williamson says that when the children begin to think about their futures, that's when she knows they're making real progress.
"They're kids that have never had a childhood," Williamson says. "And so they learn to laugh again, and they learn to cry and they learn to talk about things they don't ever want to remember, because that is what healing looks like."
Williamson was recognized by L'Oréal Paris and Points of Light as a 2014 Woman of Worth for her extraordinary volunteer work. Nominate an inspiring woman who is creating change in her community to be one of this year's Women of Worth at www.womenofworth.com.
Share this post