Battling Negativity on Social Media, Miss Pennsylvania Contestant Wants People to THINK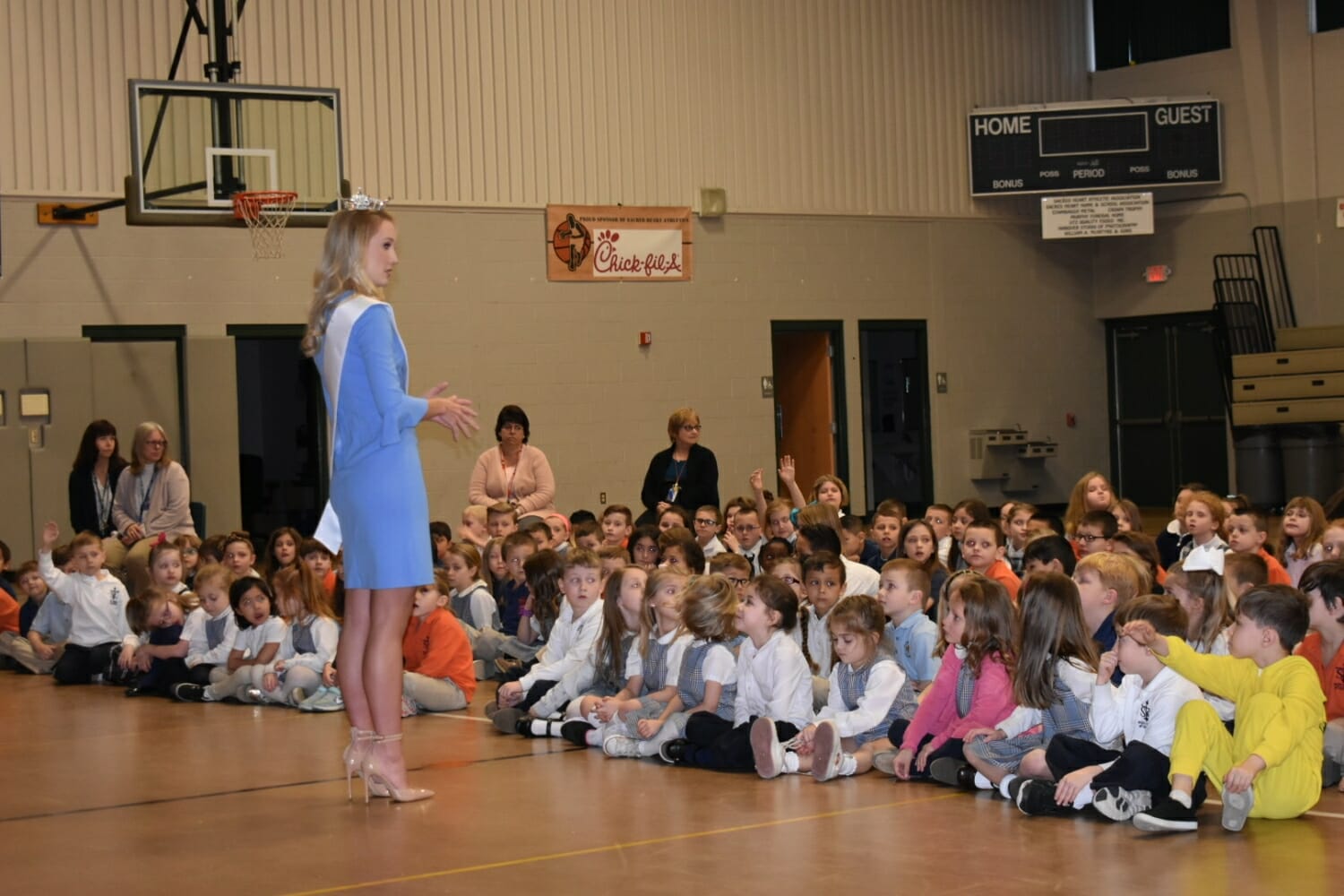 Kayla Repasky has been involved with the Miss America Organization since she was a teen, but the 22-year-old pageant winner wants people to look beyond beauty, and use their brains to combat negativity on social media.
Through her THINK Before You Post program, the Pennsylvania resident is raising awareness of cyberbullying, teaching people how to use omnipresent technology responsibly. Kayla is making a difference by educating users how to use the internet in a positive way, and is today's Daily Point of Light award honoree. Points of Light spoke to her to learn more about her work with THINK.
What inspires you to volunteer?
The impact that one person can make. I've learned that through my organization, and I've met people along the way who I've impacted and changed the lives of. THINK First America stands against bullying and cyberbullying, and when I see someone being bullied and I can help them, that inspires me to volunteer even more.
What does THINK stand for?
THINK stands for: T – Is it True? H – Is it Hurtful? I – Is it Inspiring? N – Is it Necessary? K – Is it Kind?
Why are you passionate about combating negativity on social media?
In high school, a bright student just made the wrong choice, and ended up being suspended from school. He created a fake twitter account of a coach he did not like. I wanted to get to students and raise awareness before they made a bad decision like this. A lot of students don't realize the internet is a permanent place. Everyone is creating a digital footprint, and nothing you post goes away.
Describe your volunteer role with THINK.
THINK First America started as a social media campaign. I used to go into schools and I would ask kids five questions they could ask themselves that spelled out "THINK" (is it truthful, hurtful, inspiring, necessary, and kind?) But I wanted to do more. Now it's grown so much. I have several education programs, I've spoken to over 2,500 students in dozens of schools. We have a Girl Scout patch and have donated over 250 of them. I've partnered with the YMCA and other local organizations and have a THINK pledge program for middle and high schools. I recently published a children's book called "Buddy and the Bully". These are all different ways that I can reach more people with my message of kindness.
What's been the most rewarding part of your work?
Recently, I met a family, and their son had committed suicide due to being bullied. I wanted to help them, so we started a scholarship in his name. Seeing that family's face just light up, knowing that their little boy will never be forgotten, he'll be honored every year – that was definitely the most rewarding part to me. My relationship with the family has grown, because we're both fighting for the same cause.
What have you learned through your experiences as a volunteer?
I've learned that the impact you can make is so important – even if you just reach one person. If I can talk to one person and get them to stop bullying, or to report the bullying, it can make a huge impact.
How do you stop negative social media in today's world?
Unfortunately, our world is very negative and we like to focus on the negativity. When we open the news, we see all the negative things that have happened. I think there is kindness in this world, for some reason we don't focus on it. I try to be a role model as Miss Greater Carlisle, and hopefully if I was to win Miss Pennsylvania in June, I could be a state-wide role model to choose kindness and positivity.
Are there any future partnerships, programs, or events that you are excited about?
I'm planning to implement THINK First America first clubs nationwide. We will have advocates that would start clubs, and THINK would send them resources to conduct their own education to combat bullying and cyberbullying. In a perfect world, we'll one day have a core curriculum within schools with THINK materials.
Why do you think it's important for others to give back?
It's kind of like a domino effect. If someone can help another person, maybe that person will be inspired to help someone else. If I smile at you, or open the door for you, maybe you'll be inspired to do that for someone else, pay it forward. Anything we can do to make the world a better place.
What do you want people to learn from your story?
I want them to take away the 5 questions of THINK, and to be kind to one another, and be inspired to choose positivity on the internet.
Do you want to make a difference in your community like Kayla Repasky? Visit All For Good for local volunteer opportunities.
Post written by Marlena Militana.
Share this post