Former Chemist Tests Critical Medical Equipment for Rural Clinics, Hospitals, Disaster Relief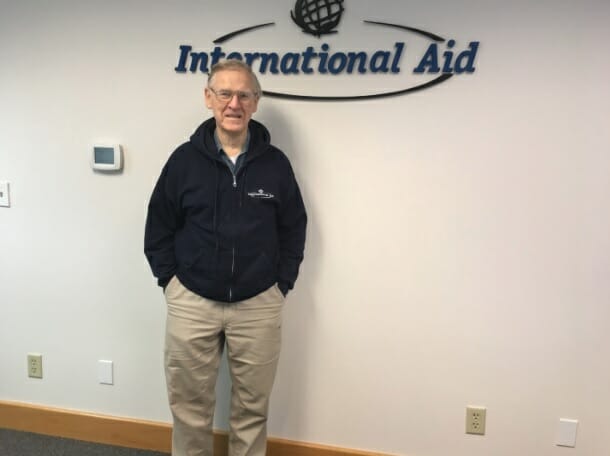 For hours each week, 89-year-old John Hoekstra sits in the corner of a back warehouse at International Aid in Spring Lake, Michigan, meticulously testing parts for the organization's "Lab-in-a-Suitcase" that provides efficient and accurate diagnostic testing for those most in need.
The octogenarian has logged some 8-thousand hours verifying equipment for the portable case. Powered by battery and charged by a solar panel, rural clinics, hospitals and disaster relief areas rely on the compact lab to determine the best course of treatment for their patients. The former chemical researcher and professor is making a difference by leveraging his expertise to help serve communities around the world, and is today's Daily Point of Light award honoree. Points of Light spoke to John to learn more about his work with International Aid.
What inspires you to volunteer?
Well, partly, I was retired and I had time, and I have health. It's a very fine service what International Aid does. What I'm doing is just one part of it. They refurbish all kinds of medical equipment that a hospital here in the U.S. may think is old-fashioned, but it works just fine in a rural community in Africa, or another place that may lack electricity or other resources.
Describe your volunteer role with International Aid.
It depends on how busy we are. I'm usually in there about 6 hours a week, sometimes I go in more. It's very hard to predict how much equipment you'll be able to test in one sitting. We number each suitcase we work on — I just started number 310. We don't just do Labs-in-a-Suitcase — we'll refurbish operating tables, patient monitors and other equipment.
What's been the most rewarding part of your work?
It's a very fine group of people, and I enjoy the mission that International Aid has. What I think is so nice about it — I can help with a foreign mission without getting on an airplane (laughs). It's just a good place to help.
What have you learned through your experiences as a volunteer?
When my wife and I moved back to Michigan, we happened upon International Aid — they were looking for volunteers. My wife thought that I should be doing something useful instead of just playing with amateur radio (laughs). I really enjoy the opportunity to help. There are a lot of volunteers there — it's not just me. I appreciate the mission of this organization. They're helping people, and that's just good to do.
Are there any future partnerships, programs, or events that you are excited about?
We are always preparing for the next big mission or place that may be in need.
According to International Aid, your work has saved the lives of countless individuals. What does it mean to you, to hear that?
I'm glad that they feel that way. It's good to know that these labs are going to many places, some very far away, and every one of them can serve a lot of people. That's very satisfying.
Why do you think it's important for others to give back?
There's work to be done. It's really a good way to spend one's life if you've got the time, and you've got the health. Well, it's service. It's Christian service.
What do you want people to learn from your story?
If you can be of service, one should be of service. While I don't travel as much as I used to, I can still be of help here in Michigan to distant communities in need. The Suitcase-in-a-Lab has been used in 50 different countries, and the work that I'm doing here helps places like Honduras, Haiti, countries in Africa.
Do you want to make a difference in your community like John? Visit All For Good for local volunteer opportunities.
Post written by Marlena Militana.
Share this post