Boy Scout Serves Service Dog Community and Beyond
Meet Daily Point of Light Award honoree Dylan Mondrus. Read his story and nominate an outstanding volunteer or family as a Daily Point of Light.  
Dylan Mondrus' volunteer service didn't stop after he completed his Boy Scout Eagle Project. The 16-year-old radiates service wherever he goes. From working with the Fidelco Foundation to holding leadership roles in high school, Dylan wants to create a cycle of service throughout his community.  
As a Boy Scout, Dylan has to complete a capstone service project called the Eagle Scout Project. For his project, he built agility equipment and volunteered with the puppies of the Fidelco Foundation, an organization that breeds and trains German Shepherd puppies to become companions for the guide dog community and search and rescue dogs. The Weston, Connecticut, native completed his project in May of 2021, but still helps adolescent dogs become ready to help those in need and even signed up to be a foster puppy sitter. 
Describe how you first discovered the Fidelco Foundation:
I started searching on the internet for ideas for my Eagle Scout project, but my inspiration came from my sister because I was like nine years old when she used to take Sundays off and go to this charity organization for dogs. They trained puppies to grow up to be service Dogs for the Blind. So when I was looking for an Eagle Scout project, I looked at that as an example. I looked on the internet for similar organizations and I found the Fidelco Foundation which is pretty much the same thing where they take puppies and train them for about a year or so — with basic developmental stuff — and then they send them off to adoption. They send them off for adoption for about a year where they continue developing skills and then they come back after a year when they're ready to start actually training to be service dogs. 
Can you explain your volunteer activities and how they've grown?
After I worked with Fidelco for my Eagle Scout project, they offered me the chance to be one of the adopters that take in German Shepherds before they match with someone in need.  
Before that, my Eagle Scout project was mainly about building equipment and little playgrounds for the puppies so the learning process could be more efficient. I built a structure to help them go up and down a system of stairs that basically taught them how to go upstairs. That was very valuable. I also built hurdles with sports cones and PVC pipe for the Fidelco pups to learn how to jump over small obstacles. Another one was just the play gym where they could go in and grab toys hanging from the wall.  
What do your volunteer activities look like at school?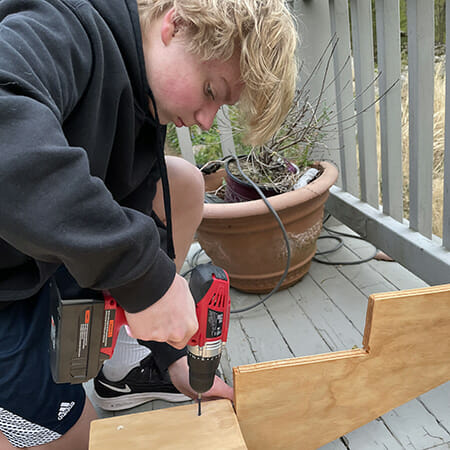 I'm the president of CLPS — the Cultural Linguistics Preservation Society — which works to preserve Indigenous culture. I'm also the vice president of the American Heroes Club, which honors veterans and American heroes.  
What inspires you to volunteer?
I just like to help people. It's just human nature. Humans are naturally altruistic, and you want to help people and you want to give to others, and you want to see people happy and not have to suffer the way that you could, you know, you just want to have an impact.  
What have you learned through your experience as a volunteer?
I've learned that, you know, volunteering isn't as easy as people think. People always make commitments to volunteer work saying I'm gonna do this and I'm gonna do that. But it's actually an activity that's both work and fun. But at the end of the day, it's rewarding and it's very inspiring. It gives me hope for humanity that we can provide people fulfillment and see success.  
Why is it important for others to give back, especially students?
Because so much is given to you through your community more than you know, and it's just your responsibility to give back and keep that cycle going, you know. Not that I'm a saint, but it's important to keep the cycle going and keep the community thriving so they can also give to those that come next.  
Are there any partnerships, programs, or events that you are excited about?
I'm just excited to keep working and hopefully being certified in the adoption process. I relish at being at the whim for anything Fidelco needs me to be, you know. They trust me, and I trust them, and I'm happy to do anything needed.  
Do you want to make a difference in your community like Dylan? Find local volunteer opportunities. 
Share this post